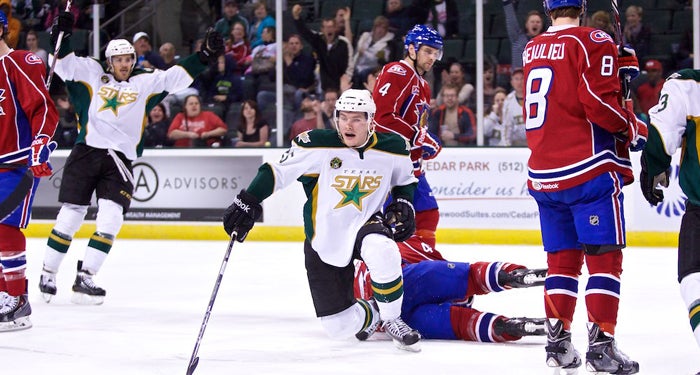 Dowling Nets Two as Stars Shutout Bulldogs 4-0
Mar 25, 2014
Texas Stars center Justin Dowling scored twice and goalie Cristopher Nilstorp recorded his third shutout on the season in a 4-0 victory over Hamilton Tuesday night in front of 3,021 fans at Cedar Park Center.

The Stars doubled the Bulldogs' shots on goal in the first period 12-6, but neither team found their way onto the scoreboard. At 9:35 into the second frame, Texas center Justin Dowling opened up the scoring, taking a pass across the slot from Brett Ritchie and snapping it in, beating Hamilton goalie Devan Dubnyk stick side. Rookie Taylor Peters would double the Texas lead just minutes later, one-timing a pass from Matej Stransky from the slot at 14:08 of the middle period. The Stars outshot the Bulldogs 21-8 in the second twenty minutes, holding a two-period shots lead of 33-14.

Just 2:04 into the final frame, Dowling would find the net for the second time of the night, smacking in a Ritchie rebound at the crease. The goal gave Dowling his fourth goal and fifth point in the last two games. Right wing Scott Glennie scored an insurance goal at 10:24 of the third period, tapping in a beautiful cross-ice pass from Patrik Nemeth at the right side of the crease to beat Dubnyk for the fourth time.

Cristopher Nilstorp (23-12-4) stopped all 20 shots sent his way to record his 23rd win and third shutout of the season in goal for Texas. Devan Dubnyk (0-4-0) finished with 36 saves on 40 shots and took the loss for Hamilton. The Stars out-shot the Bulldogs 40-20 and went 0-for-2 on the power play, while Hamilton was 0-for-1 on the man advantage.

Tonight's game was the first of three this week for Texas. The Stars will travel to San Antonio at 7:00 p.m. on Thursday March 27th to complete the suspended game from March 1st at AT&T Center. They will return to Cedar Park Center on Saturday March 29th as they host the Hamilton Bulldogs at 7:00 p.m. Saturday's game is First Responders Night presented by Capital EMS with a Texas Stars Car Windshield Sun Shade giveaway; it is also a Coke Zero Family Four Pack night and a Texas Lottery Lucky Row night. Pro-rated full and partial 2013-14 Texas Stars Season Tickets are on sale now. For more information on Texas Stars season tickets call (512) GO-STARS (467-8277) or visit www.TexasStarsHockey.com.
Back to All