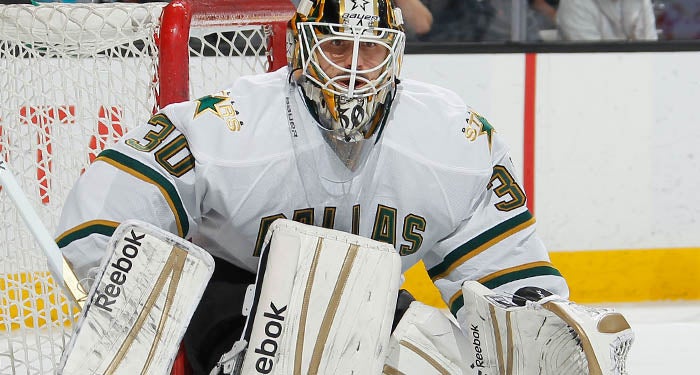 Dallas Stars Assign Andrew Raycroft to Texas Stars
Dec 29, 2011
Cedar Park, TX - The Dallas Stars announced on Thursday that the club has assigned goaltender Andrew Raycroft to the Texas Stars, Dallas' primary affiliate in the American Hockey League (AHL). The Stars were required to place Raycroft on NHL waivers prior to the move. He cleared waivers on Thursday morning.

Raycroft, 31, has appeared in 10 games for Dallas this season, going 2-8-0 with a 3.51 goals-against-average (GAA) and a .898 save percentage. He has played in 280 career NHL games, earning a 113-114-27 record with a 2.89 GAA and .900 save percentage. Raycroft was signed to a two-year contract by Dallas on July 1, 2010. Raycroft played in 122 AHL games from 2000-06 with the Providence Bruins. During his time in the AHL, the veteran goalie posted a 57-48-13 record with a 2.71 goals against average and a .911 save percentage.

Goaltender Kari Lehtonen is scheduled to start for Dallas on Thursday after missing the last 12 games with a groin injury. He has gone 13-4-1 with a 2.34 GAA and .926 save percentage this season. Richard Bachman, who has gone 5-2-0 with a 2.76 GAA and .912 save percentage for Dallas in December, will remain with the club as the primary backup to Lehtonen.

The Stars will play a pair of games in Abbotsford on December 29 and 30. The team will also play in San Antonio on January 6, prior to returning home on Saturday, January 7 to host Rockford at 7:00 p.m. The first 2,500 fans to the game will receive a Texas Stars team calendar, compliments of A+ Federal Credit Union. On Saturday night, fans may purchase the State Farm Family four-pack, which includes four tickets, four hot dogs and four sodas starting at $48.

Individual tickets for all games are on sale now. Tickets are available online at www.TexasStarsHockey.com or by calling 512.GO.STARS (467.8277).

2011-12 season seat packages are on sale now. For more information on Texas Stars season tickets call (512) GO-STARS (467-8277) or visit www.TexasStarsHockey.com. Anyone interested in purchasing season tickets, suites, group tickets or mini-plans may call the Texas Stars front office.
Back to All