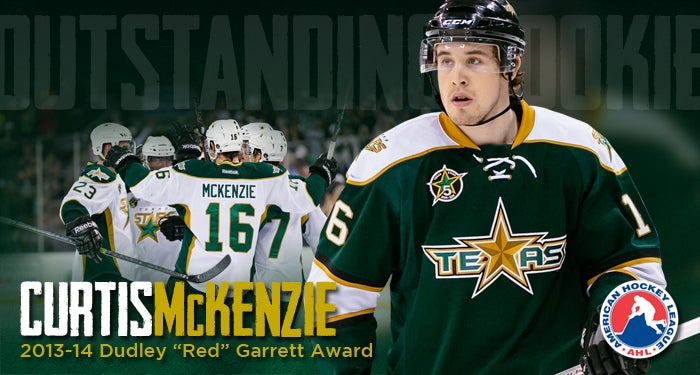 Curtis McKenzie Named AHL's Outstanding Rookie
Apr 14, 2014
CEDAR PARK, Texas – The Texas Stars, proud American Hockey League affiliate of the Dallas Stars, announced today that left wing Curtis McKenzie has been voted the winner of the Dudley (Red) Garrett Memorial Award as the AHL's outstanding rookie for the 2013-14 season. The award is voted on by AHL coaches, players and media in each of the league's 30 member cities.
McKenzie, a 2009 draft pick by the Dallas Stars, has recorded 26 goals and 38 assists for 64 points in 73 games for the league-leading Stars this season. McKenzie is currently tied for ninth overall in league scoring, and among AHL rookies he ranks first in points, assists, power-play points (33) and power-play assists (23); second in shots on goal (210) and tied for third in power-play goals (10). A 23-year-old native of Golden, B.C., McKenzie was the CCM/AHL Rookie of the Month for December, and was named to the AHL All-Rookie Team last week. He made his pro debut with Texas at the end of the 2012-13 season following four seasons at Miami University.
Here is a link to a highlight package of McKenzie from this season, courtesy of SendtoNews: http://www.sendtonews.com/#!highlight/story/2QmTu3npJ9
This award, which was first presented by the AHL in 1947, honors the late Dudley (Red) Garrett, a promising young player who lost his life during World War II while serving in the Royal Canadian Navy. Garrett split his only pro season, 1942-43, between the AHL's Providence Reds and the NHL's New York Rangers.
Previous winners of the Garrett Award include Terry Sawchuk (1949), Wally Hergesheimer (1951), Jimmy Anderson (1955), Bill Sweeney (1958), Roger Crozier (1964), Gerry Desjardins (1968), Rick Middleton (1974), Darryl Sutter (1980), Pelle Lindbergh (1981), Steve Thomas (1985), Ron Hextall (1986), Brett Hull (1987), Felix Potvin (1992), Darcy Tucker (1996), Daniel Briere (1998), Rene Bourque (2005), Teddy Purcell (2008), Nathan Gerbe (2009), Tyler Ennis (2010), Luke Adam (2011), Cory Conacher (2012) and Tyler Toffoli (2013).
This is the first time in franchise history that a Texas Stars player has been selected as the AHL's Rookie of the Year and the fifth time a Texas Stars player has received a year-end AHL award. The first came last season when left wing Matt Fraser was selected to the 2012-13 AHL Second All-Star Team. Last week McKenzie was selected to the 2013-14 AHL All-Rookie Team and Travis Morin and Colton Sceivour were both named to the 2013-14 AHL First All-Star Team.
In operation since 1936, the American Hockey League continues to serve as the top development league for all 30 National Hockey League teams. Nearly 90 percent of all players competing in the NHL are AHL graduates, and through the years the American Hockey League has been home to more than 100 honored members of the Hockey Hall of Fame. The 2013-14 regular season ends on Saturday, and then 16 clubs will continue to vie for the league's coveted championship trophy when the 2014 Calder Cup Playoffs get underway next week.
The Texas Stars are back in action on Wednesday, April 16th at 7:00 p.m. as they battle the Oklahoma City Barons at Cox Convention Center. Texas will complete its 2013-14 regular season schedule at Cedar Park Center on Saturday, April 19th at 7:00 p.m. against the Abbotsford Heat. The game on the 19th is Fan Appreciation Night with a Stars Commemorative Print Giveaway, as well as being a Coke Zero Family Four Pack Night and a Texas Lottery Lucky Row Night. Texas Stars' 2014 Calder Cup playoff ticket packages are on sale now! Reserve your seats for all Calder Cup playoff games at Cedar Park Center at a discounted rate. For more information on Texas Stars playoff tickets call (512) GO-STARS (467-8277) or visit www.TexasStarsHockey.com.
Back to All