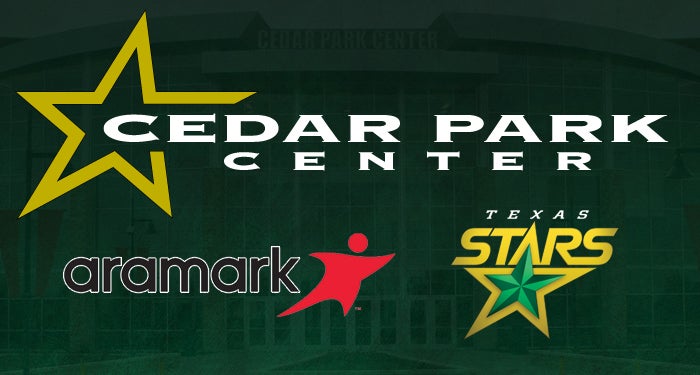 Cedar Park Center Introduces New Executive Chef
Mar 20, 2015
Cedar Park, Texas – Cedar Park Center is pleased to welcome Tim Cahill as the arena's new executive chef. Chef Cahill brings more than 15 years of culinary experience to Cedar Park Center. Over the course of his career, Chef Cahill has worked in some of the country's finest restaurants and prepared dinner for a number of celebrities and dignitaries. As executive chef, Cahill will oversee CPC's culinary operations, including menu development for general concessions and premium dining. Aramark serves as Cedar Park Center's food and beverage partner.
Chef Cahill's blend of geographical cooking styles ranges from mid-Atlantic to Southern and Southwest. His creations are a blend of his "soulful" style with big city appeal, and embody his philosophy that good food is always attainable.
"I am excited to join the Cedar Park Center as executive chef and look forward enhancing the arena's dining experience with new and innovative offerings," said Chef Cahill. "There is an abundance of distinctive tastes and flavors in this part of Texas and I'm eager to incorporate them into our menus."
In conjunction with today's announcement, Aramark is rolling out new suite menu and catering packages, designed by Chef Cahill.
Suite Packages
• Asian Dim Sum Package: Sweet chili glazed BBQ pork ribs with kimchi collard greens; Gochujang Meat balls; Pork & lobster potstickers; Shrimp & vegetable spring rolls
• Southern Comfort Package: Jumbo Grilled shrimp & grits creamy cheddar cheese grits, red pepper Tasso gravy; Buttermilk Honey stung fried chicken; Deep-fried Boudin Balls, Cajun remoulade
• Street Taco Package: Slow roasted pork carnitas & shredded beef barbacoa Tacos, or blackened baha fish tacos; Chorizo & Cheddar cheese taquitos; Quesco fresco, avocado crema, cilantro, onions, lime, corn tortillas; Spicy Black bean salsa, Charred corn relish, fire roasted salsa, tortilla chips
• Texas BBQ Package: House smoked Brisket for 24 hours & rubbed in our signature spice mix; Lone Star Beer marinated & grilled Chicken; Fried Mac N' Cheese smothered in a chipotle pepper cheese sauce; German Potato Salad, red bliss potatoes, whole grain mustard, horseradish, smoked bacon bits; Sliced sweet Texas onions, pickles, & white Bread, barbeque sauce
• Assorted House Made Dips: Chick pea hummus, olive oil, lemon, garlic; Pimento cheese dip, roasted red peppers, cheddar cheese, green olives; French onion dip, caramelized onions, buttermilk & cream cheese; Spinach & artichoke dip; Pita chips, kettle potato chips, & grilled baguette
Ala carte
• Chimichurri marinated Steak salad, hearts of romaine, heirloom tomatoes, creamy cilantro Caesar dressing
• 7-layer dip refried beans, guacamole, sour cream, cheddar cheese, salsa, lettuce, pico de gallo
• Coconut fried shrimp with an apricot chili glaze
• Spicy Deviled Eggs, smoked paprika, cornishons, pickled carrots
• Artisan cheese platter
• Fried Turkey cobb salad, green goddess dressing, tomatoes, cheddar cheese, bacon, hardboiled egg

A graduate of the prestigious culinary program at Johnson & Wales University in Charleston, SC, Chef Cahill honed his skills at a variety of well-known and fine-dining restaurants across the country. Chef Cahill began his career working under Chef Donald Barickman at Charleston's acclaimed Magnolias and later refined his culinary talent in restaurants in Iowa and Connecticut. In Nashville, TN, he studied under two-star Michelin rated Chef Guillaume Burlion and he had the privilege of cooking for the prestigious James Beard Foundation Dinners, Chef Jacques Pepin and Former President Bill Clinton.
Back to All