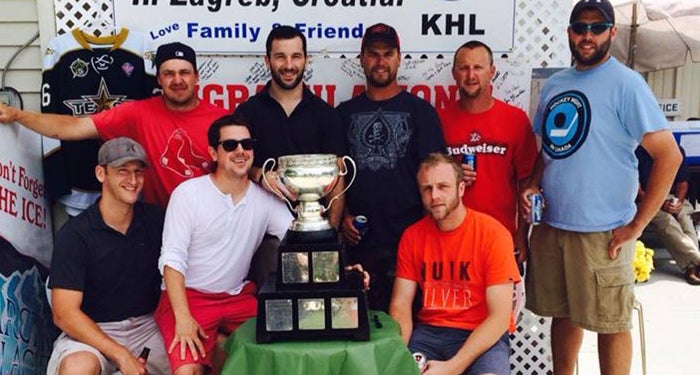 A Day With The Cup: Mike Hedden
Jul 25, 2014
On Sunday, July 13th, Dunnville, Ontario native and Texas Stars forward Mike Hedden had his personal day with the Calder Cup trophy. We were able to talk with "Heddy" right before he flew to Croatia to join his new team, Medvescak Zagreb of the Kontinental Hockey League (KHL):

How did you get the Cup?

I had to drive to Buffalo to pick it up at Chris Mueller's parent's house. It worked out well because Chris and Sasha were there so I got to see them too.

Why Buffalo? Mueller hasn't had his day with the Cup yet?

It wasn't his day, but they needed a place to ship it that wasn't over the border. I guess it was much easier not shipping internationally and Buffalo was close to Ontario.

Did you have any trouble crossing the border with the Calder Cup?

It was really quick going over the border both ways. The Canadian customs agent really wanted to see it, but it was in the case in the trunk, so he just waved me through.

What did you do with the Cup once it was in your possession?

I picked it up on Saturday and kept it at my Dad's house in St. Catherine's since my day wasn't until Sunday. Sunday morning I got up and drove it from St. Catherine's to Dunnville. I took it to the hospital. There's a guy I know whose dad was in there with cancer. He's a big hockey buff and I'm close with his kids, so I took it up to show him. Usually non-family members weren't allowed to visit, but they let me up. So we took some photos and hung out with the Cup for a while. He actually passed away a couple days ago and his wife messaged me and said how happy he was to see it. I'm glad that I was able to share it with him before he died.

What did you do next?

My great uncle is in the same hospital and he watched every Texas Stars game online, so I took it up to see him to. After that, I took it to my Grandpa Jack's grave; he came to every minor hockey game that I played in before he died, so it was really important for me to go there. Then I took it out to my Mom's house, where she had about 70-90 people who came by throughout the day. It rained the whole morning, but right about 2:00 p.m. it cleared up for us to be outside, which worked out perfectly. I had lots of my friends and family out there, but not all because it was such short notice, so I couldn't get everyone out there.

Why was it such short notice?

I was the first Ontario guy to get the cup because Whitey [Texas GM Scott White] wanted to make sure I got it before I left [for the KHL]. I stayed in Dunnville until about 8:30 p.m. Then we went back to St. Catherine's to Big Marcos, a well-known restaurant that we have gone to for years. Lots of my hockey buddies were there, even Nick Vitucci, my old coach from the Toledo Walleye.

Did you do anything unique with the Calder Cup?

I've never seen my mother drink [alcohol] before and she drank champagne out of it.

What was your favorite moment of your Calder Cup day?

Spending the whole day with it, with my mom, my family and close friends and being able to celebrate with it. I've always kind of been in the underdog role in hockey and my hometown is such a small place, not a lot of guys that go out of Dunnville make it into pro hockey. So I felt it was a no brainer to take the cup back home. They always come to Hamilton and Toronto when Texas plays up there. I have such big support from them, following my career, that the least I could do was share it with them, let them touch it and pose for pictures.

What did you do with the Cup after you day ended?

I had to drive the Cup to Oakville, Ontario and give it to Cameron Gaunce. We had a quick hello, I congratulated him on his new contract he just signed with Dallas and off we went.

Was spending a day with the Calder Cup a nice way to finish off a championship season?

Yes, definitely. If you're ever going to leave a league, it's always nice to go out on top, I've done it three times. We won the championship my last year in Junior B, my senior year in college and now my last year in the AHL.

What was your favorite moment of the 2014 Calder Cup Playoffs?

Game 7 versus Toronto, no doubt! We were at home, down 2-0 against a team that everyone absolutely hated. To come back and win in such a dominate fashion; it was honestly the best feeling. There was nothing that I wanted more that whole series then to shake their hands after winning.

How has winning the Cup helped with your summer training?

It doesn't help my summer training at all. I'm still trying to get my shoulder to heal up. I leave for Zagreb right away and get going on July 28th. I'm still in good skating shape, but I'm going to have to work really hard to rest and recover quickly to be ready for the start of the KHL pre-season. If I was still playing in the AHL, I'd have another month and a half to recuperate.

Is it worth having a much shorter summer?

Oh yeah, absolutely. I wouldn't have it any other way.
Back to All