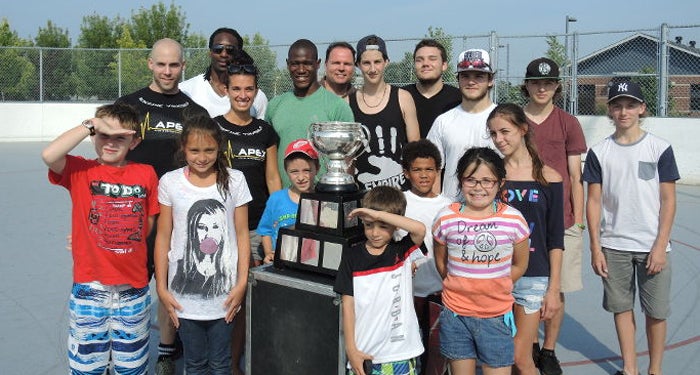 A Day With The Cup: Maxime Fortunus
Aug 19, 2014
How did you get the Calder Cup?

I got it by UPS. The UPS guy brought it home. I thought it was coming on a Monday, but I got it on a Tuesday. He just gave me a big box and I'm like, "Alright, it's here". I think my little guy was the one who was most excited because when we brought it back to Texas we had a little party and my little guy slept with the Cup and did everything he could do with it. He didn't want to leave it, so he was excited to get it home to Montreal and to see it and to touch it again.

What was the very first thing you did with the Cup?

We were staying at my parents' place so getting it out and showing it to my mom. She didn't have the chance to see it. It was amazing to have them enjoy it with me. My mom was proud. She's my biggest fan and one of the biggest Texas Stars fans, for sure. She prayed so much for me to get that trophy. So being able to have them and to be able to shoot a few pictures with the Cup was amazing.

Did you eat anything out of the Cup?

One of my friends asked me if I was going to eat my cereal out of it and I was like, "Yes, I will". So when we got up the next morning my little guy took his cereal, put some milk in and me, my son, and my daughter, we were all eating our cereal out of the cup.

What cereal?

Fruit Loops. Oh yeah. Canadian Fruit Loops.

Did you arrange any kind of party for extended family and friends?

Well we only had about three or four days notice of when we knew we were going to get it. So we kind of setup something at a big park where I live. There are water games and a big outdoor rink where guys can play street hockey. There's a big playground, and a couple soccer fields. So I got in touch with my trainer who knows a lot of people in the area where we were at. I also got one of my friends who works with Hockey Quebec to send out a tweet and he got on Facebook. They all did the media stuff, and sent out a message to all the people who played in my hometown in the minor-hockey association to say it was an open party for anyone who wanted to come and have some pizza. RDS, the French sports network like TSN, came over and I did an interview with them too with the Cup. We shot a couple videos. So it was fun to be there, and to be able to play some street hockey with all the kids. A lot of the kids I didn't even know, but they were so amazed to see that trophy in town.

Winning the Calder Cup creates a short off-season. How did you balance taking the proper time off to let the body heal after an extended season, but maintained your training to make sure you are ready to go for this year?

It's always hard to get back when you're done so late, because you don't want to take too much time off. You have to start training, because if you take a month off that takes you into mid-August almost. You have to let your body heal, but at the same time you can do some exercises to keep your level of work up. It's important to rest the body and to be ready for next season, but you want to push as hard as you can once you get to this time of the year.

Where did you send the Cup off to?

I had to put it back in UPS and send it off to Toby Petersen and Travis Morin in Minneapolis. I think (Toby) was excited. He was texting me everyday to see what day it was getting there. He and Travis are really close out there so it was their time next.

What's the most important thing for the team to consider as you get prepared to try and defend your Calder Cup title this year?

That it's possible. I had it done to myself with Hershey two years in a row so I know it's possible. So we need to come into the season with the same mentality. We only have one goal and that's to go and get that trophy again.
Back to All