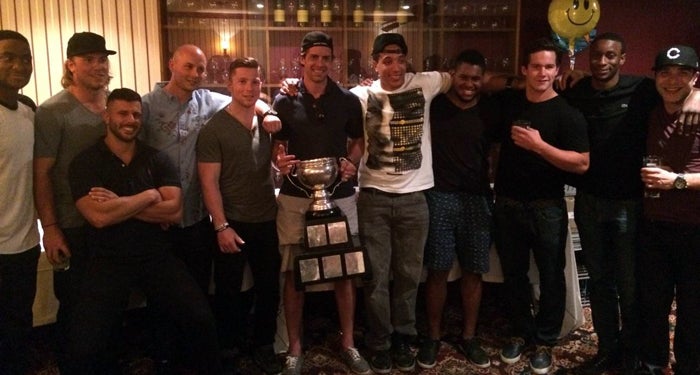 A Day With The Cup: Kevin Henderson
Jul 22, 2014
On Friday, July 18th, Scarborough, Ontario native and Texas Stars forward Kevin Henderson enjoyed his own day with the Calder Cup trophy back in his hometown. We caught up with "Hendo" to see how it all went down:

How did you get the Cup?

The meeting spot was at Bass Pro Shops in Vaughn, Ontario. My parents drove down to meet Brett Ritchie's parents to pick it up [Ritchie had it the previous day]. I had training that morning, so did Ritchie, so it just happened to work out well for our parents to make the swap. Vaughn is near the midpoint between my hometown and Ritchie's [Orangeville] so we were able to split the distance.

What did you do with Cup once it was in your possession?

My cousin hosted a barbeque for all of my family and our close friends. The cup was there for about four hours until 6 p.m. Then we took it over to this local restaurant/pub that my family has been going to for years. It's a very well-known establishment in Scarborough. A lot of my hockey friends and others buddies that I grew up with were there. It was great to share that with everyone back home.

Did you do anything unique with the Calder Cup?

I helped my 86-year old grandmother to drink out of it! I'm not sure, but she might be the oldest person to drink out of the cup. Maybe not all-time, but possibly this year!

Did you have any special guests hanging out with the Cup?

Of course my family and relatives were there. But also there were a bunch of current and former NHL guys in attendance. Joel Ward, Wayne Simmonds, Devante Smith-Pelly, Mike Duco, Anthony Stewart and others, all guys that I train with and skate with every day during the off season. Nice to give back to the community, share with.

What was your favorite moment of your Calder Cup day?

I really enjoyed being able to go back to where we all grew up playing hockey and sharing it with everyone that was involved. It was very special for me to celebrate with lots of people who made an impact in my life as I was growing up and becoming a hockey player. To hang out with them and share this special trophy meant an awful lot to me.

Was there anything you wanted to do with the Cup that you didn't do?

I would have liked to take it to a Blue Jays game, but we just didn't have enough time to get it all in. If I had another day, I probably would have taken it to a Jays game at Rogers Centre or maybe go to some of the local rinks that I grew up skating at or taking it to Kitchener where I played junior hockey. But I pretty much did everything I wanted to with it, so I'm very pleased with the day.

What was your favorite moment of the 2014 Calder Cup Playoffs?

Other than winning it (laughs), it was being able to play those games in Toronto versus the Marlies and having all of my friends and family in the stands to watch me play in the Conference Finals. I got to see them before and after each game and it was great for them to see me play in person, instead of just watching me on TV or online.

Was there a particular game of the playoffs that stood out to you?

It had to be Game 3 in Toronto, the one I scored in, I liked that one. It was my first playoff game in Toronto and it's always good to beat the Marlies.

How has winning the cup helped with your summer training?

I took a couple weeks off after a long season, but I'm a little behind since everyone has been training for a couple months more than me. So I felt like I had to play catch up with strength training, but my on-ice fitness was great because we played so many games. It took me five years to win, so I just want to work as hard as I can to get back to playing at a championship level.

Is it worth having a much shorter summer?

Oh yeah, I'll take the short summer every single year. I definitely won't forget last season, that's for sure.
Back to All