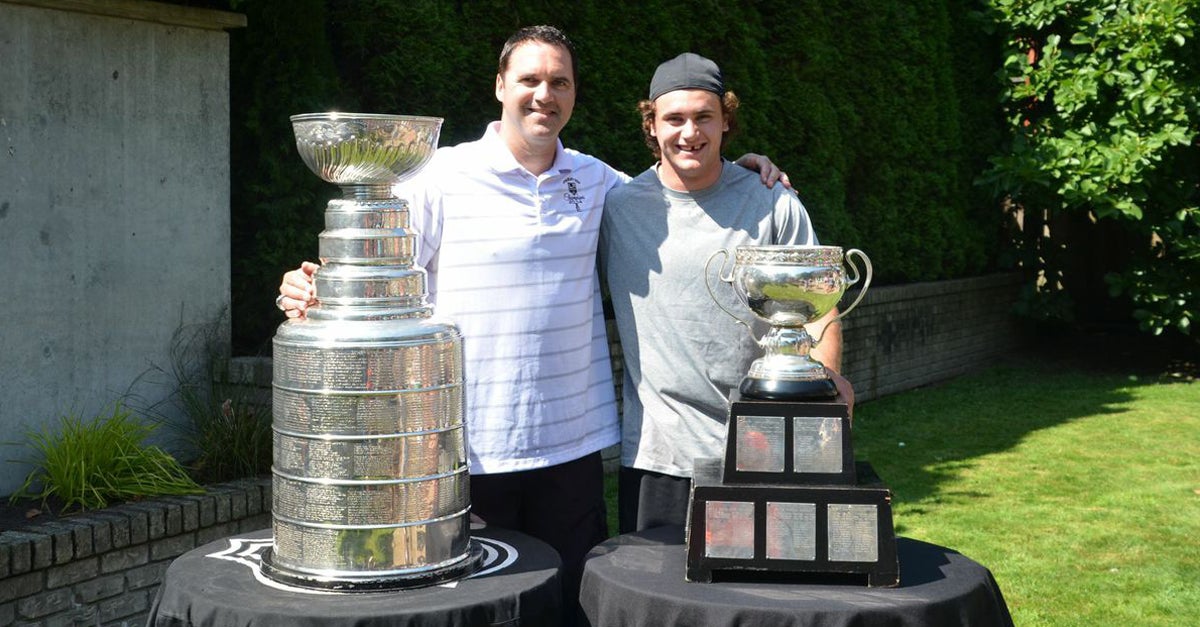 A Day With The Cup: Brendan Ranford
Sep 16, 2014
When did you get the cup and from who?
Well our party with my uncle (Bill Ranford) was on August 21st. I received it the day before from Taylor Vause.

What did you do when you received it?
Well, I was actually at a workout so my uncle received it from UPS that morning and then put it in the garage for me. It was kind of funny. I came home and he tells me the Cup is in the garage, so I grabbed it from there.

What did you do on the first day with the Calder Cup?
The first day was a low-key and relaxing one. I didn't do much of anything because we had this party planned for the next day. I pretty much just hung out with it. Me and my roommate were sitting around playing Madden '14 with the Cup right there. It was actually a really relaxing day. We ate some cereal out of it.

What cereal?
Lucky Charms, haha.

Who is your team in Madden 14?
It mainly depends on who he plays with. He usually goes with Seattle. So I normally go with San Francisco or Carolina.

How was the dual-cup party with the Stanley Cup and Calder Cup?
It turned out to be a really interesting day. My uncle got the Stanley Cup around 9:00 a.m. I brought the Calder Cup to my morning workout with a couple friends, and that was cool. We all enjoyed having it around. After that I took it to the track for a second workout, then ended up bringing it back to the house for a get together from 12-3 in the afternoon that was for the younger crowd. So my cousins were drinking orange juice out of it and having fun.

Most hockey players won't touch the Stanley Cup until they've won it… How did you navigate a dual-cup party with the Stanley Cup and Calder Cup?
I avoided the Stanley Cup as much as possible. I didn't go anywhere near it. It was kind of funny. We did a few photos and things, but I never touched it. I wasn't going to be anywhere near it.

Who came up with the dual-cup Ice Bucket Challenge?
Haha, that was my oldest cousins boyfriend. He was nominated a few days before and I told him just wait until Thursday and we can do it this way. That was a cool experience we had with it.

Who did you pass the Calder Cup off to?
Later that day I ended playing street hockey with some friends and the Cup. Afterwards we all got together at Mr. Mike's restaurant for some food, and Curtis McKenzie came by to hang out. So afterwards I passed it along to him to head off with.
Back to All