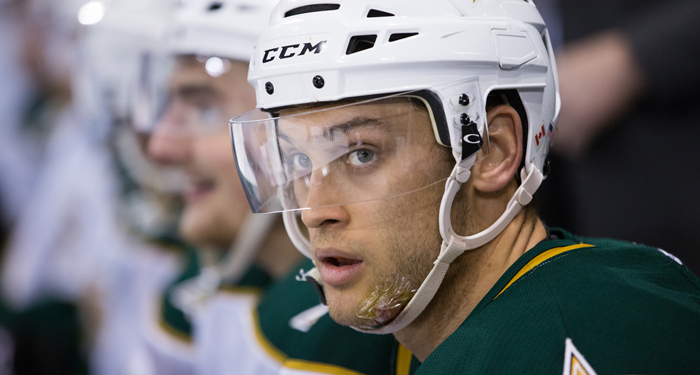 Texas Stars Weekly Update
Mar 2, 2015
CEDAR PARK, Texas – The Texas Stars continue their homestand and look to maintain their place in the Western Conference playoff picture with one divisional game this week. Forwards Curtis McKenzie and Brett Ritchie were reassigned from the NHL's Dallas Stars today, prior to the NHL's Trade Deadline.

Last week's record: 0-1-2-0
Overall record: 25-18-12-1, 63 pts. (3rd, West Division. 8th, Western Conference)

-- THIS WEEK'S SCHEDULE --

March 6 vs. Iowa Wild, 7:30 p.m. CST:
On Friday, the Stars and will face the Iowa Wild for the sixth of eight total meetings this season. Texas is 4-1-0-0 this year against Iowa. Greg Rallo for the Stars (five goals) and Michael Keranen for the Wild (one goal, four assists) are each tied for the series lead with five points. The two teams face off in Cedar Park Center for the first time since Jan. 9, when Iowa clipped Texas in a 2-1 final. The Stars currently sit eighth in the AHL's Western Conference, one point back of seventh place Hamilton and one point ahead of the ninth-place Chicago Wolves. The Stars have a game in hand on Hamilton.

Broadcast Info: TexasStarsHockey.com, Texas Stars Mobile App, and AHLlive.com

-- LAST WEEK'S RESULTS --

Feb. 24 at Oklahoma City Barons, 3-2 Overtime Loss:
Andrew Miller's wrist shot from the left circle snuck past Jussi Rynnas in overtime as the Oklahoma City Barons topped the Texas Stars in a 3-2 final on Tuesday night at Cox Convention Center, and brought a possible end to the West Division rivalry as the Barons will relocate to the AHL's Pacific Division next season. Miller's goal provided the Barons with their league-leading 13th overtime win of the season. Julius Honka tallied a goal and an assist to lead the Stars. Rynnas took the loss stopping 27 of 30 shots in net.

Feb. 27 vs. Rockford IceHogs, 4-3 Overtime Loss:
The Texas Stars and Rockford IceHogs traded goals all game long, but it was Rockford's Pierre-Cedric Labrie who was the hero with the overtime-winner in a 4-3 final on Friday night at Cedar Park Center. Texas erased deficits of 1-0, 2-1, and 3-2 in order to force the overtime period. Jamie Oleksiak knotted the tying goal for Texas with three minutes remaining in regulation. Greg Rallo and Scott Glennie also scored for the Stars.

Feb. 28 vs. Rockford IceHogs, 6-3 Loss:
A hat trick by Phillip Danault in the third period pushed the Rockford IceHogs to a 6-3 win on Saturday night over the Texas Stars at Cedar Park Center. After the Stars carried a 3-2 lead into the third off consecutive goals late in the second, the IceHogs knotted things up on a power play goal. Danault then tallied goals at 12:54 and 14:47 of the third to open up a two-goal cushion, and added an empty-net goal in the final minutes to seal the win.

-- PRACTICE/TRAVEL SCHEDULE --

Monday: Day off
Tuesday: Practice, 10 a.m. CST
Wednesday: Practice, 10 a.m. CST
Thursday: Practice, 10 a.m. CST
Friday: Texas Stars vs. Iowa Wild, 7:30 p.m.
Saturday: Day off
Sunday: Day off

-- NEWS, NOTES AND UPCOMING MILESTONES –

Forwards Curtis McKenzie and Brett Ritchie were reassigned by the NHL's Dallas Stars prior to today's NHL trade deadline, making them eligible for the Texas Stars playoff roster. Stars goaltender Jack Campbell returned from an ECHL assignment and on Friday against Rockford, made his first start for the Stars since Jan. 20. He stopped 24 shots. Greg Rallo leads the Stars and is tied for sixth overall in the league with eight power play goals this season. Travis Morin is leading the Stars with 29 assists and 45 points this year, and sits tied for eighth overall in the league with 14 power play assists. After playing six games over the past 14 days with travel involved, the Stars' schedule lightens up a bit as they will play only four times over the next 14 days, all at home.

-- UPCOMING PROMOTIONS --

Friday's matchup against Iowa is another Fun Food Friday promotion with the Stars where fans can enjoy $3 specials on beer, soda, hot dogs, and Pizza Hut slices, plus $4 specials on Robert Mondavi Private Selection wine.

Every Saturday home game with the Stars is a Coke Zero Family Four Pack night where fans can purchase four tickets, four hot dogs, four soft drinks, and parking for a low as $15 per person. Saturday's are also Texas Lottery Lucky Row nights where the first Stars player to score wins free scratch-off tickets and a prize pack for one lucky row of seats in a section at Cedar Park Center.

The Texas Stars entered the 2014-15 season as the AHL's defending Calder Cup Champions. Single-game tickets and season ticket packages for the 2014-15 campaign are on sale now. For more information, call (512) GO-STARS (467-8277) or visit TexasStarsHockey.com.
Back to All