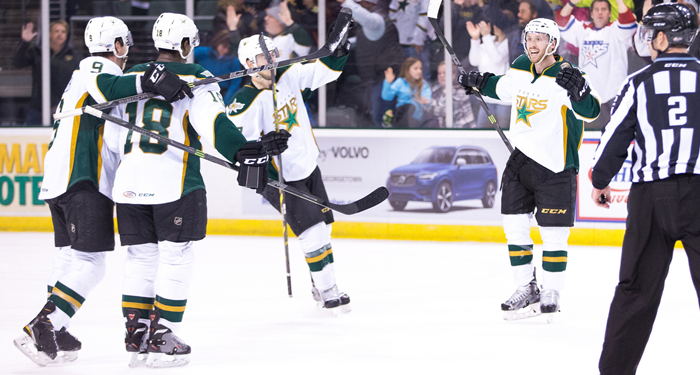 Texas Stars Weekly Update
Mar 9, 2015
CEDAR PARK, Texas – The Texas Stars continue their homestand this week and look to stay in the AHL playoff picture as they currently hold the eighth and final playoff spot in the Western Conference with three games scheduled this week.

Last week's record: 0-0-1-0
Overall record: 25-18-13-1, 64 pts. (3rd, West Division. 8th, Western Conference)

-- THIS WEEK'S SCHEDULE --

March 11 vs. Lake Erie Monsters, 7:30 p.m. CST:
Wednesday's contest is the third of four overall meetings this season between the Texas Stars and Lake Erie Monsters. The Monsters captured a pair of wins back in November in a weekend set between the two teams in Cleveland, outscoring Texas 9-5 overall. Lake Erie is currently outside the playoff bubble in the West, four points back of the eighth-place Stars. The Monsters are coming off back-to-back wins while the Stars are 5-2-3-0 in their past 10 games.

March 14 vs. Milwaukee Admirals, 7:30 p.m. CST and March 15 vs. Milwaukee Admirals, 5 p.m. CST:
The Texas Stars and Milwaukee Admirals hook up to begin their four-game season series with their first two contests of the year. Milwaukee is currently sixth in the AHL's Western Conference, six points ahead of Texas. The Stars are 7-5-1-0 this season when facing an opponent for the first time. Viktor Arvidsson leads the Admirals this season with 47 points (18 goals, 29 assists). Texas will face Milwaukee in three of their next six games.

Broadcast Info: TexasStarsHockey.com, Texas Stars Mobile App, and AHLlive.com

-- LAST WEEK'S RESULTS --

March 6 vs. Iowa Wild, 2-1 Overtime Loss:
Tyler Graovac's wrist shot from the right circle closed out an overtime thriller and lifted the Iowa Wild to a 2-1 win over the Texas Stars on Friday night at Cedar Park Center. After his team scored the opening goal of the game late in the first, Iowa netminder John Curry carried the 1-0 lead all the way to 4:15 of the third period before Derek Hulak scored his 13th of the season for the Stars to force the extra frame.

-- PRACTICE/TRAVEL SCHEDULE --

Monday: Practice, 10 a.m. CST
Tuesday: Practice, 10 a.m. CST
Wednesday: Texas Stars vs. Lake Erie Monsters, 7:30 p.m.
Thursday: Day off
Friday: Practice, 10 a.m.
Saturday: Texas Stars vs. Milwaukee Admirals, 7 p.m.
Sunday: Texas Stars vs. Milwaukee Admirals, 5 p.m.

-- NEWS, NOTES AND UPCOMING MILESTONES –

Defenseman Jamie Oleksiak was recalled to the NHL's Dallas Stars on Sunday. Stars goaltender Jussi Rynnas is one win shy of 100 in his professional career. Defenseman Cameron Gaunce is three games shy of 400 in his professional career. The Stars (64 points) are just one point ahead of three teams (Adirondack, Chicago, Toronto) for the eighth and final playoff spot in the Western Conference. Texas is also one point behind Hamilton for the seventh-place spot in the conference.

-- UPCOMING PROMOTIONS --

Wednesday's game against Lake Erie is a Winning Wednesday, a Raising Cane's Challenge and an H-E-B Night with the Stars. If the Stars win, fans in attendance will receive a free ticket to the team's next Wednesday game on April 1. The Raising Cane's Challenge also returns where if the Stars score at least three goals in the game, fans in attendance receive a Buy One, Get One free coupon for any area Raising Cane's location. For H-E-B Night, fans that donate an H-E-B branded, non-perishable food item at the box office will receive $5 off their ticket purchase.

Saturday's contest features a Texas Stars Puck giveaway, courtesy of Healthtronics, for fans that arrive early. As part of the Stars' and Healthtronics' "Pucks for Prostates" initiative, the puck includes a blue Healthtronics logo to support prostate cancer awareness. It is also a Texas Lottery Lucky Row Night with the Stars where the first Stars player to score will win free scratch off tickets, and a prize pack, for a lucky row of seats in a section at Cedar Park Center.

Saturday's and Sunday's games against Milwaukee are Coke Zero Family Four Pack nights where fans can enjoy four tickets, four soft drinks, four hot dogs, and parking for a low at $15 per person.

Sunday's contest is presented by Instacart. Fans in attendance will receive a promo code for $10 in free groceries courtesy of Instacart.

The Texas Stars entered the 2014-15 season as the AHL's defending Calder Cup Champions. Single-game tickets and season ticket packages for the 2014-15 campaign are on sale now. For more information, call (512) GO-STARS (467-8277) or visit TexasStarsHockey.com.
Back to All