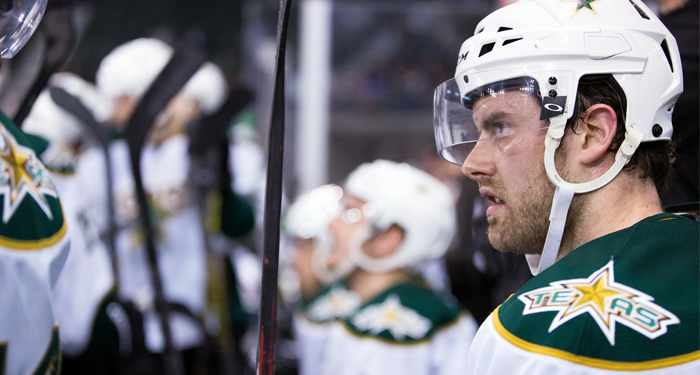 Texas Stars Weekly Update
Mar 16, 2015
CEDAR PARK, Texas – The Texas Stars close out their homestand Tuesday before hitting the road for a four-game stretch through the Midwest with a chance to improve their playoff positioning in the AHL's Western Conference.

Last week's record: 3-0-0-0
Overall record: 28-18-13-1 (7th, Western Conference. 3rd, West Division)

-- THIS WEEK'S SCHEDULE --

March 17 vs. Lake Erie Monsters, 7:30 p.m. CST:
It's a St. Patrick's Day matchup for the fourth and final game of the season between the Texas Stars and Lake Erie Monsters. Texas is 1-1-1-0 against Lake Erie this season, having been outscored 13-11 overall in the series. The Stars currently hold the seventh-place spot in the AHL's Western Conference while the Monsters sit eight points back, outside of the playoff bubble.

March 19 at Chicago Wolves, 7 p.m. CST:
The Stars kick off their four-game road trip through the Midwest in Chicago to face the Wolves for the third time this season. Texas swept a weekend pair of games against Chicago back on Feb. 23 and 24 in Cedar Park. Chicago's Shane Harper leads the team with 42 points (28 goals, 14 assists) on the season. Brendan Ranford (one goal, two assists) and Travis Morin (three assists) each lead the Stars with three points in the head-to-head matchup.

March 21 at Milwaukee Admirals, 7 p.m. CST:
After sweeping a weekend set against Admirals last week, the Stars will visit Milwaukee for the third matchup of four this year on Saturday. Texas has outscored Milwaukee 10-5 overall this season, and holds a 7-4-1-0 record all-time on the road against the Admirals. Viktor Arvidsson leads Milwaukee this year with 51 points (20 goals, 31 assists)

March 22 at Rockford IceHogs, 4 p.m. CST:
On Sunday, the Stars close out their season series against the Rockford IceHogs. Texas is 0-2-1-0 against the Hogs this season. Garrett Ross and Mark McNeill of Rockford lead all skaters in the season series with six points each. Rockford is 6-3-1-0 in their last 10 games while the Stars are 5-2-3-0.

Broadcast Info: TexasStarsHockey.com, Texas Stars Mobile App, and AHLlive.com

-- LAST WEEK'S RESULTS --

March 11 vs. Lake Erie Monsters, 6-4 Win:
A balanced attack throughout the night and a lockdown effort in the closing minutes propelled the Texas Stars to a 6-4 win over the Lake Erie Monsters on Wednesday night at Cedar Park Center. Six different players scored for Texas and Jussi Rynnas finished with 36 saves to earn his 100th career win as a pro. The Monsters made a late push, scoring twice in the third period to close the Texas gap to 5-4, but Travis Morin's empty-net goal in the closing seconds put the game on ice for the Stars.

March 14 vs. Milwaukee Admirals, 4-2 Win:
The power play for the Texas Stars struck three times on the night, including twice in the first period, to spark a 4-3 win over the visiting Milwaukee Admirals in a battle of two teams in the middle of the AHL's Western Conference playoff race on Saturday at Cedar Park Center. Greg Rallo led all skaters with three points on a goal and two assists. The veteran forward reached the 20-goal mark for the third time in his AHL career with one of the Stars' first period power play goals.

March 15 vs. Milwaukee Admirals, 6-2 Win:
Consecutive goals by Kevin Henderson and Scott Valentine against their former club sparked the Texas Stars offense into a 6-2 rout over the visiting Milwaukee Admirals on Sunday evening at Cedar Park Center. Henderson and Valentine appeared in a combined 339 games over the previous three seasons for Milwaukee, but Henderson's goal at 10:58 of the first and Valentine's at 4:30 of the second turned a tie game into a 3-1 lead for Texas and they never looked back. Brendan Ranford scored twice for the Stars and Jack Campbell stopped 36 of 38 shots in net to earn the win.

-- PRACTICE/TRAVEL SCHEDULE --

Monday: Practice, 10 a.m. CST
Tuesday: Texas Stars vs. Lake Erie Monsters, 7:30 p.m. CST
Wednesday: Travel day
Thursday: Texas Stars at Chicago Wolves, 7 p.m. CST
Friday: Travel day
Saturday: Texas Stars at Milwaukee Admirals, 7 p.m. CST
Sunday: Texas Stars at Rockford IceHogs, 4 p.m. CST

-- NEWS, NOTES AND UPCOMING MILESTONES –

The Dallas Stars reassigned defenseman Jamie Oleksiak to Texas on Monday, and forward Eric Faille was released from his professional tryout agreement. Forward Devin Shore and defenseman Ludwig Bystrom each made their debuts for the Texas Stars last week. Derek Hulak is on a four-game goal scoring streak, and is seventh among AHL rookies with 36 points overall this season. Texas is currently on a three-game winning streak, outscoring their opponents 16-9 during that stretch. The Stars have scored 13 power play goals over their last 12 games.

-- UPCOMING PROMOTIONS --

Tuesday's St. Patrick's Day contest against Lake Erie will feature $3 dollar beer specials and $4 wine specials for fans in attendance. It's also an H-E-B Night with the Stars where fans can donate an H-E-B branded non-perishable food item at the box office for a $5 discount off their ticket purchase.

Texas returns home on March 27 and 28 to kick off Military Appreciation weekend against Grand Rapids, brought to you by Round Rock Auto Group. The Stars will wear specialty camouflage jerseys available for purchase in a silent auction during Saturday's game. Saturday's contest will also feature a camouflage hat giveaway, courtesy of Round Rock Auto Group.

The Texas Stars entered the 2014-15 season as the AHL's defending Calder Cup Champions. Single-game tickets are on sale now for the remainder of the current season, and season ticket package deposits for the 2015-16 campaign are now being accepted. For more information, call (512) GO-STARS (467-8277) or visit TexasStarsHockey.com.
Back to All