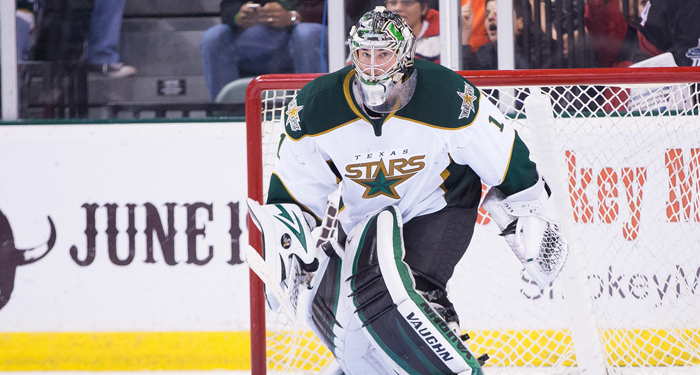 Texas Stars Weekly Update
Mar 23, 2015
CEDAR PARK, Texas – The Texas Stars close out their Midwestern road trip Tuesday before returning home for Military Appreciation weekend at Cedar Park Center.

Last week's record: 3-1-0-0
Overall record: 31-19-13-1 (6th, Western Conference. 3rd, West Division)

-- THIS WEEK'S SCHEDULE --

March 24 at Iowa Wild, 7 p.m. CST:
Tuesday's contest is the seventh of eight total matchups this season between the Texas Stars and Iowa Wild. Texas enters the game having won six of their last seven matchups and sitting sixth in the AHL's Western Conference. The Stars are 4-1-1-0 against the Wild this season. Tuesday's game closes out a four-game road trip for Texas. Iowa took the previous meeting back in Cedar Park on March 6, 2-1 in overtime.

March 27 at 7:30 p.m. CST and March 28 at 7 p.m. CST vs. Grand Rapids Griffins:
The Griffins return to the Cedar Park Center for the first time since last season's Calder Cup Playoffs to close out their four-game season series against the Stars over Military Appreciation Weekend. Texas dropped a pair of overtime games to Grand Rapids back in November in the first two matchups of the season. Andy Miele is the Griffins active leading scorer and fourth overall in the AHL with 60 points on the season.

Broadcast Info: TexasStarsHockey.com, Texas Stars Mobile App, and AHLlive.com

-- LAST WEEK'S RESULTS --

March 17 vs. Lake Erie Monsters, 3-2 (SO) Win:
Jack Campbell came on in a relief appearance late in the first period and 35 saves later lifted the Texas Stars to their fourth straight win in a 3-2 shootout final over the Lake Erie Monsters on Tuesday night at Cedar Park Center. Campbell entered the game after starter Jussi Rynnas left due to injury with 2:01 remaining in the first. The Stars goaltender made two key stops in overtime then turned away Lake Erie's Mitchell Heard in round four of the shootout to seal the win for the Stars. Travis Morin was credited with the game-winner, beating Lake Erie's Calvin Pickard in round four on a wrist shot from the slot, glove side.

March 19 at Chicago Wolves, 3-0 Win:
Jack Campbell's third straight win in net was a big one as the Texas Stars shut out the Chicago Wolves in a 3-0 win on Thursday night at Allstate Arena to open up their four-game road trip and take over sixth place in the AHL's Western Conference. Campbell stopped 27 shots for his first shutout of the season and the fifth overall for Texas. Travis Morin (two assists) and Derek Hulak (goal, assist) each tallied multi-point nights for the Stars.

March 21 at Milwaukee Admirals, 4-3 Win:
Jack Campbell stopped 38 shots on the night and the Texas Stars withstood a final push at the end to hold on for a 4-3 win over the Milwaukee Admirals on Saturday night at the BMO Harris Bradley Center to extend their winning streak to six games. It was a chaotic finish to the game as Milwaukee closed the gap to 3-2 with just under two minutes to play off a goal by Austin Watson. Scott Glennie added an empty-net, power play goal for the Stars with a minute to play, but Milwaukee made it a one-goal game again with a goal in front by Mark Van Guilder just 16 seconds later. Texas held on during one final push from the Admirals for Campbell to earn his fourth consecutive win and seventh of the season.

March 22 at Rockford IceHogs, 4-3 Loss:
It was a photo finish at the end, but the Texas Stars saw their season-high six-game winning streak come to an end on Sunday evening in a 4-3 loss to the Rockford IceHogs at BMO Harris Bank Center to close out the season series between both clubs. Brandon Troock scored at 3:32 of the third period to pull Texas within one. The Stars opted for the extra attacker in the final minute of regulation, but could not score the equalizer past Rockford's Michael Leighton, who finished with 28 saves in the win for the IceHogs.

-- PRACTICE/TRAVEL SCHEDULE --

Monday: Travel day
Tuesday: Texas Stars at Iowa Wild, 7 p.m. CST
Wednesday: Travel day
Thursday: Practice, 10 a.m. CST at Chaparral Ice Center
Friday: Texas Stars vs. Grand Rapids Griffins, 7:30 p.m. CST
Saturday: Texas Stars vs. Grand Rapids Griffins, 7 p.m. CST
Sunday: Day off

-- NEWS, NOTES AND UPCOMING MILESTONES –

The Stars' six-game winning streak was their longest of the season. Rookie forward Devin Shore tallied his first career goal on Saturday at Milwaukee. Jack Campbell saw his personal four-game winning streak come to an end in Sunday's loss at Rockford. The Stars magic number to clinch a playoff spot in the Western Conference is down to 20 points.

-- UPCOMING PROMOTIONS --

Texas returns home on March 27 and 28 to kick off Military Appreciation weekend against Grand Rapids, brought to you by Round Rock Auto Group. The Stars will wear specialty camouflage jerseys available for purchase in a silent auction during Saturday's game. Saturday's contest will also feature a camouflage hat giveaway, courtesy of Round Rock Auto Group.

Friday's contest is a Fun Food Friday featuring $3 beer, soda, hot dogs, and Pizza Hut slices, plus $4 Robert Mondavi Private Selection wine.

Saturday's game is a Coke Zero Family Four Pack and Texas Lottery Lucky Row Night. Fans can purchase four tickets, four hot dogs, four soft drinks, and parking for as low as $15 per person. Also, the first Stars player to score will win free Texas Lottery scratch off tickets for a lucky row of seats in a section at Cedar Park Center, plus a prize pack.

The Texas Stars entered the 2014-15 season as the AHL's defending Calder Cup Champions. Single-game tickets are on sale now for the remainder of the current season, and season ticket package deposits for the 2015-16 campaign are now being accepted. For more information, call (512) GO-STARS (467-8277) or visit TexasStarsHockey.com.
Back to All