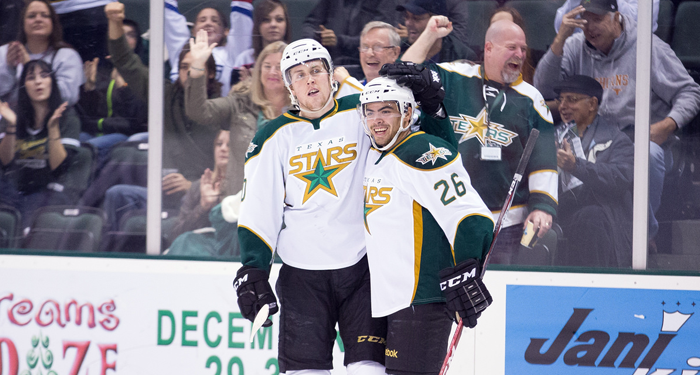 Texas Stars Weekly Update
Dec 29, 2014
CEDAR PARK, Texas – In their final three-in-three weekend of the season, the Texas Stars picked up four out of six possible points to wrap up the 2014 portion of their season. The Stars will begin the new year on a three-game road trip, starting this weekend with a pair of games against Charlotte

Last week's record: 2-1-0-0
Overall record: 13-10-8-0, 34 pts. (3rd, West Division)


-- THIS WEEK'S SCHEDULE --

Jan. 3 at Charlotte Checkers, 6 p.m. CST and Jan. 4 at Charlotte Checkers, 2 p.m. CST:
The Stars and Checkers hook up for the second time in a 10-day span and it will be the sixth and seventh meetings of the season. Texas is 3-2-0-0 against Charlotte this season. Chad LaRose has four points (one goal, three assists) in five games against the Stars and Justin Shugg leads Charlotte with nine goals on the year. Radek Faksa (one goal, three assists), Brendan Ranford (one goals three assists), and Brett Ritchie (three goals, one assist) each lead the Stars with four points in the season series against the Checkers.

Broadcast Info: TexasStarsHockey.com, Texas Stars Mobile App, and AHLlive.com


-- LAST WEEK'S RESULTS --

Dec. 26 at San Antonio Rampage, 7-3 Loss:
A three-goal first period propelled the San Antonio Rampage to a 7-3 win on Friday over the Texas Stars at AT&T Center. The Stars outshot the Rampage 36-19 on the night, but San Antonio goaltender Dan Ellis continued to be a mark of frustration with a 33-save performance for the win. Gemel Smith scored his first career pro goal for the Stars.

Dec. 27 vs. Charlotte Checkers, 4-2 Win:
Brett Ritchie's empty-net goal in the final minute of regulation capped off a hat-trick performance and a 4-2 win for the Texas Stars on Saturday over Charlotte. Greg Rallo also scored for Texas in the win and Jussi Rynnas stopped 28-of-30 shots to preserve the win and improve his record to 6-1-5 on the season.

Dec. 28 vs. San Antonio Rampage, 6-3 Win:
Gemel Smith and Brett Ritchie each scored twice to propel the Texas Stars to a 6-3 win over the rival San Antonio Rampage on Sunday. Curtis McKenzie and Scott Valentine also scored for the Stars. Jussi Rynnas put in a 37-save performance to earn his seventh win of the season, including a 17-save effort in the third period alone to keep the Rampage offense at bay in a final push.


-- PRACTICE/TRAVEL SCHEDULE --

Monday: Off day
Tuesday: Practice at Chaparral Ice Center, 9:15 a.m.
Wednesday: Practice at Chaparral Ice Center, 10 a.m.
Thursday: Practice at Chaparral Ice Center, 9:45 a.m.
Friday: Travel day
Saturday: Texas Stars at Charlotte Checkers, 6 p.m.
Sunday: Texas Stars at Charlotte Checkers, 2 p.m.
**All times Central (CST)


-- NEWS, NOTES AND UPCOMING MILESTONES --

Brett Ritchie was named the CCM/AHL Player of the Week after tallying five goals over the Stars' three-game weekend. Texas head coach Derek Laxdal is sitting on 499 wins in his coaching career after Sunday's win over San Antonio. Jussi Rynnas picked up back-to-back wins this weekend, and has not lost a game in regulation since Halloween for the Stars, going 5-0-3 over that span with an NHL call-up as well. Texas has killed off 49 of their last 54 penalties over the last 14 games to jump from 19th in the AHL up to 8th with an 85.3% rate.


-- UPCOMING PROMOTIONS --

The Stars return home on Jan. 9 to host the Iowa Wild at 7:30 p.m. with a Fun Food Friday promotion. Fans attending can enjoy $3 specials on beer, soda, hot dogs, and Pizza Hut slices. Plus, $4 specials on Robert Mondavi Private Selection wine.

Saturday, Jan. 10, the Stars will host the Toronto Marlies at 7 p.m., and a Texas Stars Lunch Bag will be given away, courtesy of University Federal Credit Union, to fans who arrive early. Fans can enjoy Coke Zero Family Four Packs with four tickets, four soft drinks, four hot dogs and parking for as low at $15 a person. It will also be a Texas Lottery Luck Row night where the first Stars player to score will win free scratch off tickets and a prize pack for one lucky row of seats in a section at Cedar Park Center.

The Texas Stars are the AHL's defending Calder Cup Champions for the 2014-15 season. Single-game tickets and season ticket packages for the 2014-15 campaign are on sale now. For more information, call (512) GO-STARS (467-8277) or visit TexasStarsHockey.com.
Back to All