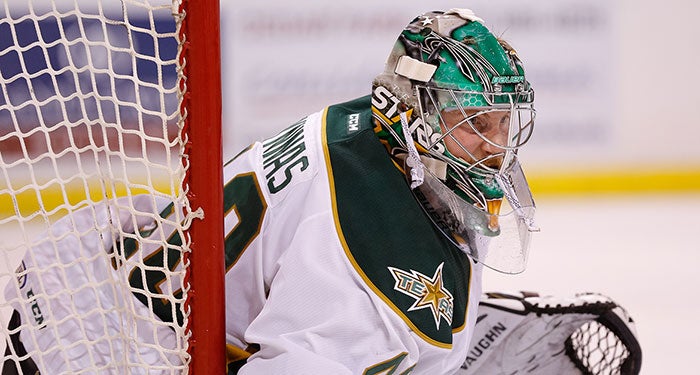 Texas Stars Weekly Update
Jan 6, 2015
CEDAR PARK, Texas – After splitting a weekend pair of games over the weekend, the Texas Stars are preparing for a three-game week where they will close out their road trip on Tuesday before returning home for a pair of games this weekend.

Last week's record: 1-1-0-0
Overall record: 14-11-8-0, 36 pts. (3rd, West Division)


-- THIS WEEK'S SCHEDULE --

Jan. 6 at Oklahoma City Barons, 7 p.m. CST:
The Stars and Barons hook up for the eighth of 12 total meetings this season on Tuesday. The two West Division rivals are meeting for the first time since Dec. 10, the longest gap between matchups this season. The Stars have won three of their last four games entering tonight, while the Barons have won seven straight. Five of the previous seven meetings between the two clubs have been decided by just a goal.

Jan. 9 vs. Iowa Wild, 7:30 p.m. CST:
The Stars face off against the Wild in another West Division showdown on Friday at Cedar Park Center. Texas is 2-0-0-0 this season against the Wild, outscoring them 8-5 overall in the season series. The Wild currently sit at 12-20-1-1 on the season and are led by their leading scorer, Michael Kernen, with 25 points (five goals, 20 assists) this year.

Jan. 10 vs. Toronto Marlies, 7 p.m. CST:
Texas and Toronto square off for the third time this season on Satuday night. The Stars have won each of the previous two meetings by a 3-1 score both times. Toronto is currently 14-15-6-0 this year and led by rookie forward Connor Brown, who has nine goals and 19 assists for 28 points this year.

Broadcast Info: TexasStarsHockey.com, Texas Stars Mobile App, and AHLlive.com


-- LAST WEEK'S RESULTS --

Jan. 3 at Charlotte Checkers, 4-1 Win:
Brendan Ranford scored twice and the Texas Stars opened up a four-goal third period to overtake the Charlotte Checkers and finish off a 4-1 win on Saturday night at Time Warner Cable Arena. It was the 500th career coaching win for Texas head coach Derek Laxdal, who now holds a record of 500-259-74 in the middle of his 13th season as a coach. Gemel Smith also scored his fourth goal in as many games for the Stars. Jussi Rynnas earned his eighth win of the season, stopping 24-of-25 in net.

Jan. 4 at Charlotte Checkers, 5-2 Loss:
Jyrki Jokipakka scored in his return from the NHL, but goaltender Drew MacIntyre was too much for the Texas Stars in a 5-2 loss to the Charlotte Checkers on Sunday afternoon. The loss snapped a three-game winning streak for the Stars. Derek Meech also scored for Texas in the loss. MacIntyre returned to action for Charlotte after competing for Team Canada in the Spengler Cup to turn aside 26-of-28 Texas shots in the win.


-- PRACTICE/TRAVEL SCHEDULE --
Monday: Travel day
Tuesday: Texas Stars at Oklahoma City Barons, 7 p.m.
Wednesday: Off day
Thursday: Practice, 10 a.m.
Friday: Texas Stars vs. Iowa Wild, 7:30 p.m.
Saturday: Texas Stars vs. Toronto Marlies, 7 p.m.
Sunday: Off day
**All times Central (CST)


-- NEWS, NOTES AND UPCOMING MILESTONES --

Forward Travis Morin was reassigned to Texas on Monday by the NHL's Dallas Stars. At the time of his NHL call-up, Morin was leading Texas in goals (10), assists (14), and points (24) on the season. Greg Rallo recorded the 250th point of his AHL career on Sunday in the Stars loss at Charlotte. Derek Meech's goal on Sunday was the second shorthanded goal this season scored by Texas along with Morin. Jussi Rynnas took the loss on Sunday at Charlotte for his first regulation loss in net since Halloween. The Stars' goaltender was 6-0-3 in his previous nine games prior to the loss.


-- UPCOMING PROMOTIONS --

The Stars return home on Jan. 9 to host the Iowa Wild at 7:30 p.m. with a Fun Food Friday promotion. Fans attending can enjoy $3 specials on beer, soda, hot dogs, and Pizza Hut slices. Plus, $4 specials on Robert Mondavi Private Selection wine.

Saturday, Jan. 10, the Stars will host the Toronto Marlies at 7 p.m., and a Texas Stars Lunch Bag will be given away, courtesy of University Federal Credit Union, to fans who arrive early. Fans can enjoy Coke Zero Family Four Packs with four tickets, four soft drinks, four hot dogs and parking for as low at $15 a person. It will also be a Texas Lottery Lucky Row night where the first Stars player to score will win free scratch off tickets and a prize pack for one lucky row of seats in a section at Cedar Park Center.

The Texas Stars are the AHL's defending Calder Cup Champions for the 2014-15 season. Single-game tickets and season ticket packages for the 2014-15 campaign are on sale now. For more information, call (512) GO-STARS (467-8277) or visit TexasStarsHockey.com.
Back to All