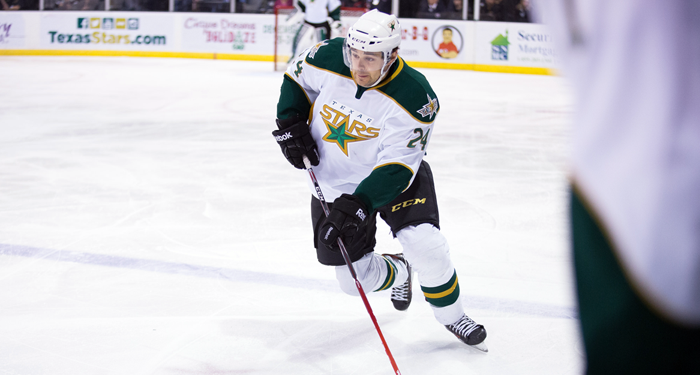 Texas Stars Weekly Update
Jan 19, 2015
CEDAR PARK, Texas – The Texas Stars close out their road trip on Tuesday and then prepare for a five-game homestand beginning with a weekend set that could catapult the team into a playoff spot.

Last week's record: 1-2-0-0

Overall record: 16-14-9-0, 41 pts. (3rd, West Division)


-- THIS WEEK'S SCHEDULE --

Jan. 20 at San Antonio Rampage, 7 p.m.:
The Texas Stars close out their three-game road trip on Tuesday when they travel to San Antonio to face off against the Rampage at AT&T Center. Tuesday's game is the fifth of 12 overall meetings between the Stars and Rampage. San Antonio has won three of the previous four matchups. Both teams are 5-4-1-0 in their previous 10 games and entering tonight the two clubs are separated by just six points in the AHL's West Division Standings.

Jan. 23 vs. Chicago Wolves, 7:30 p.m. and Jan. 24 vs. Chicago Wolves, 7 p.m.:
The Stars take on the Chicago Wolves for the first of four meetings this year and the start of a weekend set that could have playoff implications for both teams. Texas currently trails Chicago by two points for the seventh available playoff spot in the AHL's Western Conference. Chicago features one of the AHL's top goal scorers in Ty Rattie, who is tied for fifth in the league with 16 goals this season. Last year, the Stars went 4-0-0-0 against the Wolves.

Broadcast Info: TexasStarsHockey.com, Texas Stars Mobile App, and AHLlive.com


-- LAST WEEK'S RESULTS --

Jan. 14 vs. Rochester Americans, 6-5 Loss:
Travis Morin scored a pair of goals and finished with three points, including the 500th of his professional career, but the Texas Stars came up short in a 6-5 loss to the Rochester Americans in front of a sold out crowd on Wednesday night at Cedar Park Center. Justin Dowling also scored twice for Texas in his first action since Dec. 26, and Maxime Fortunus recorded his 150th career assist in a Stars uniform. Tim Schaller tallied a pair of goals for the Americans, but Johan Larsson's strike from the slot with 1:33 left in regulation proved to be the game-winner. The two teams combined for 11 goals and the game's score saw three ties and two lead changes throughout the night.

Jan. 16 at Oklahoma City Barons, 2-0 Win:
A strong second period for the Texas Stars the difference on Friday night in a 2-0 shutout win over the Oklahoma City Barons at Cox Convention Center. Travis Morin tallied the game-winner, and Maxime Fortunus also scored for Texas. Jussi Rynnas turned aside 39 shots in net for his 10th win of the season, while the Stars' special teams unit killed off three separate penalties in the middle frame to set the tone for the road win. Scott Glennie appeared in his 200th career game as a pro and tallied an assist. It was the second shutout of the season for the Stars and Rynnas, who blanked the Utica Comets, 1-0, back on Oct. 18.

Jan. 17 at Oklahoma City Barons, 5-2 Loss:
The Texas Stars tallied a power play and shorthanded goal, but Bogdan Yakimov's two goals for the Oklahoma City Barons were the difference as the Texas Stars lost, 5-2, on Saturday night to split their weekend set at Cox Convention Center. The loss also splits the season series between the two division rivals at 5-5 with two matchups remaining. Derek Meech and Derek Hulak each scored for Texas, and Hulak finished with a two-point night. Jussi Rynnas suffered the loss, stopping 30-of-34 shots in net for the Stars, while former Star Richard Bachman was 30-of-32 in the win for the Barons.


-- PRACTICE/TRAVEL SCHEDULE --

Monday: Practice, 10 a.m. at Chaparral Ice Center
Tuesday: Texas Stars at San Antonio Rampage, 7 p.m. (Watch Party at Pluckers at Lakeline)
Wednesday: Practice, 10 a.m. at Chaparral Ice Center
Thursday: Practice, TBD
Friday: Texas Stars vs. Chicago Wolves, 7 p.m.
Saturday: Texas Stars vs. Chicago Wolves, 7 p.m.
Sunday: Travel Day
**All times Central (CST)


-- NEWS, NOTES AND UPCOMING MILESTONES --

Captain Maxime Fortunus and forward Travis Morin were selected to compete in the 2015 AHL All-Star Classic on Jan. 25 and 26 in Utica, N.Y. Jyrki Jokipakka and Curtis McKenzie were recalled by the NHL's Dallas Stars on Saturday. Texas has gone 5-for-15 (33.3%) over their last four games on the power play and the penalty kill unit is currently second in the AHL at 87.6%, having given up just five goals over the last 22 games. Rookie forward Derek Hulak has 11 points (three goals, eight assists) over the last nine games.


-- UPCOMING PROMOTIONS --

Friday's matchup against Chicago is another Fun Food Friday where fans can enjoy $3 specials on beer, hot dogs, soft drinks, and Pizza Hut slices, plus $4 specials on Robert Mondavi Private Selection Wine.

Saturday's game against Chicago will feature a Stars Gym Bag giveaway to fans who show up early, courtesy of H-E-B. Coke Zero Family Four Packs will also be available of four tickets, four hot dogs, four soft drinks, and parking start as low as $15 per person. The contest will also be a Texas Lottery Lucky Row Night where the first Stars player to score will win free scratch off tickets and a prize pack for one lucky row of seats in a section at Cedar Park Center.

The Texas Stars entered the 2014-15 season as the AHL's defending Calder Cup Champions. Single-game tickets and season ticket packages for the 2014-15 campaign are on sale now. For more information, call (512) GO-STARS (467-8277) or visit TexasStarsHockey.com.
Back to All