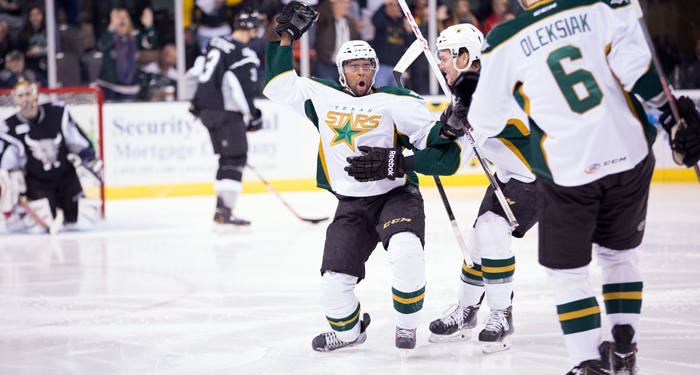 Texas Stars Weekly Update
Jan 26, 2015
CEDAR PARK, Texas – Coming off back-to-back wins this past weekend, the Texas Stars continue their homestand with a pair of divisional games this week on Thursday and Saturday.

Last week's record: 2-0-0-0
Overall record: 18-14-9-0, 45 pts. (3rd, West Division)


-- THIS WEEK'S SCHEDULE --

Jan. 29 vs. San Antonio Rampage, 7:30 p.m.:
The I-35 rivalry resumes on Thursday with the sixth meeting of the season between the Texas Stars and San Antonio Rampage. The Rampage lead the season series having won four of the previous five and outscoring Texas 25-12 over that span. Thursday's contest is game three of a five-game homestand for the Stars, and opens up the second half of the season after the All-Star break for both clubs.

Jan. 31 vs. Charlotte Checkers, 7:30 p.m.:
Texas and Charlotte will face off for the eighth and final time this season on Saturday, with the Stars holding a 4-3-0-0 record against the Checkers. Texas' Brendan Ranford leads all skaters in the series with seven points (three goals, four assists) in seven games. Charlotte's Justin Shugg leads the Checkers in the series with five points (three goals, two assists) in five games against Texas this year.

Broadcast Info: TexasStarsHockey.com, Texas Stars Mobile App, and AHLlive.com


-- LAST WEEK'S RESULTS --

Jan. 23 vs. Chicago Wolves, 3-2 Win:
In a tightly contested matchup on Friday, two goals from Maxime Fortunus were the difference as the Texas Stars edged the Chicago Wolves for a 3-2 win to begin a five-game homestand in front of 4,443 in attendance. Travis Morin added a pair of assists for the Stars. With his two goals on the night, Fortunus has seven points over his last eight games (three goals, four assists).

Jan. 24 vs. Chicago Wolves, 5-4 Win:
For the second straight night it went down to the wire, but a pair of second period goals just 11 seconds apart was the difference as the Texas Stars swept their weekend set over the Chicago Wolves in a 5-4 final on Saturday night in front of a crowd of 6,309. Brendan Ranford and Jesse Root provided the quick-strike offense to turn a 3-2 Texas deficit into a 4-3 lead in the final minutes of period two. Ranford finished with a goal and an assist on the night. Jussi Rynnas earned his 12th win of the season stopping 31 shots in net.


-- PRACTICE/TRAVEL SCHEDULE --

Monday: All-Star Break
Tuesday: All-Star Break
Wednesday: All-Star Break
Thursday: Texas Stars vs. San Antonio Rampage, 7:30 p.m.
Friday: Practice, 10 a.m.
Saturday: Texas Stars vs. Charlotte Checkers, 7:30 p.m.
Sunday: Day off
**All times Central (CST)


-- NEWS, NOTES AND UPCOMING MILESTONES --

Defensemen Jamie Oleksiak and Jyrki Jokipakka were recalled to the NHL by the Dallas Stars on Monday. The Stars currently sit just one point out of the eighth and final playoff spot in the AHL's Western Conference, trailing Grand Rapids and Hamilton. Texas is also five points back of the Rampage, who currently occupy the fifth spot in the West. In a tightly contested race, six teams are separated by five points fighting for the last four playoff seeds. The Stars have gone 9-for-28 (32.1%) over the last seven games on the man-advantage, scoring at least a power play goal in six of those contests. Travis Morin signed a two-year contract extension with the NHL's Dallas Stars on Saturday to remain with the organization.


-- UPCOMING PROMOTIONS --

Thursday's game against San Antonio is an H-E-B Night. Fans who donate any H-E-B branded, non-perishable food item at the box office will receive $5 off their ticket purchse.

Saturday's game against Charlotte will feature a replica Calder Cup Ring statue giveaway to fans that show up early. Coke Zero Family Four Packs will also be available of four tickets, four hot dogs, four soft drinks, and parking start as low as $15 per person. The contest will also be a Texas Lottery Lucky Row Night where the first Stars player to score will win free scratch off tickets and a prize pack for one lucky row of seats in a section at Cedar Park Center.

Fans can also stick around after Saturday's game for a full team autograph session.

The Texas Stars entered the 2014-15 season as the AHL's defending Calder Cup Champions. Single-game tickets and season ticket packages for the 2014-15 campaign are on sale now. For more information, call (512) GO-STARS (467-8277) or visit TexasStarsHockey.com.
Back to All