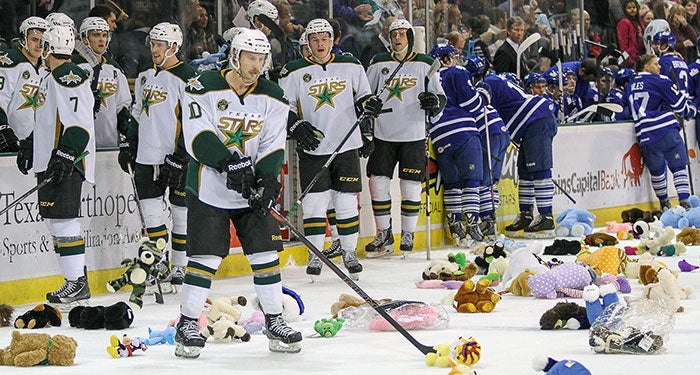 Texas Stars Weekly Release
Nov 18, 2014
CEDAR PARK, Texas – The Texas Stars, American Hockey League affiliate of the NHL's Dallas Stars, have returned home from a five-game road trip to square off against the rival San Antonio Rampage in a home-and-home battle for first place in the AHL's West Division beginning Friday.

Last week's record: 0-1-2-0
Overall record: 6-4-4-0, 16 pts. (2nd, West Division)

-- THIS WEEK'S SCHEDULE --

Nov. 21 vs. San Antonio Rampage, 7:30 p.m. CST and Nov. 23 at San Antonio Rampage, 4 p.m. CST:
Four points are on the line this weekend between the Stars and Rampage as the two teams are separated by just two points for first and second place in the AHL's West Division. The home-and-home series will be the first two of 12 total meetings this season between Texas and San Antonio. Friday's matchup will be Greg Rallo's first meeting against his former club since signed with the Texas Stars in the offseason. Rallo spent three seasons with the Rampage, appearing in 207 games over that span for the team.

Broadcast Info: TexasStarsHockey.com, Texas Stars Mobile App, and AHLlive.com

-- LAST WEEK'S RESULTS --

Nov. 14 at Grand Rapids Griffins, 3-2 Overtime Loss:
Jack Campbell stopped 36 shots for the Stars, but with 0.8 seconds remaining in overtime Teemu Pulkkinen scored the game-winner for the Griffins in a matchup of the AHL's last two Calder Cup Champions. Grand Rapids forced overtime after scoring the tying marker with 1:14 remaining in regulation. Travis Morin scored the Stars' first shorthanded goal of the season.

Nov. 15 at Grand Rapids Griffins, 2-1 Overtime Loss:
Defenseman Mike Dalhuisen tallied his first career AHL goal for the Stars to knot the game at 1-1 in the third, but another late overtime-winner for Grand Rapids by Kevin Porter was the difference in Saturday's 2-1 final. Jussi Rynnas put in a 34-save performance for Texas in the overtime loss.

Nov. 16 at Rockford IceHogs, 3-2 Loss:
Closing out a three-game weekend, the Stars tried to rally late in the third as Derek Hulak's fifth of the season brought the Stars to within one with two minutes to play. Texas mustered one last rush in the final seconds but could score the equalizer. Jack Campbell stopped a season-high 42 shots for the Stars in net.

-- PRACTICE/TRAVEL SCHEDULE --

Tuesday: Off Day
Wednesday: Practice, 10 a.m.
Thursday: Practice, 10 a.m.
Friday: Texas Stars vs. San Antonio Rampage, 7:30 p.m. CST
Saturday: Practice, TBD
Sunday: Texas Stars at San Antonio Rampage, 4:00 p.m. CST
**All times Central (CST)

-- NEWS, NOTES AND UPCOMING MILESTONES --

Travis Morin has points in nine of his last 11 games and currently sits first in the AHL with 20 points on the season. The Stars penalty killing unit has stopped 29 of their opponent's last 32 power play chances over the last eight games (90.6%). After a five-game road trip, Friday's matchup against San Antonio begins a stretch where the Stars will play four of their next five, and eight of their next 11 games, on home ice. Former Texas Stars forward Curtis McKenzie scored his first career NHL goal for the Dallas Stars on Sunday against the Chicago Blackhawks.

-- UPCOMING PROMOTIONS --

Friday's contest against San Antonio will be the Stars' annual Teddy Bear Toss night. Fans can bring in a stuffed teddy bear to throw onto the ice after the Stars score their first goal of the game. The Bears will be donated to Operation Blue Santa as part of the Stars' participation in the Chuy's Children Giving to Children Parade.

Friday's game marks the first Fun Food Friday promotion of the season against the San Antonio Rampage. Fans can enjoy $3 specials on beer, soda, hot dogs, and Pizza Hut slices, and $4 specials on Robert Mondavi Private Selection Wine.

The Texas Stars are the AHL's defending Calder Cup Champions for the 2014-15 season. Single-game tickets and season ticket packages for the 2014-15 campaign are on sale now. For more information, call (512) GO-STARS (467-8277) or visit TexasStarsHockey.com.
Back to All