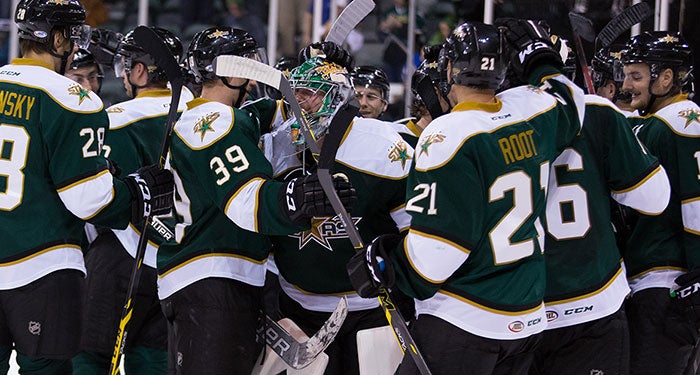 Texas Stars Weekly Release
Dec 2, 2014
CEDAR PARK, Texas – The Texas Stars, American Hockey League affiliate of the NHL's Dallas Stars, close out their four-game homestand on Wednesday before making a two-game road swing over the weekend to the Northeast.

Last week's record: 1-0-2-0
Overall record: 7-6-6-0, 20 pts. (3rd, West Division)

-- THIS WEEK'S SCHEDULE --

Dec. 3 vs. Utica Comets, 7:30 p.m. CST:
The Stars and Comets meet up for the second of four meetings this season, and the first since Oct. 18, when the Stars shut out the Comets for a 1-0 win. Utica is led by Cal O'Reilly, who is tied for the AHL lead with 16 assists on the season, and Jacob Markstrom, who is second in the AHL in goals against average (1.77) and save percentage (.937).

Dec. 5 at Adirondack Flames, 6 p.m. CST:
Friday the Texas Stars travel to Glens Falls, N.Y. for their first-ever meeting against the Flames, who relocated to Glens Falls over the offseason. Adirondack is 12-8-1-0 on the season and led by Ben Hanowski, who is tied for seventh in the AHL with nine goals this season. Friday's meeting is one of only two games this season between the Stars and Flames.

Dec. 7 at Hamilton Bulldogs, 2 p.m. CST:
The Stars travel north of the border for the first time this season on Sunday when they visit the Hamilton Bulldogs in the first of four scheduled meetings this year. Hamilton is currently 9-9-2-0 and led by Charles Hudon, who is tied for fifth in the AHL with 21 points this season.

Broadcast Info: TexasStarsHockey.com, Texas Stars Mobile App, and AHLlive.com

-- LAST WEEK'S RESULTS --

Nov. 26 vs. Oklahoma City Barons, 3-2 Overtime Loss:
Jordan Oesterle's centering feed morphed into an overtime-winning goal on Wednesday night, after deflecting off a skate and past Texas Stars goaltender Jussi Rynnas to give the Oklahoma City Barons a 3-2 win. Matthew Ford was credited with the winning goal. Justin Dowling and Travis Morin each scored for Texas.

Nov. 28 vs. Oklahoma City Barons, 2-1 Overtime Loss:
Richard Bachman's 34 saves were the difference on Friday night as the Barons slipped past the Stars in overtime for the second straight game, 2-1. Brandon Davidson's first goal of the season clinched the contest for the Barons. It was the fourth consecutive meeting between Texas and Oklahoma City that needed overtime to determine a winner. Maxime Fortunus scored the Stars' only goal.

Nov. 29 vs. Iowa Wild, 4-3 Win:
Curtis McKenzie tallied the game-winning goal in the third period to lift the Texas Stars to a 4-3 win over the Iowa Wild on Saturday. McKenzie registered two points in his return to the Stars and one-timed a back door shot past Wild goaltender Johan Gustafsson for the difference maker in the contest. Brendan Ranford was credited with the lone helper on the goal.

-- PRACTICE/TRAVEL SCHEDULE --

Monday: Practice, 10 a.m.
Tuesday: Practice, 10 a.m.
Wednesday: Texas Stars vs. Utica Comets, 7:30 p.m.
Thursday: Travel day
Friday: Texas Stars at Adirondack Flames, 6 p.m.
Saturday: Travel day
Sunday: Texas Stars at Hamilton Bulldogs, 2 p.m.
**All times Central (CST)

-- NEWS, NOTES AND UPCOMING MILESTONES --

Texas Stars captain Maxime Fortunus appeared in his 650th career AHL game on Wednesday. 354 of those games had been played in a Texas Stars sweater, which were second in franchise history to Travis Morin (361). Curtis McKenzie is four games shy of 100 in his pro career and Scott Valentine is three games shy of 200 in his AHL career. Greg Rallo is two goals shy of 50 in his Texas Stars career, and three goals shy of 150 in his professional career

-- UPCOMING PROMOTIONS --

Wednesday's game against the Utica Comets is another Winning Wednesday promotion for the Stars where if the Stars win, fans in attendance receive a free ticket to the team's next Wednesday game on Dec. 10, against Oklahoma City. The game is also a Raising Cane's Challenge night where if the Stars score at least three goals in the game, fans in attendance receive a Buy One, Get One free coupon for any area Raising Cane's location.

The Stars will also hold their annual H-E-B Food Drive on Wednesday. The drive will begin at 10 a.m. at the East Lobby of Cedar Park Center and will run until the opening puck drop at 7:30 p.m. Fans who donate eight or more non-perishable food items will receive a voucher for a free ticket to Wednesday's game and the fan who makes the single largest food donation will win a Texas Stars suite night. Every fan who donates will be entered to win prizes, including autographed Stars memorabilia. Once the arena doors open to fans at 6:30 p.m., food will be collected at each of the three Cedar Park Center entrances until game time.

The Texas Stars are the AHL's defending Calder Cup Champions for the 2014-15 season. Single-game tickets and season ticket packages for the 2014-15 campaign are on sale now. For more information, call (512) GO-STARS (467-8277) or visit TexasStarsHockey.com.
Back to All