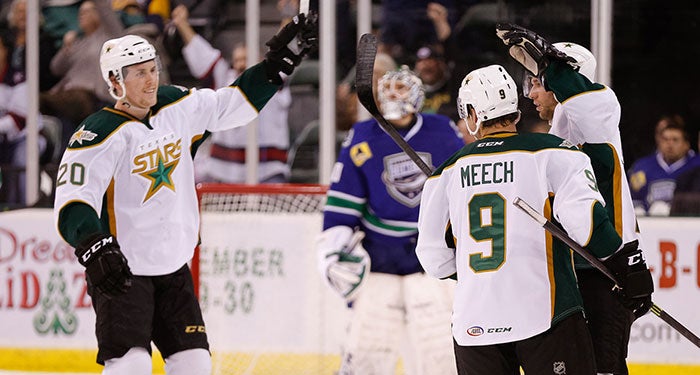 Texas Stars Weekly Release
Dec 9, 2014
CEDAR PARK, Texas – After picking up an overtime road win on Sunday, the Texas Stars return home this week for three games against West Division opponents. Texas will host Oklahoma City on Wednesday before facing Charlotte in a weekend set.

Last week's record: 1-1-1-0
Overall record: 8-7-7-0, 23 pts. (3rd, West Division)

-- THIS WEEK'S SCHEDULE --

Dec. 10 vs. Oklahoma City Barons, 7:30 p.m.:
The Stars and Barons hook up for the seventh of 12 total meetings this season. The Stars are 2-1-3-0 against the Barons this season. Four of the previous six meetings have been decided in overtime, and five of the matchups have been decided by a goal. Oklahoma City currently holds the third best record in the AHL's Western Conference at 14-4-2-2.

Dec. 12 (7:30 p.m.) and Dec. 13 (7 p.m.) vs. Charlotte Checkers:
The Stars and Checkers square off in a weekend series for the first time since Texas visited Charlotte in early November and the two teams split a weekend set. This weekend's games will be the third and fourth of eight total meetings this season between the two clubs. Charlotte is currently fourth in the AHL's West Division at 8-11-2-0.

Broadcast Info: TexasStarsHockey.com, Texas Stars Mobile App, and AHLlive.com

-- LAST WEEK'S RESULTS --

Dec. 3 vs. Utica Comets, 4-3 Overtime Loss:
A pair of third period goals for the Utica Comets forced overtime, and Cal O'Reilly banged home the game-winner to hand the Texas Stars a 4-3 overtime loss at Cedar Park Center. O'Reilly's winner came on the doorstep at 2:37 of overtime off Dustin Jeffrey's centering feed during a Comets power play. Justin Dowling tallied a three-point night with a goal and two assists for the Stars.

Dec. 5 at Adirondack Flames, 3-2 Loss:
Brett Ritchie provided the offense and Anders Lindback stopped 26 shots in his goaltending debut, but the Texas Stars came up short, falling to the Adirondack Flames in a 3-2 final at Glens Falls Civic Center. Ritchie's second goal of the game came with 2:22 remaining in regulation to pull the Stars within one. With Lindback pulled, the Stars generated a last-minute push, but Flames goaltender Joni Ortio weathered the storm as part of his 37-save night to seal the win.

Dec. 7 at Hamilton Bulldogs, 2-1 (OT) Win:
Brendan Ranford found Maxime Fortunus for the game-winner to propel the Texas Stars to a 2-1 overtime win on the road over the Hamilton Bulldogs at FirstOntario Centre. Fortunus buried his fourth goal of the season from the slot with just under two minutes remaining in the extra session. Anders Lindback stopped 36 shots for his first career win for the Stars.

-- PRACTICE/TRAVEL SCHEDULE --

Monday: Travel Day
Tuesday: Practice, 10 a.m. (Chaparral Ice Center)
Wednesday: Texas Stars vs. Oklahoma City Barons, 7:30 p.m.
Thursday: Practice, 10 a.m.
Friday: Texas Stars vs. Charlotte Checkers, 7:30 p.m.
Saturday: Texas vs. Charlotte Checkers, 7 p.m.
Sunday: Off Day
**All times Central (CST)

-- NEWS, NOTES AND UPCOMING MILESTONES --

The Texas Stars and Oklahoma City Barons lead the AHL in overtime games played this season. Combined, the Stars and Barons have appeared in 19 overtime games through the first eight weeks of the season – 10 for Oklahoma City and nine for the Stars. Texas and Oklahoma City have reached overtime four times head-to-head already this year.

Stars defenseman Scott Valentine appeared in his 200th career AHL game on Sunday at Hamilton. Valentine has split his AHL career between the Stars and Milwaukee Admirals.

Sunday's 2-1 overtime win at Hamilton was the first career win as a Texas Star for goaltender Ander Lindback.

-- UPCOMING PROMOTIONS --

Wednesday's game against Oklahoma City is another Winning Wednesday promotion for the Stars where if the Stars win, fans in attendance receive a free ticket to the team's next Wednesday game on Jan. 14, against the Rochester Americans. The game is also a Raising Cane's Challenge night where if the Stars score at least three goals in the game, fans in attendance receive a Buy One, Get One free coupon for any area Raising Cane's location. It will also be an H-E-B Night on Wednesday with the Stars. Fans who donate any H-E-B branded, non-perishable food item will receive $5 off their ticket purchase.

Both weekend games against Charlotte mark this season's Sing for Santa weekend with the Stars. Students from local elementary schools will be singing Christmas carols during the intermissions of both games.

Friday's game is also a Fun Food Friday where fans can enjoy $3 specials on beer, soda, hot dogs and Pizza Hut slices. Plus, $4 specials on Robert Mondavi Private Selection wine.

Saturday's contest is the Justin Dowling Garden Gnome giveaway with the Stars. Fans who arrive early will receive a garden gnome modeled after the Stars forward. The game will also have Coke Zero Family Four Packs and is a Texas Lottery Lucky Row night. Fans can purchase four tickets, four soft drinks, four hot dogs and parking for as low as $15 a person. The first Stars player to score a goal will win free scratch off tickets and a prize pack for one lucky row of seats in a section at Cedar Park Center, courtesy of the Texas Lottery.

The Texas Stars are the AHL's defending Calder Cup Champions for the 2014-15 season. Single-game tickets and season ticket packages for the 2014-15 campaign are on sale now. For more information, call (512) GO-STARS (467-8277) or visit TexasStarsHockey.com.
Back to All