Stars Win Streak Snapped in 4-1 Loss to Chicago
Feb 18, 2017
---

Ebert Extends Point Streak to Six Games for Texas
CEDAR PARK, Texas -- Pheonix Copley held the Texas Stars offense to just one goal and the Chicago Wolves picked up a weekend split with a 4-1 win on Saturday night at H-E-B Center at Cedar Park in front of 6,422 fans in attendance.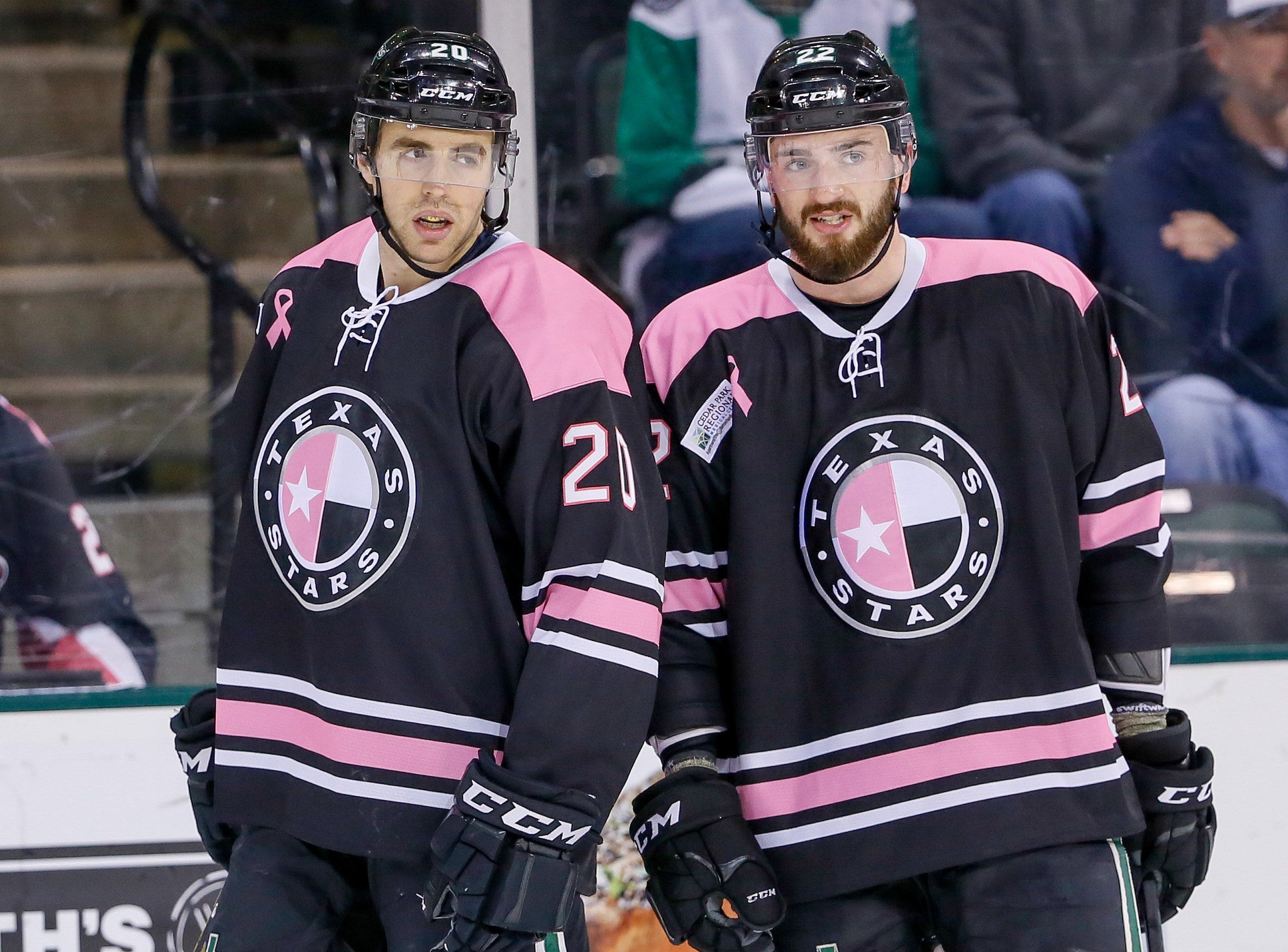 Forward Ethan Werek was the lone goal-scorer for the Stars (24-21-1-2) and defenseman Nick Ebert tallied an assist to extend his point streak to six games. Copley stopped 27 of 28 shots in net for the Wolves (30-17-4-3). Forward Andrew Agozzino's power play goal in the first held up as the game-winner as Chicago snapped the Stars' four-game win streak.
"Its hard to particularly explain why we didn't win," said Ebert. "It just wasn't as good as we've been in the past before that. There's really no excuse for that, and that's on us. We just need to be ready to go every game regardless of how good we played in the last game. I think we just needed to respond a little bit better after a win, and that's why we lost."
Werek deflected home his fifth of the season from Ebert's shot with 1:24 remaining in the second to pull Texas within one, 2-1, but Brett Sterling scored for the Wolves just over three minutes into the third and Connor Bleackley added another midway through the final frame to pull Chicago away for good.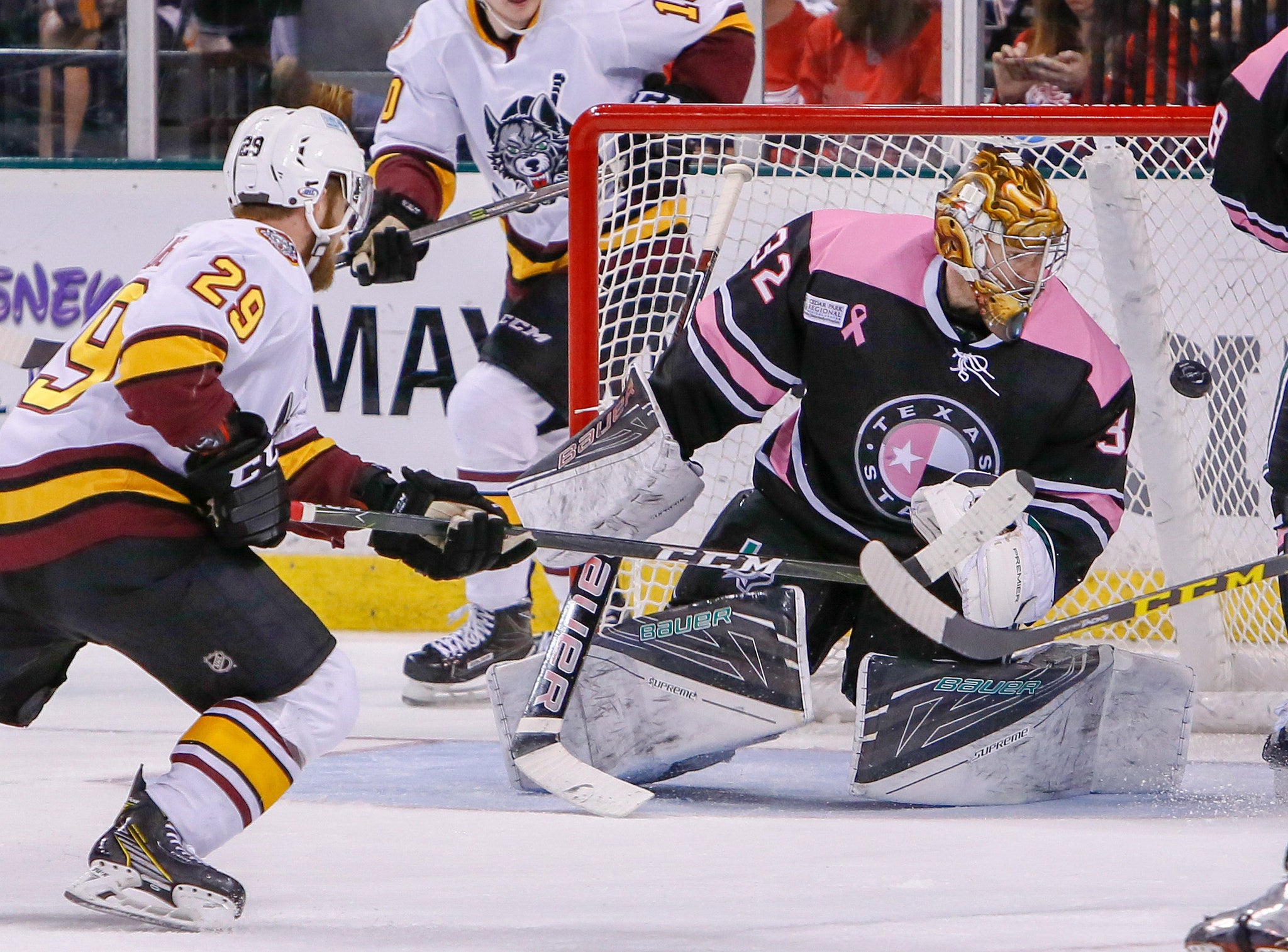 Netminder Justin Peters suffered his second loss since being acquired by Texas, stopping 20 saves on 24 shots.
"I think we all had to be better tonight and think we all had a little bit of an off night," said Peters. "Give them credit, they came out hard right off the bat pushing back from last night's loss. A fine line between winning and losing, and tonight we weren't able to get the win."
Chicago's Samuel Blais opened up the scoring with his 18th of the season at 7:18 of the third on a wrist shot from the slot. Agozzino added a power play strike at 9:54 of the first make it a 2-0 lead for Chicago to snap a stretch of 21 consecutive penalties killed off by the Stars.
Texas was scoreless on four power play chances. Chicago finished 1-for-6.
"As far as effort goes, we said it after the game, I think that was the only key to this game," said Texas defenseman Andrew Bodnarchuk. "Effort level is something you can control, and without looking at the video and just watching the game go by, I don't think we had the effort we needed to win this game...It's a compete level that we know we have in that locker room and can bring every game
The Stars will take the ice on Monday at 5 p.m. CST against the San Jose Barracuda to kick off an eight game, 12 day road trip.
---
Three Stars:
1. Agozzino (CHI)
2. Werek (TEX)
3. Copley (CHI)
Goaltenders:
W - Copley
L - Peters

Photo Credit: Andy Nietupski/Texas Stars
Back to All