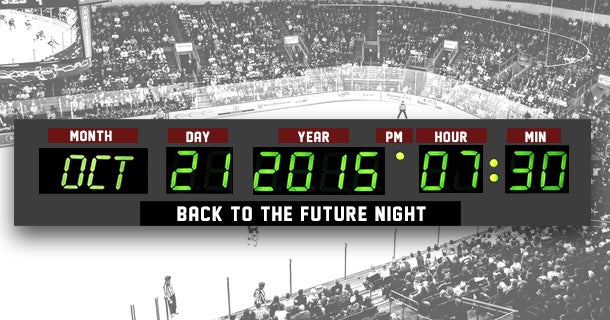 Texas Stars Head "Back to the Future" on Oct. 21
Oct 15, 2015
Ticket Specials and a DeLorean Display Highlight the Event | Get Tickets Now
CEDAR PARK, Texas – The Texas Stars, American Hockey League affiliate of the NHL's Dallas Stars, announced today the details surrounding their Back to the Future night on Wednesday, Oct. 21.
In the second installment of the Back to the Future movie franchise, Marty McFly and Doc Brown time travel from 1985 to Oct. 21, 2015. The Stars will take on the Stockton Heat in their first-ever meeting on that same date, and will use the opportunity to celebrate the hit movies.
The team will offer a $19.85 ticket special for all executive and luxury seating levels at the game to acknowledge the original film's release year. Fans can take pictures with a DeLorean, which will be on display outside the east entrance of Cedar Park Center.
Themed menu items will celebrate the movie at RS3's restaurant storefronts. Fans can try 1.21 GigaBrats (pronounced "JigaBrats" in an ode to the movie) available at One-Eighty-Three Chophouse, and Marty McFries, which will be offered at both the Chophouse and Rojo's Mexican Hideaway.
In the Ice Patrol Fan Zone behind section 120, the Stars' TapSnap photo kiosk will feature Back to the Future-themed graphics for fans to take their pictures with and share on social media platforms. In addition, the Ice Patrol will hand out a Texas Stars movie-themed temporary tattoo. Those in attendance will also enjoy clips and music from the movies, plus other Back to the Future-based activities, throughout the game.
Oct. 21 will also be an H-E-B Night as well as the team's first Winning Wednesday promotion of the season. Fans can donate an H-E-B branded, non-perishable food item at the box office for $5 off their ticket purchase, and if the Stars win, everyone in attendance will receive a free ticket to the team's next Wednesday game .
Tickets and more information are available by phone at 512-GO-STARS or online.
The Texas Stars are the primary development affiliate of the NHL's Dallas Stars and currently in their seventh season at Cedar Park Center. Full season, 24-game and 12-game ticket packages for the 2015-16 campaign are on sale now. For more information, call (512) GO-STARS (467-8277) or visit TexasStars.com.
Back to All