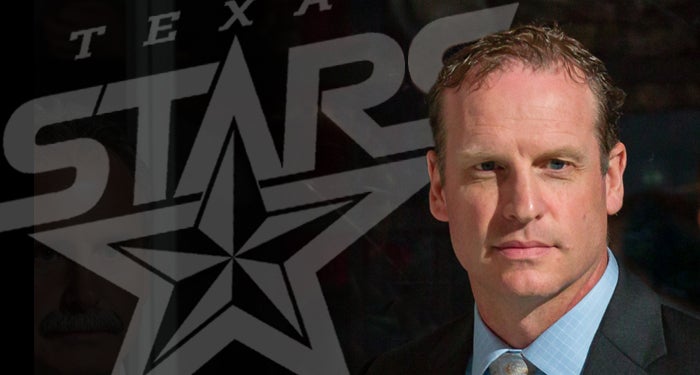 Texas Stars General Manager Scott White Earns Promotion
May 31, 2013
White Named Dallas' Director of Hockey Operations, Continues as AHL Stars' General Manager

FRISCO, TX – Dallas Stars General Manager Jim Nill announced a series of changes to the structure of the team's Hockey Operations Department today. Scott White will join Dallas as director of hockey operations and will also retain his role as general manager of the Texas Stars, Dallas' development affiliate in the American Hockey League (AHL). Les Jackson, assistant general manager, and Mark Janko, director of hockey administration, remain with the organization in their respective roles. The club also announced that they will not renew Frank Provenzano's contract. Provenzano previously served as the club's assistant general manager for the past seven seasons.

White has been promoted to director of hockey operations and is retaining his role as general manager of the Texas Stars after serving in that role since 2008. He was instrumental in building the Texas Stars 2009-10 inaugural team, which made a run to the 2010 Calder Cup Finals. A member of the Dallas Stars organization since 2005, White previously served as a professional scout and director of minor league operations. He headed up the hockey department for the Iowa Stars, Dallas' then-primary affiliate, for three seasons. Prior to joining the Stars organization, he served as head coach of the Columbia Inferno of the ECHL for four seasons, qualifying for a playoff berth each year. He also guided Columbia to a Kelly Cup Finals appearance in 2003 and finished with a 165-87-36 record (.635) in over four seasons with the Inferno.

Jackson just completed his 25th season with the Stars, dating back to the club's days in Minnesota. His role consists of managing and overseeing the club's scouting program, as well as monitoring the development of all amateur and professional prospects. He is widely respected as one of the best talent evaluators in hockey, having helped build the Stars into the consistently competitive hockey club that it has become over the last two decades. During Jackson''s tenure, the Stars have drafted future NHL stars such as Mike Modano, Derian Hatcher, Jere Lehtinen, Jarome Iginla, Marty Turco, Brenden Morrow, Jamie Benn, and Loui Eriksson, among others.

Janko is in his 14th year with the Stars and his fifth in hockey operations. Prior to joining Hockey Operations, Janko spent eight seasons in the Stars Public Relations Department, most recently as its director from 2005-2008. Now as director of hockey administration, Janko assists the Hockey Operations Department in the areas of player development, cap management, contract negotiations and research, salary arbitration, and strategic planning. He also works closely with Dallas' scouting staff, with an emphasis on the professional level and serves as the team's liaison for all player transactions with NHL's Central Registry.

2013-14 Texas Stars Season Tickets are now on sale. Put your deposit for 2013-14 season tickets and receive priority for 2013-14 season seat selection. For more information on Texas Stars season tickets call (512) GO-STARS (467-8277) or visit www.TexasStarsHockey.com.
Back to All