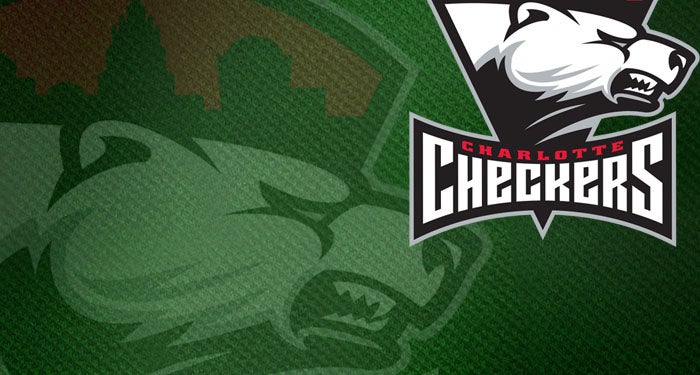 Texas Stars Game Preview 11.30.11
Nov 30, 2011
The Texas Stars and the Charlotte Checkers meet for the first time in AHL history. Texas will play two games in Charlotte this week. The Stars will return home on Friday, December 9th to host the Checkers at Cedar Park Center. In all the two teams will meet three times over nine days. Charlotte will meet Texas for the fourth and final time in Cedar Park on February 4th. Charlotte was in the Eastern Conference in 2010-11 and shifted to the Western Conference over the summer. The Checkers lead the newly formed Midwest Division, sitting ahead of Peoria, Chicago, Milwaukee and Rockford. The Stars are in fifth place in the West Division.

The Stars have two wins in their last eight games, going 2-5-0-1 over that span. Both of the team's wins have come in overtime at Houston. Texas is coming off a 4-2 defeat at home to Houston. The Stars are 5-4-0-0 on the road this season, having been outscored 28-27 by their opponents. Texas has won four of its last five games on the road. The Stars have one regulation win in the month of November, going 4-5-0-1 in the second month of the season. The Stars are 3-3-0-0 against the Midwest Division this season. Texas' scoring has been spread out evenly this season, with 19 first-period tallies and 18 second-period markers. The Stars have been outscored in third period play 17-16. Texas has fallen into a tie with Springfield and Charlotte for 14th in the league with a 3.00 goals per game average. The team has 15 goals over its last eight games. The Stars are 5-0-0-1 when leading after two periods of play, but they are 0-9-0-0 when trailing after two periods of play.

The Checkers are riding the wave of a four-game winning streak and the club has posted points in five straight (4-0-0-1). Charlotte is coming off two straight wins at home over Milwaukee, including a 5-1 win on Sunday at the Time Warner Cable Arena. The Checkers are 7-1-0-1 at home this season, outscoring the visitors 28-18. Charlotte is playing the third game of six straight on home ice. They have not suffered a regulation loss since November 13 at Houston (5-2). They have gone 7-2-0-1 in the last ten games played. The Checkers have done the bulk of their scoring in the second period with 27 goals. The team has 18 goals in the first and 16 in the third period. Charlotte is outscoring its opponents 27-13 in the middle period of play this season. Charlotte is 6-1-0-0 when leading after the first and 11-2-1-0 when leading after the second. The Checkers have scored the first goal nine times this year, posting a 8-1-0-0 record when scoring first. Charlotte is averaging 31.81 shots per game, ranking seventh in the AHL. The Checkers are 24th in the AHL with 14.81 penalty minutes per game.

Dallas Sends Wathier to Texas
The Dallas Stars announced Tuesday that the NHL club has assigned forward Francis Wathier to the Texas Stars, Dallas' primary affiliate in the American Hockey League (AHL).

Wathier was recalled on Nov. 27 and was a healthy scratch in Monday night's game at Colorado. Wathier has skated in 19 games for the Texas Stars this season, posting five goals and seven assists totaling 12 points while earning a team-leading plus/minus rating of +3. The 6-4, 218-pound forward has gone scoreless in his eight career games with the Dallas Stars, posting an even-or-plus rating in six of the contests. The St. Isidore, Ontario, native was Dallas' sixth-round selection (185th overall) in the 2003 NHL Entry Draft.

Texas Recalls Neal, Sings Goalie Spratt
The Texas Stars announced on Monday that the club has recalled forward Michael Neal from the Idaho Steelheads, the Stars' ECHL affiliate. Texas also announced the team has signed goalie Jimmy Spratt to a professional tryout agreement (PTO).

Neal is in his third season within the Dallas Stars organization. The Whitby, ON, native has played 22 games with Texas over the previous two seasons. The forward has three goals and 14 penalty minutes in his time with Texas. The 22-year old played in 19 games with Idaho this season, totaling three goals and seven points. He was drafted by the Dallas Stars in the fifth round (#149 overall) in the 2007 NHL Entry Draft.

Spratt is a third-year pro who started the season with the Idaho, going 5-5-0 with a 2.95 goals against average and a .920 save percentage over 12 games. The Calgary Flames drafted the 26-year old in the seventh round (#213 overall) of the 2004 NHL Entry Draft.

Dallas Stars Recall Bachman
The Dallas Stars announced on Sunday that the NHL club has placed goaltender Kari Lehtonen on injured reserve and recalled goaltender Richard Bachman, Dallas' primary affiliate in the American Hockey League (AHL).

Lehtonen, 28, suffered a lower-body injury on November 26 in the game against the Phoenix Coyotes. The 6-4, 217-pound goaltender leads the NHL with 13 wins and has compiled an overall record of 13-4-1 with a 2.35 goals against average (GAA) and a .926 save percentage (SV%) in his 19 appearances this season. The Helsinki, Finland, native has registered a .920 SV%-or-higher in 12 of his 19 contests and was named the NHL's "Second Star of October," where he posted an 8-1-0 record with a .947 SV% and a 1.75 GAA.

Bachman has a 7-5-1 record earning a 3.13 GAA and a .887 SV% in 15 contests for Texas this season. The Salt Lake City, Utah, native appeared in a career-high 55 games for Texas in 2010-11, posting a 28-19-5 record with a .927 SV% and a 2.20 GAA. He played in his first and only NHL game last season, appearing in relief on Dec. 11, 2010, against the Phoenix Coyotes where he surrendered zero goals on four shots in 9:35 of play. The 5-10, 175-pound goaltender was Dallas' fourth-round selection (120th overall) in the 2006 NHL Entry Draft.

What's Ahead:
DATE OPPONENT TIME RADIO
Wednesday, November 30 at Charlotte 6:00 PM 92.5 FM
Saturday, December 3 at Charlotte 6:00 PM 92.5 FM
Friday, December 9 vs. Charlotte 7:30 PM 104.9 FM
Saturday, December 10 vs. Oklahoma City 7:00 PM 104.9 FM
Tuesday, December 13 at Oklahoma City 7:00 PM 104.9 FM
*All times listed are central time
LAST THREE GAMES
Houston 4 at Texas 2 11/26/11
The Texas Stars were defeated by the Houston Aeros 4-2 in front of 6,274 fans at Cedar Park Center on Saturday night. Houston left wing Joel Broda scored twice in the victory, pulling the Aeros to 7-1-0-1 on the road. Forwards Jon DiSalvatore and Chad Rau also scored for the Aeros. Houston center Casey Wellman registered two assists on the night, as the Aeros took their third game over Texas this season. Houston goalie Matt Hackett stopped 33 of the 35 shots he faced for the win. Stars' left wing Mike Hedden netted his first goal of the season and defenseman Jordie Benn also scored. Texas goalie Richard Bachman stopped 22 of 26 shots as the team fell to 3-6-0-1 at home.

Texas 2 at Houston 1 OT 11/25/11
The Texas Stars defeated the Houston Aeros 2-1 in overtime in front of 7,009 fans at the Toyota Center on Friday night. Defenseman Maxime Fortunus blasted a shot past Houston's Matt Hackett with 37 seconds remaining in overtime to lift the Stars to victory. Texas goalie Richard Bachman stopped 32 shots for the win, helping the Stars improve to 5-4-0-0 on the road this season. Stars rookie forward Scott Glennie also scored, as Texas picked up its second consecutive win at Houston this season. Aeros forward Jed Ortmeyer forced overtime, scoring with 46 seconds remaining in regulation to spoil the Stars shutout bid. Houston goalie Matt Hackett stopped 24 shots in the loss.

Chicago 3 at Texas 2 11/23/11
The Texas Stars were defeated by the Chicago Wolves 3-2 in front of 5,901 fans at Cedar Park Center on Wednesday night. Chicago goalie Matt Climie stopped 40 of 42 shots faced for his fifth straight win. Wolves' defenseman Kevin Connauton registered a goal and an assist on the night. Defenseman Adam Polasek and left wing Antoine Roussel also scored for Chicago, which improved to 6-4-0-1 on the road. Two Stars' skaters had multi-point nights. Defenseman Jordie Benn notched a goal and an assist while center Scott Glennie set up both Stars goals. Texas goalie Tyler Beskorowany stopped 24 of 27 shots as the Stars fell to 3-5-0-1 at home.

Texas Stars
Center Travis Morin and right wing Raymond Sawada lead Texas in scoring. Morin is the clubhouse leader with 14 assists and 18 points in his first 19 games played. He ranks in the top ten of the AHL for assists and he is among the AHL leaders with nine power-play helpers. Morin has three assists in his last seven games, while Raymond Sawada has one goal in his last seven. Sawada is second overall in team scoring with five goals and ten assists for 15 points in 19 games played. Sawada (9) and Morin (10) are among the top 20 in the AHL for power-play points. Rookie forward Matt Fraser is third in team scoring with 13 points in 19 games. He leads the team with nine goals scored and 79 shots on net. Fraser is tied for second in the AHL with six power-play goals and he is tied for 14th overall in the AHL in rookie scoring. Fraser has been held scoreless in his last seven games.

Forwards Francis Wathier and Ryan Garbutt round out the top scoring forwards for Texas. For the season, Wathier has five goals and seven assists for 12 points in 19 games played. Center Ryan Garbutt has 11 points in 19 games. Garbutt ranks in the AHL's top five with 16 minor penalties. Left wing Luke Gazdic leads the team in penalty minutes with 37, while Garbutt comes in second with 32 minutes. Rookie forward Scott Glennie has recorded a point in three straight games totaling four points over that span.

Jordie Benn leads all Texas defensemen in scoring with six goals and 12 points in 19 games played. He ranks tied for first in goals and tied for sixth in points among all AHL defensemen. Benn has a point in three straight games and has at least a point in six of the last seven games. Dan Spang and Brenden Dillon are tied for second among all team defenders with nine points each. Veteran Brad Lukowich has five assists and Maxime Fortunus has added seven points this season.

Goalies Tyler Beskorowany and Jimmy Spratt split time in net for Texas. Goalie Richard Bachman remains on recall to Dallas. Beskorowany is 1-4-0 with a 3.21 goals against average and a .894 save percentage. Beskorowany is 0-2-0 in the month of November, posting a 3.08 goals against average and a .905 save percentage. Bachman had started nine of the last 11 games for Texas. Spratt has yet to make his Texas debut.

Special Teams
The Stars have converted 25 of 96 power plays for a 26% conversion rate. The Stars have failed to register a power-play goal in only six of their first 19 games. Texas has scored more than one power-play goal eight times this season. The Stars are second in the league with 25 power-play goals this season. The Stars have killed off 65 of the 81 penalties (80.2%), ranking 22nd overall on the penalty kill. The Checkers are 18th overall in the AHL on the penalty kill, stopping 81.4% of their opponents' power plays. Overall, Charlotte ranks fifth best in the AHL after going 22-for-108 (20.4%). Charlotte has scored a power-play goal in four straight games.

The Charlotte Checkers
The Checkers return 16 players a from 2010-11 squad that made a deep Calder Cup Playoff run, falling in the Eastern Conference Finals to Binghamton after knocking out Hershey and Wilkes-Barre. The Checkers line-up is composed of 18 drafted players, including 13 Carolina Hurricanes draft picks. The team carries three former first round selections and two second round picks. Carolina selected Zach Boycuk in the first round in 2008 (14th overall). Defenseman Bobby Sanguinetti (NYR-06 21st overall) and center Riley Nash (EDM-07 21st overall) are also former first round picks on the Checkers roster.

Right wing Jerome Samson and center Jonathan Matsumoto lead the Checkers in scoring with 20 points each in 21 games played. Samson leads the team with nine goals and an AHL leading 94 shots on goal. Matsumoto is second on the team with 12 assists and leads the team with a +8. Left wing Chris Terry leads Charlotte with 13 assists and he is third on the team with 17 points in 19 games played. Terry has eight assists and ten points in his last nine games played. He has a point in seven straight games, posting eight assists and ten points over that span. Michal Jordan leads all Charlotte defenseman with seven assists and ten points in 21 games played.

In net, the Checkers feature goalies Justin Peters and Mike Murphy. Peters is 6-2-1 with a 2.17 goals against average and a .932 save percentage. Peters is tied for fifth in the AHL for goals against average and he is fourth in save percentage. He is 5-1-0 in his last six starts with a 1.63 GAA and a .949 save percentage. Murphy is 7-5-0 with a 2.43 goals against average and a .924 save percentage.
Back to All