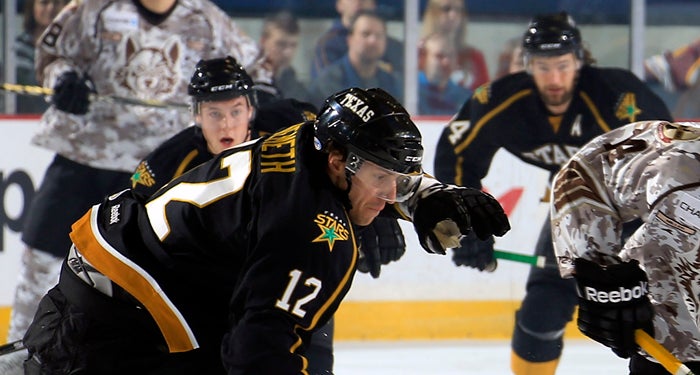 Texas Stars Exact Sweet Revenge On Chicago 6-4
Jan 18, 2013
Stars Explode For Four-Goal First Period, Take Down Wolves

ROSEMONT, IL – Alex Chiasson had two goals, Austin Smith scored his first career AHL goal and the Texas Stars scored four goals in the first period as they beat the Chicago Wolves 6-4 Friday night at Allstate Arena.

Alex Chiasson began the onslaught with his eighth goal of the season at 2:47 as he finished off a rebound from Mike Hedden. Just 12 seconds later Taylor Vause found Austin Smith in front and Smith lifted the puck over Wolves goalie Matt Climie to score his first career AHL goal at 2:59. The two goals in 12 seconds were the fastest two goals scored by the Stars this season. Chiasson then scored a highlight-reel goal at 10:32 to put Texas ahead 3-0. The rookie winger took a long pass from Jamie Oleksiak, then toe-dragged around Chicago's Andrew Gordon and fired a backhand shot below the glove of Climie for his second goal of the night and ninth of the season. Toby Petersen finished of the Stars four-goal first period at 13:57, ending Climie's night prematurely. Oleksiak again dished out a pretty assist to find Petersen on the left wing and Petersen stick-handled around Climie for a 4-0 lead. Backup Joe Cannata entered the game and the goalie change sparked the Wolves. Gordon tipped in a Brad Hunt shot for a power play goal at 15:23 to put Chicago on the board.

Michael Davies cut the lead to 4-2 just 1:21 into the second period as he tipped the puck over goalie Jack Campbell on a shot from Darren Haydar. Mike Hedden made it 5-3 Stars on a power play at 12:41, with assists to Justin Dowling and Oleksiak; his third assist of the game. Haydar scored four minutes later to make it 5-3 and the second period came to an end without any further scoring.

Taylor Vause scored a very important unassisted goal at 3:06 of the third period to put Texas ahead 6-3. Vause caused a turnover on a one-man forecheck and tucked a wrap-around shot through the legs of Cannata for his second goal of the year. Haydar would score his second goal of the game at 9:34, his fourth point of the night, but the Wolves would not get any closer. Chicago pulled Cannata for the final two minutes of play, but Campbell and the Stars shut the door to earn a 6-4 win.

Jack Campbell finished with 27 saves on 31 shots face for his seventh win of the season for Texas, while Joe Cannata took the loss in 43:48 of relief, making 12 saves on 14 shots for Chicago. Matt Climie allowed four goals on 11 shots in the first 13:57 of action, but ended up with a no-decision. The Wolves out-shot the Stars 31-25 in the game and both teams were 1-for-2 on the power play.

Texas continues its six-game road trip on Saturday, January 19th with a 7:35 p.m. faceoff against the Peoria Rivermen at Carver Arena. The Stars return home on Saturday, January 26th to square off with the San Antonio Rampage at 7:00 p.m. at Cedar Park Center. January 26th is Francis Wathier Mini Bobble Head Giveaway Night, presented by Cedar Park Jewelry. Pro-rated full and partial 2012-13 season seat packages are on sale now. For more information on Texas Stars season tickets call (512) GO-STARS (467-8277) or visit www.TexasStarsHockey.com.
Back to All