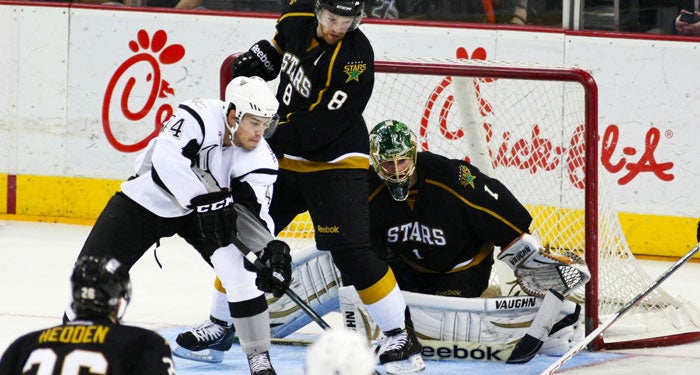 Texas Stars Clinch Playoff Spot, Blast San Antonio 5-1
Apr 7, 2013
Commodore Scores Again; Morin & Hedden Each Post Two-Point Games

SAN ANTONIO, TX – Mike Commodore scored his second goal in as many games and both Travis Morin and Mike Hedden had a goal and an assist to pace the Texas Stars to a convincing 5-1 win over the San Antonio Rampage Sunday afternoon at AT&T Center. The Stars' 40th win of the season, paired with a regulation loss by Chicago at Oklahoma City today, means that Texas is the first Western Conference team to clinch a spot in the 2013 Calder Cup Playoffs.

Playing in their final three-in-three of the 2012-13 season, the Stars grabbed an early lead when a forced turnover in the defensive zone led to an odd-man rush at the other end. Justin Dowling combined with Jamie Oleksiak to set up Mike Hedden for a one-on-one with Rampage goaltender Dov Grumet-Morris. Hedden took the pass and quickly went forehand-to-backhand and lifted the puck over the sprawling San Antonio goaltender at 4:33 of the first period.

The Rampage struck back to tie the game just 2:27 into the second period. Capitalizing on a turnover at the Stars blue line, Francis Beauvillier found Garrett Wilson behind the defense and the San Antonio forward beat Jack Campbell one-on-one. Texas responded just 1:21 later as Toby Petersen's shot deflected of a San Antonio defender and went in for a power play goal to make it 2-1 at 3:48. The goal was Petersen's eighth of the season and was assisted by Mike Hedden and Kevin Connauton, who claims his first point as a member of the Stars. Connauton would grab another assist at 12:07 as he led a three-on-two rush up the ice and found Travis Morin for a redirection from the right side of the crease and a 3-1 lead. Texas out-shot the Rampage by a whopping 20-6 in the second period.

The Stars pulled away with two goals in the first half of the third period. Reilly Smith extended his point streak to eight games (11 points) with his 13th goal of the season, assisted by Morin, at 3:34. Then Mike Commodore, playing in his second game for Texas, found the net after a hard-work play by rookie Brett Ritchie. Ritchie held off a defender as he drove down the right side and his wrap-around attempt slid out to the right circle where Commodore wound up and crushed the puck through the legs of Grumet Morris at 7:45.

Jack Campbell stopped 20-of-21 shots to record his 17th win of the season in goal for Texas. Dov Grumet-Morris finished with 35 saves on 40 shots in the losing effort for San Antonio. The Stars out-shot the Rampage 40-21 and went 1-for-4 on the power play. San Antonio was 0-for-3 with the man-advantage. Although Reilly Smith extended his point streak to eight games (3 goals, 8 assists), his franchise record-tying assist streak came to an end at seven games. Colton Sceviour assisted on Travis Morin's second period goal for his 47th point of the season, passing Matt Fraser as the Stars points leader.

The Texas Stars will continue their five-game road trip on Thursday, April 11th as they travel to Charlotte for a 6:00 p.m. CT faceoff with the Checkers at Time Warner Cable Arena. The Stars next home game is on Friday, April 19th against the Houston Aeros at 7:30 p.m. Friday's game at Cedar Park Center is a $3 Beer Night and another Texas Lottery Lucky Section Night, where fans can win scratch off tickets from the Texas Lottery when the first Stars player scores a goal. 2013-14 Season Tickets are now on sale. Put your deposit for 2013-14 season tickets and receive priority for both Texas Stars 2013 Calder Cup playoff tickets and 2013-14 season seat selection. For more information on Texas Stars season tickets call (512) GO-STARS (467-8277) or visit www.TexasStarsHockey.com.
Back to All