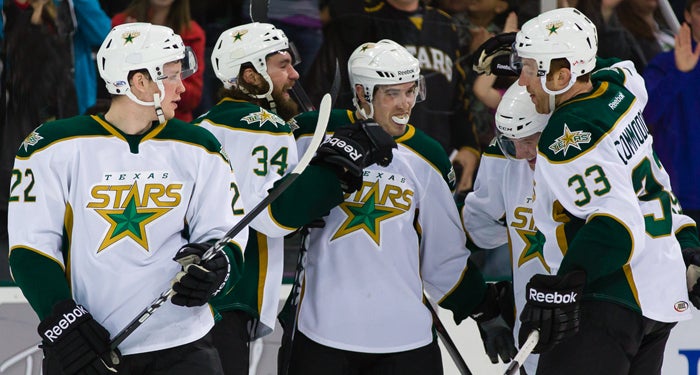 Texas Stars Claim Top Seed in Conference
Apr 23, 2013
STARS WEEKLY (WEEK 29)
Stars Face Milwaukee in First Round of 2013 Calder Cup Playoffs

2012-13 Record:
43-22-5-6, 97 points (18-13-2-5 Home, 25-9-3-1 Road), First Place – South Division
Week 28 Recap:
The South Division Champs finished off the 2012-13 regular season on a mixed note. The Stars beat the San Antonio Rampage for the tenth time in 12 meetings this year and it was also their 25th road victory, the most in the AHL. It was much closer than the previous Sunday's 8-2 blowout as the two teams reconvened for a much lower scoring affair. Jared Gomes and Jack Combs each scored for the second straight game against the Stars, but Brett Sonne scored his first goal in a Texas uniform and Travis Morin sent the game into overtime with a power play goal at 18:39 of the third period. After a scoreless overtime session, Colton Sceviour and Justin Dowling scored on the Stars' first two attempts and Cristopher Nilstorp stopped four-of-five Rampage shootout attempts to secure the victory.
Texas fell short at home in its final two games of the season, dropping a close 4-3 contest to the Houston Aeros and losing a three-goal lead in a 5-3 loss to Rockford. Even though they ended the regular season with two straight losses at home, the Stars clinched first place in the Western Conference right before faceoff of the final home game, allowing the team to take many positives into the post season. Friday night was the final ever regular season meeting between the Stars and Aeros, before the team relocates to Des Moines as the Iowa Wild. Houston grabbed an early lead and never trailed in the game. Justin Dowling, Joe Morrow and Francis Wathier all scored for the Stars, but Carson McMillan's goal, which rebounded off his body and into the net at 9:07 of the third period, proved to be the difference.
Saturday night Texas rested a few key players, having already clinched first place in the conference via a Toronto Marlies shootout loss to St. John's. Kevin Connauton got the game going when he scored on an unexpected shot from the red line hallway through the first period. Scott Glennie found the net just 22 seconds into the middle frame and 42 seconds later Luke Gazdic blasted home his fourth goal of the year to make it 3-0 Stars. Gazdic's goal chased starting goalie Henrik Karlsson from the game, being replaced by backup Kent Simpson. The IceHogs got one back on an Adam Clendening goal eight minutes later, but Texas carried a 3-1 lead into the third. The final period was where things came undone for the Stars as Rockford scored four times to win the game. Martin St. Pierre and Brandon Svendsen scored 43 seconds apart to tie the game at three and then Ben Smith scored two goals to give the IceHogs the win.
Week 29 Preview:
For the third time in four years the Texas Stars are participating in the Calder Cup Playoffs. The new twist of the 2013 post-season is the fact that Texas is the top seed in the Western Conference and also the South Division champs, both franchise firsts. The Stars will face the Milwaukee Admirals in a best-of-five first round series, beginning with Game 1 on Friday, April 26th at 7:00 p.m. at BMO Harris Bradley Center in Milwaukee. The series format is 2-3, meaning Texas plays the first two games on the road and then hosts the Admirals for the last three games, if necessary.
Texas faced Milwaukee in the first round of the 2011 Calder Cup Playoffs. That year the Admirals were the number one seed and the Stars were the number four seed of the West Division Semifinals in a best-of-seven series. The teams split the first two games in Milwaukee and Texas took a 2-1 series lead after winning Game 3 at Cedar Park Center. However, the Admirals won the next three games in a row, including overtime victories in Game 5 and Game 6 to beat the Stars in six games.
RW Colton Sceviour (21-31-52) finished the regular season leading the team in points, plus-minus (+21) and shorthanded goals (4), while being tied for the team lead in game-winning goals (4), ranking second in goals and assists and on a nine-game point streak with nine points (3 goals, 6 assists) and a +5 rating during that span. C Travis Morin (12-32-44) finished the season leading the team in assists, ranking third in points, tied for sixth in plus-minus (+12), on a six-game assist streak (7 assists) and a seven-game point streak with 11 points (4 goals, 7assists) and a +7 rating during that span. LW Mike Hedden (13-22-35) completed the regular season tied for the team lead in game-winning goals (4), tied for fourth on the team in points and assists, is tied for fifth in goals and has 10 points (3 goals, 7 assists) and a +5 rating in his last nine games. C Justin Dowling (16-14-30) joined the Stars at the end of the lockout, played in the final 38 regular season game and still finished tied for the team lead in game-winning goals (4), ranking third on the team in goals, ninth in points, and has 12 points (6 goals, 6 assists) and a +10 rating in his last 11 games. RW Scott Glennie (5-9-14) has four points (2 goals, 2 assists) and a +5 rating in his last four games.
Week 29 Schedule:
(All games are broadcast LIVE over the Internet at www.TexasStarsHockey.com and the free Radio tab of www.ahllive.com and can be viewed via internet pay-per-view video on www.ahllive.com. All times listed in Central Time)
Game 1
Friday, April 26– 7:00 p.m.
Game 2
Saturday, April 27– 7:00 p.m.
BMO Harris Bradley Center – Milwaukee, WI
@ Milwaukee Admirals (41-28-4-3, 89 pts.)
Second Place, Midwest Division
Eighth Place, Western Conference

• Team Notes: The Admirals have been one of the hottest teams in the AHL over the second half of the season and finished the year with a four-game winning streak and winning seven of their last eight games. Milwaukee was 19-19-3-3 through its first 44 games, but starting with a 1-0 win on February 10th over Peoria, finished the season going 22-9-1-0 (0.703). Rookie goalie Magnus Hellberg was a big reason for their success, as he had a major transformation over that same stretch. Hellberg had only four wins in 12 appearances over the first 44 games of the season, but emerged as the team's number one from February-April when he played in 27 of the team's final 32 games, posting a record of 18-4-0, with six shutouts, a 1.72 goals-against average and a 0.936 save percentage. In April alone, Hellberg started all 11 games for Milwaukee, going 7-3-0 with 3 shutouts, a 1.81 GAA and a 0.937 save percentage. New addition Zach Hamill, who began the year with Hershey before being traded to San Antonio, came to the Admirals at the AHL trade deadline. Hamill has three goals and one assist in six games for Milwaukee and has more points this season than any other Admirals player. Milwaukee is tied for 25th in the AHL in power play percentage (14.2%) and ranks tied for 18th in the league in penalty kill (82.6%). Texas is 2-0-0-0 against the Admirals this season, beating them 3-1 on October 24th at Cedar Park Center and then 2-1 in overtime on December 5th, although it has been four and a half months since the two teams faced each other.

• Leading Scorer: Zach Hamill (C) – 44 points (19 goals, 25 assists) and +4 in 72 GP.

• Leading Goaltender: Magnus Hellberg (G) – 2.14 GAA, 0.924 save pct., 22-13-0, 6 SO in 39 GP.

• Who's Hot: D Mattias Ekholm (10-22-32) is tied for the team lead in plus minus (+15), he leads the team in defensemen points and has five points (1 goal, 4 assists) and a +6 rating in his last three games. C Mark Van Guilder (14-18-32) is tied for the team lead in plus-minus (+15), ranks fifth on the team in goals, is tied for sixth in points and has three points (2 goals, 1 assist) and a +5 rating in his last three games. C Zach Hamill leads the team in points, ranks second in goals and third in assists and has four points (3 goals, 1 assist) and a +2 rating in his first six games with Milwaukee.
Full First Round Playoff Schedule (Best-of-Five)
2013 Western Conference Quarterfinals – (1) Texas vs. (8) Milwaukee
(All Times Central)
Game 1 – Friday, April 26th – 7:00 p.m. at Milwaukee (BMO Harris Bradley Center)
Game 2 – Saturday, April 27th – 7:00 p.m. at Milwaukee (BMO Harris Bradley Center)
Game 3 – Wednesday, May 1st – 7:30 p.m. vs. Milwaukee (Cedar Park Center)
Game 4** – Friday, May 3rd – 7:30 p.m. vs. Milwaukee (Cedar Park Center)
Game 5** – Saturday, May 4th – 7:00 p.m. vs. Milwaukee (Cedar Park Center)
** if necessary
Week 28 Game Results:
April 16, 2013 Texas 3 @ San Antonio 2 – SO
April 19, 2013 Houston 4 @ Texas 3
April 20, 2013 Rockford 5 @ Texas 3
Stars Player of the Week: (Week 28)
Travis Morin – C– #23 2 GP, 3 Points (1 G, 2 A), +2, 0 PIMs
Texas Stars center Travis Morin completed the 2012-13 regular season on fire. The Brooklyn Park, Minnesota native ended the year on a six-game assist streak (7 assists) and a seven-game point streak (4-7-11). He had a goal and an assist, including the game-tying goal late in the third period to send the game into overtime and eventually a shootout win Tuesday night at San Antonio. Morin followed it up and an assist against Houston on Friday. He was rested for the playoffs during Texas' regular season finale on Saturday vs. Rockford. On the year he had 44 points (12 goals, 32 assists), leading the Stars in assists and finishing third in points.
Stars Quick Hits:
• SILVER MEDAL, AGAIN – LW Matt Fraser has not played for Texas since March 30th vs. Grand Rapids, spending the last month of the regular season in the NHL with Dallas. He still managed to finish second overall in the AHL in goals (33) for the second year in a row, trailing only Syracuse's Tyler Johnson (37). Fraser's 37 goals last season was good enough for second in the league and he has 70 goals in 137 AHL games over the last two years.
• PODIUM FINISH – RW Colton Sceviour finished second in the AHL with four shorthanded goals during the 2012-13 regular season. Only Binghamton's Derek Grant (5) had more than Sceviour.
• BONUS HOCKEY – Texas and Lake Erie tied for the most overtime/shootout games of the 2012-13 regular season with 21 each. The Stars were 4-5 in overtime games and 6-6 in shootouts this season, posting a 0.476 point percentage in OT/SO games. Rochester led the AHL with a 0.750 point percentage in OT/SO games, going 2-3 in overtime and 10-1 in shootouts this year.
• ROAD TRIPPING – The Stars finished the season with the best road record in the AHL. Texas had a 25-9-3-1 record away from Cedar Park Center in 2012-13, posting an impressive 0.710 point percentage on the road.
• RECORD GAME – The Stars and IceHogs combined for 101 shots on goal during the season finale on April 20th at Cedar Park Center. It was the most combined shots in a Stars game during the 2012-13 season. Rockford had 54 shots, which was a Texas franchise record for most shots against in a single game. The Stars had 47 shots on goal, which was not the most of the season, but the two teams combined for a season-high 39 shots in the third period (21-18 Texas) and the IceHogs had 19 shots in the second period, which was the most allowed by the Stars in a period this year.
• BEST BEHAVIOR – Rockford finished the season with the most penalty minutes of any team in the AHL. However, on Saturday they tied a Stars season-low for fewest penalty minutes (2) by a Texas opponent this season. It was the fourth time this year that a Stars adversary registered just two PIMs in a game.
• HELLO PLAYOFFS – There is plenty of playoff experience in the Texas Stars lineup. However, 15 of the 26 players currently on the roster have never played in a Calder Cup Playoff game and only three of those 15 players have every played in a professional playoff game at any level. Captain Maxime Fortunus leads all Stars players with the most career Calder Cup Playoff games played (85).
Stars Week 28 Transactions
April 18 – ADD – Daine Todd (C) – Signed to ATO.
April 16 – ADD – Cristopher Nilstorp (G) – Returned on loan from Dallas (NHL).
April 16 – DELETE – Josh Robinson (G) – Returned on loan to Idaho (ECHL).
April 16 – ADD – Radek Raksa (C) – Reassigned by Dallas (NHL) from Kitchener (OHL).
April 16 – DELETE – Reilly Smith (LW) – Recalled from loan by Dallas (NHL).
Texas Stars Team Leaders: (Regular Season)
Games Played: Toby Petersen (74)
Goals: Matt Fraser (33)
Assists: Travis Morin (32)
Points: Colton Sceviour (52)
Plus/Minus: Colton Sceviour (+21)
Penalty Minutes: Antoine Roussel (107)
Power Play Goals: Matt Fraser (17)
Short Handed Goals: Colton Sceviour (4)
Game-Winning Goals: Justin Dowling, Mike Hedden & Colton Sceviour (4)
Shots: Colton Sceviour (207)
Shooting Percentage: Brett Ritchie (18.8%)
Saves: Jack Campbell (883)
Wins: Jack Campbell & Cristopher Nilstorp (19)
GAA: Richard Bachman (2.31)
Save Percentage: Richard Bachman (0.920)
Shutouts: Cristopher Nilstorp (4)

Individual game tickets for the Stars Western Conference quarterfinal home dates are on sale now. Tickets may be purchased via Ticketmaster or the Cedar Park Center Box Office. Full ticket packages for all Texas Stars home 2013 home playoff games are also on sale and may be purchased by calling
512-GO-STARS.
2013-14 Season Tickets are now on sale. Put your deposit for 2013-14 season tickets and receive priority for both Texas Stars 2013 Calder Cup playoff tickets and 2013-14 season seat selection. For more information on Texas Stars season tickets call (512) GO-STARS (467-8277) or visit www.TexasStarsHockey.com.
Back to All