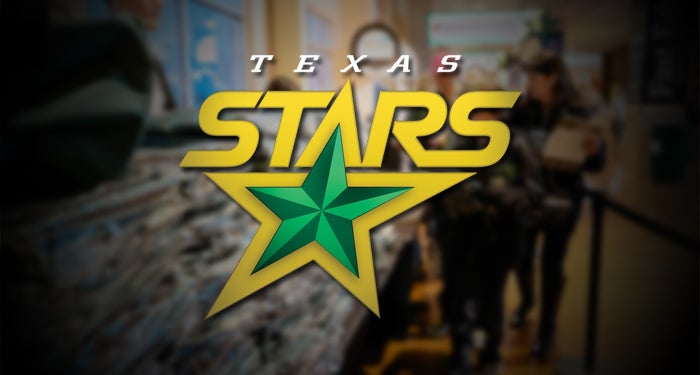 Texas Stars 2014-15 Promo Schedule Announced
Sep 15, 2014
CEDAR PARK, Texas – The 2014 Calder Cup champion Texas Stars, American Hockey League affiliate of the NHL's Dallas Stars, announced today their full promotional and giveaway calendar for the upcoming 2014-15 season.

All 14 of the team's Saturday night home games will feature a giveaway item, and 10 different theme nights have been planned for the season. The Stars will debut a new Fun Food Fridays promotion, and have expanded the Coke Zero Family Four Pack and Raising Cane's Challenge promotions returning from last year. Fans will also have the opportunity to receive four items built around the Stars Calder Cup Championship run from last season.

A full promotional schedule can be viewed online at TexasStarsHockey.com. Or click toDOWNLOAD from the News Release.

The four Calder Cup giveaway items start with Opening Night on Oct. 11, when the team will hand out Calder Cup Championship Mini-Banners. The following Saturday, Oct. 18, Shoal Creek Dental will present fans with a Stars Championship Trophy T-Shirt featuring all four trophies won by the team last year for their West Division, AHL Regular Season, Western Conference and Calder Cup titles. A 2015 Commemorative Calder Cup Calendar on Dec. 27, courtesy of Cedar Park Regional Medical Center, and an enlarged replica statue of the Stars' championship rings on Jan. 31 round out the championship collectible series.

Brand new this season, last year's Friday beer and wine specials have expanded into Fun Food Fridays, which now include $3 specials on beer, soda, hot dogs, and Pizza Hut slices, plus $4 specials on Robert Mondavi Private Selection Wine.

Along with the Saturday home games, Coke Zero Family Four Pack nights have also expanded to include the three Sunday contests played this season. Fans can take advantage of four tickets, four hot dogs, four soft drinks, and parking for just $15 a person.

Last season's Raising Cane's Challenge is back for eight Wednesday games this season. When the Stars score at least three goals, fans in attendance receive a Buy One, Get One Free coupon for the Raising Cane's Cedar Park location. Winning Wednesdays have also returned for the first seven Wednesday games of the year, where fans receive a free ticket to the following Wednesday game if the Stars win.

H-E-B Nights and Texas Lottery Lucky Row Saturdays also return for the 2014-15 campaign. Any H-E-B branded, non-perishable food item gets a $5 discount off a ticket purchase for Monday-Thursday games, and the first Stars player to score a goal during Saturday night contests wins free scratch-off tickets for a row of seats.

The Stars will wear three specialty jerseys this season as part of their theme nights and weekends. Two of those nights will honor our nation's military beginning on Oct. 25 with Stars and Stripes night, and concluding with Military Appreciation Weekend on Mar. 27 and 28, presented by Round Rock Auto Group. Cedar Park Regional Medical Center presents the return of Pink in the Rink Weekend on Feb. 27 and 28, with the team wearing specialty pink jerseys in support of the Breast Cancer Resource Centers of Texas.

Specialty jerseys can be purchased by fans through a silent auction during each themed weekend.

Brand new giveaway items appear this season starting with a Stars and Stripes floppy hat on Oct. 25, a knit cap with tassels on Nov. 29, a Texas Stars Garden Gnome on Dec. 13, a Pink in the Rink burlap tote bag on Feb. 28 and a Stars building block toy mini-figure on April 11.

Other giveaway items highlighting the schedule include a Stars lunch bag (Jan. 10) from University Federal Credit Union, a Stars gym bag (Jan. 24) courtesy of H-E-B, team pucks (Mar. 14) courtesy of Healthtronics, a Military Appreciation camouflage hat (March 28) from Round Rock Auto Group, and the Stars team card set on Fan Appreciation Night (April 18).

Other notable theme nights include Pucks 'n Paws (Oct. 18), Teddy Bear Toss Night (Nov. 21), Sing for Santa Weekend (Dec. 12 and 13) and a postgame autograph session (Jan. 31).

In total, Stars fans can take advantage of a variety of promotions and giveaways this season with 14 giveaway nights, 10 themed nights, and three specialty jersey auctions. There are 17 scheduled Coke Zero Family Four Pack nights, 14 Texas Lottery Lucky Row nights, 12 H-E-B Nights, nine Fun Food Fridays, eight Raising Cane's Challenge nights and seven Winning Wednesdays.

All promotions and dates are subject to change. The most updated schedule can be found at TexasStarsHockey.com or by calling (512) GO-STARS (467-8277).

The Texas Stars are preparing to defend their 2014 Calder Cup championship as the 2014-15 season rapidly approaches. Single-game tickets and season ticket packages for the 2014-15 season are on sale now. For more information, call (512) GO-STARS (467-8277) or visit TexasStarsHockey.com.
Back to All