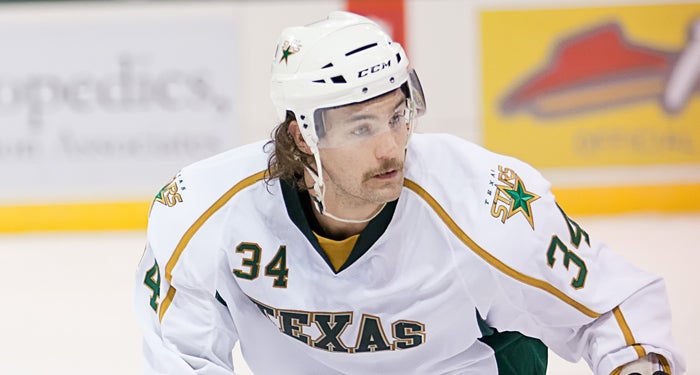 Texas Scores Twice, But Loses 2-1 to Hamilton
Feb 9, 2013
Bizarre Own Goal Helps Bulldogs Upset First Place Stars

HAMILTON, ON – Luke Gazdic scored his second goal of the season, but Texas scored on their own goal during a delayed penalty as the Hamilton Bulldogs shocked the first place Stars 2-1 Saturday night at Copps Coliseum.

The first period was a scoreless affair where both teams had chances on the power play and the Stars out-shot the Bulldogs 15-6.

Luke Gazdic opened the scoring in the second period for Texas as he slammed in a rebound from Taylor Vause and Toby Petersen through the legs of goalie Robert Mayer at 4:41. The goal was Gazdic's second of the season and it gave the Stars a 1-0 lead. Texas goalie Jack Campbell preserved the lead a few minutes later as he stopped a Kyle Hagel breakaway that developed when Hagel came out of the penalty box. Hamilton was then the beneficiary of one of the more bizarre goals in club history. Texas was on a power play and had possession when another delayed penalty was signaled. With Campbell on the bench for an extra attacker, Alex Chiasson's pass to the point from behind the goal line hopped over the stick of Carl Sneep and went 200 feet down the ice an into the Stars' empty net. Jason DeSantis was credited with his fourth goal of the season at 14:32, being the last Hamilton player to touch the puck. Later in the period Campbell stopped a second Bulldogs breakaway, this time robbing Louis Leblanc.

Hamilton broke the deadlock late in the third period. Defenseman Greg Pateryn jumped into a rush and reacted quickly to collect a rebound in the slot and fire it over Campbell and into the roof of the net at 16:28. The Stars pulled their goaltender for the final 90 seconds of play, but Mayer made several strong saves to preserve the 2-1 upset victory.

Robert Mayer stopped 36-of-37 shots to earn the win in goal for Hamilton, while Jack Campbell was also superb, making 21 saves on 22 shots, but was tagged with the loss for Texas. The Stars out-shot the Bulldogs 37-23 in the game and went 0-for-5 on the power play; Hamilton was 0-for-3 with the man advantage.

Texas will continue their Ontario weekend with a 2:00 p.m. CST matinee against the Toronto Marlies on Sunday, February 10th at Ricoh Coliseum. The Stars return home on Tuesday, February 12th, as they host the Houston Aeros for a 7:30 p.m. faceoff at Cedar Park Center. Pro-rated full and partial 2012-13 season seat packages are on sale now. For more information on Texas Stars season tickets call (512) GO-STARS (467-8277) or visit www.TexasStarsHockey.com.
Back to All