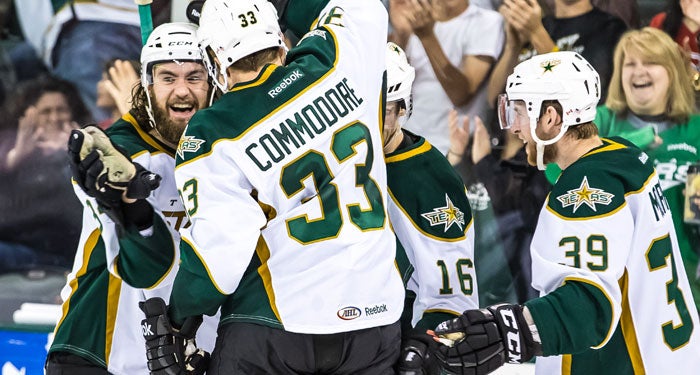 Texas Earns Crucial Split of Two Games in Milwaukee
Apr 30, 2013
STARS WEEKLY (WEEK 30)
Series Shifts to Cedar Park Center Tied 1-1
CLICK HERE FOR A FULL PLAYOFF SCHEDULE & TICKET INFORMATION

2012-13 Record:
43-22-5-6, 97 points (18-13-2-5 Home, 25-9-3-1 Road), First Place – South Division
2013 Playoff Record:
1-1 (0.500) – Western Conference Quarterfinals Tied (1-1)
Week 29 Recap:
Texas opened the 2013 Calder Cup Playoffs on Friday as they traveled to Milwaukee to clash with the Admirals in Game 1 of the Western Conference Quarterfinals at BMO Harris Bradley Center. Patrick Cehlin scored the first goal of the series, a power play strike at 12:15 of the first period to give Milwaukee a 1-0 lead. Texas leveled the score when Matt Fraser tipped in a Travis Morin shot with just 15.6 seconds left in the opening frame. The Stars then took the lead nine minutes into the second period on a Kevin Connauton power play goal. On a dazzling flash of individual brilliance, Connauton wove his way through the Admirals defense and buried a wrist shot over the glove of Magnus Hellberg and into the top right corner of the net. Zach Hamill tied the game at two with Milwaukee's second power play goal at 7:11 of the third period and the tense action went into overtime. Just two minutes after an unsuccessful power play, rookie Brett Ritchie ripped a shot over Hellberg's glove at 11:44 of the first overtime to win the game 3-2 and give Texas a 1-0 lead in the best-of-five series.
Saturday night's rematch saw several roster changes. Texas handed a North American debut for Swedish defenseman John Klingberg, as he replaced Mike Commodore in the lineup. Milwaukee had forwards Kevin Henderson and Daniel Bang recalled to Nashville, so Paul Crowder and Scott Valentine came in to the Admirals squad. Crowder was involved in the opening goal as he had the second assist on Austin Watson's goal at 12:04 of the second period. Watson collected a rebound from a Michael Liambas shot and stuffed it in to give the Admirals the lead. Texas turned up the heat late in the second period and into the third period, out-shooting Milwaukee 21-9 over the final 40 minutes of play. However, Hellberg stopped everything he faced to record his first career Calder Cup Playoff win and captain Matt Moore sealed the 2-0 victory with an empty net goal with 29 seconds remaining.
Week 30 Preview:
With the series even at one, the action now shifts to Central Texas for the remainder of the Western Conference Quarterfinals. The matchup between the Stars and Admirals now becomes a best-of-three series, with all three potential games being held at the Cedar Park Center. Game 3 is scheduled for Wednesday, May 1st and Game 4 will be on Friday, May 3rd with both games commencing at 7:30 p.m. If necessary, a decisive Game 5 would be played on Saturday, May 4th at 7:00 p.m.
Both teams bolstered their rosters on Sunday as the conclusion of the National Hockey League's regular season allowed for non-playoff teams Dallas and Nashville to return players to their AHL affiliate. The Stars received rookie forwards Alex Chiasson and Reilly Smith and defenseman Jordie Benn, while the Admirals had six players return; forwards Taylor Beck, Chris Mueller, Kevin Henderson, Daniel Bang and Joonas Rask and defenseman Victor Bartley. With all the talented additions, Game 3 on Wednesday is sure to be an incredible battle.
The three latest additions to the Stars lineup had very impactful seasons in Texas and in Dallas. LW Reilly Smith (14-21-35) only played in 45 AHL games this season, as he spent a majority of the second half in the NHL with Dallas. He still managed to finish fourth on the team in goals, tied for fourth in points and seventh in assists. Smith also recorded nine points (3 goals, 6 assists) in 37 games with Dallas. RW Alex Chiasson (13-22-35) was tied for fourth in points and assists and tied for fifth in goals in 57 AHL games with the Stars, then wowed Dallas fans by posting seven points (6 goals, 1 assist) and a +3 rating in his first seven NHL games. D Jordie Benn (7-14-21) was an offensive leader early in the season and is still tied for second on the team in power play goals (5). Benn tallied six points (1 goal, 5 assists) and 10 penalty minutes in 26 NHL games this year.
Week 30 Schedule:
(All games are broadcast LIVE over the Internet at www.TexasStarsHockey.com and the free Radio tab of www.ahllive.com and can be viewed via internet pay-per-view video on www.ahllive.com. All times listed in Central Time)
vs. Milwaukee Admirals (41-28-4-3, 89 pts)
Second Place, Midwest Division
Eighth Place, Western Conference
Game 3
Wednesday, May 1 – 7:30 p.m. – Cedar Park Center – Cedar Park, TX

Game 4
Friday, May 3 – 7:30 p.m. – Cedar Park Center – Cedar Park, TX
Game 5 – If Necessary
Saturday, May 4 – 7:00 p.m. – Cedar Park Center – Cedar Park, TX

• Team Notes: Rookie goalie Magnus Hellberg was a major factor in the Admirals rally to make the playoffs this season and he continues to be a lynch pin to the team's success. Milwaukee goes as Hellberg goes. However, the squad receives a major offensive injection for Game 3 with the return of six players to the roster from the Nashville Predators. Kevin Henderson and Daniel Bang both played in Game 1 last Friday before being recalled for the Predators season finale at Columbus, but Chris Mueller, Taylor Beck, Victory Bartley and Joonas Rask all will look to make their 2013 Calder Cup Playoff debuts. Those six players combined for 65 goals for the Admirals, which is 33.0% of the team's 197 total goals. They also combined for 157 total points, which is 29.5% of Milwaukee's total offense (533 points). The Admirals penalty kill was a key factor of the first two games, holding the lethal Texas power play to a 1-for-10 weekend, a 90.0% kill percentage. During the final 18 games of the regular season Milwaukee went 65-for-69 on the penalty kill, a massive 92.8% rating. On Sunday, February 10th, Admirals were 19-19-3-3 (44 points) through their first 44 game and sat in 14th place out of 15 western conference teams and 27th of 30 AHL clubs. Milwaukee beat Peoria 1-0 that afternoon as Hellberg stopped all 30 shots he faced for his first career AHL shutout. That game was the turning point of the season as the Admirals went 22-9-1-0 over their final 32 games, taking 45 of a possible 62 points (0.703) and make the playoffs on the final day of the regular season.

• Leading Scorer: Zach Hamill (C) – 2 points (1 goal, 1 assist) and +1 in 2 GP.

• Leading Goaltender: Magnus Hellberg (G) – 1.37 GAA, 0.955 save pct., 1-1 Record, 1 SO in 2 GP.

• Who's Hot: C Zach Hamill (1-1-2) leads the team in playoff points and has a combined six points (4 goals, 2 assists) and a +3 rating in eight games (regular & post season) since joining Milwaukee at the AHL trade deadline. LW Taylor Beck (0-0-0) missed Nashville's last three games due to an upper-body injury, but was leading Milwaukee in points (11-30-41) until Hamill arrived. C Chris Mueller (0-0-0) had 36 points (18 goals, 18 assists), in 55 games for Milwaukee this year and also tallied five points (2 goals, 3 assists) in 18 NHL games for Nashville.
Full First Round Playoff Schedule (Best-of-Five)
2013 Western Conference Quarterfinals – (1) Texas vs. (8) Milwaukee – Series Tied 1-1
(All Times Central)
Game 1 – Friday, April 26th – Texas 3 at Milwaukee 2 – OT
Game 2 – Saturday, April 27th – Texas 0 at Milwaukee 2
Game 3 – Wednesday, May 1st – 7:30 p.m. vs. Milwaukee (Cedar Park Center)
Game 4 – Friday, May 3rd – 7:30 p.m. vs. Milwaukee (Cedar Park Center)
Game 5** – Saturday, May 4th – 7:00 p.m. vs. Milwaukee (Cedar Park Center)
** if necessary
Stars Player of the Week: (Week 29)
Kevin Connauton – D– #4 2 GP, 2 Points (1 G, 1 A), Even, 4 PIMs
Texas Stars defenseman Kevin Connauton has settled in nicely with his new team since arriving at the NHL trade deadline. The Edmonton, Alberta native scored a power play goal and then assisted on the game-winning goal in overtime to help Texas rally from a 2-1 deficit to win Game 1 at Milwaukee 3-2. He is currently leading the team in power play goals (1) and is tied for the team lead in goals and points for the playoffs. Connauton has 31 points (9 goals, 22 assists) and 73 penalty minutes in 69 regular season games combined between Chicago and Texas.
Stars Quick Hits:
• OVERTIME HERO – Rookie RW Brett Ritchie was the hero of Game 1 as he scored the game-winning goal in overtime to give Texas a 1-0 series lead. It was Ritchie's first career professional playoff point in his Calder Cup Playoff debut.
• SWEDISH DUEL – Texas goalie Cristopher Nilstorp and Milwaukee rookie Magnus Hellberg, posting nearly identical goals-against averages and each earning one win. Nilstorp has a 1.38 GAA, which ranks 3rd in the Calder Cup Playoffs, while Hellberg ranks 2nd with a 1.37 GAA. Both have allowed three goals in two games, but Nilstorp has played 57 seconds less because of an extra attacker situation at the end of Game 2.
• TURNING UP THE HEAT – The Stars and Admirals were two of the least penalized teams in the AHL during the 2012-13 regular season. Texas was 29th in average penalty minutes (12.14), while Milwaukee was 27th (13.33). Through the first two games of their best-of-five playoff series the Stars are averaging 23.50 PIMs and the Admirals are at 24.00 PIMs per game.
• POWER PLAY STRUGGLES – Texas scored a crucial power play goal in Game 1 when Kevin Connauton tied the score at two. However, the Stars have just a 10.0% success rate with the man-advantage in the playoffs, which ranks 13th out of 16 teams in the post-season. Texas finished the regular season with the second-best power play in the AHL (20.9%)
• FIRST TIMERS – Ten Stars players made their Calder Cup Playoff debuts last weekend in Milwaukee. Six of those ten were also playing in their first ever pro playoff games: Jamie Oleksiak, Taylor Vause, Curtis McKenzie, Brett Ritchie, Cameron Gaunce and Joe Morrow. Cristopher Nilstorp, Justin Dowling, Mike Hedden and John Klingberg have all played playoff games in their pro career, but last weekend was their first AHL post-season action. With rookies Reilly Smith and Alex Chiasson sent down from Dallas on Sunday, two more first timers could add "Calder Cup Playoffs" to their resumes on Wednesday for Game 3.
• LONG TIME COMING – Defenseman Mike Commodore played his first Calder Cup Playoff game in almost eight years last Friday in Game 1 against Milwaukee. Commodore, who has played in 53 career Stanley Cup games and won the Cup in 2006 with Carolina, played in 11 playoff games with the Lowell Lock Monsters, then Carolina's AHL affiliate, during the 2005 Calder Cup Playoffs. It was 2,904 days since his last game prior to Friday, on May 14, 2005 when Lowell was eliminated in Game 5 of the Atlantic Division Finals by the Providence Bruins. That's seven years, 11 months and 12 days.
• OVERTIME MAGIC – Brett Ritchie's overtime-winning goal in Game 1 improved the Stars' all-time Calder Cup Playoff overtime record to 7-5. Texas last won an overtime playoff game on April 19, 2011 when Travis Morin scored at 8:44 of the first OT to beat Milwaukee 3-2 in Game 3 of the 2011 West Division Semifinals. The Stars last overtime loss came in that same series, being eliminated by the Admirals in Game 6 on April 25, 2011 when Mark Van Guilder scored at 10:42 of the second overtime to win 3-2.
Stars Week 29 Transactions
April 28 – ADD – Alex Chiasson (RW) – Returned on loan from Dallas (NHL).
April 28 – ADD – Jordie Benn (D) – Returned on loan from Dallas (NHL).
April 28 – ADD – Reilly Smith (LW) – Returned on loan from Dallas (NHL).
April 26 – DELETE – Brock Montgomery (RW) – Release from ATO.
April 26- ADD – Matt Fraser (LW) – Returned on loan from Dallas (NHL).
April 24 – ADD – John Klingberg (D) – Reassigned by Dallas (NHL) from Skelleftea (SEL).
Texas Stars Team Leaders: (Playoffs)
Games Played: 17 Players Tied (2)
Goals: Kevin Connauton, Matt Fraser & Brett Ritchie (1)
Assists: Mike Hedden (2)
Points: Kevin Connauton & Mike Hedden (2)
Plus/Minus: Maxime Fortunus, Jamie Oleksiak & Colton Scevoiur (+1)
Penalty Minutes: Luke Gazdic (17)
Power Play Goals: Kevin Connauton (1)
Short Handed Goals: N/A
Game-Winning Goals: Brett Ritchie (1)
Shots: Colton Sceviour (9)
Shooting Percentage: Kevin Connauton & Brett Ritchie (25.0%)
Saves: Cristopher Nilstorp (48)
Wins: Cristopher Nilstorp (1)
GAA: Cristopher Nilstorp (1.38)
Save Percentage: Cristopher Nilstorp (0.941)
Shutouts: N/A


The Texas Stars will host the Milwaukee Admirals for Game 3 of their Western Conference Quarterfinal series on Wednesday, May 1st at 7:30 p.m. at Cedar Park Center. Game 4 is scheduled for Friday, May 3rd at 7:30 p.m. in Cedar Park. Individual game tickets for the Stars home playoff games may be purchased via Ticketmaster or the Cedar Park Center Box Office. Full ticket packages for all Texas Stars 2013 home playoff games are also on sale and may be purchased by calling
512-GO-STARS.
2013-14 Season Tickets are now on sale. Put your deposit for 2013-14 season tickets and receive priority for both Texas Stars 2013 Calder Cup playoff tickets and 2013-14 season seat selection. For more information on Texas Stars season tickets call (512) GO-STARS (467-8277) or visit www.TexasStarsHockey.com.
Back to All