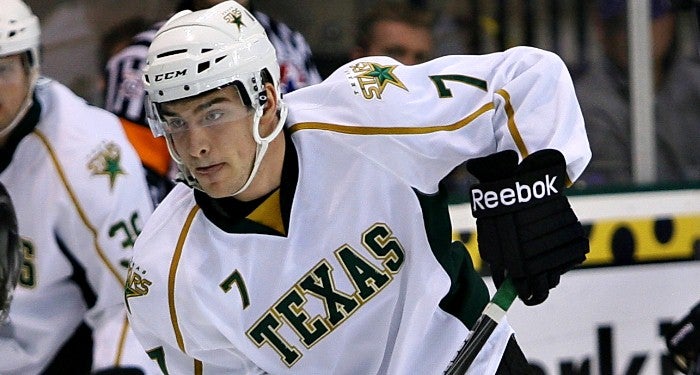 Stars Resume Season in Houston Thursday, Host Charlotte Saturday
Jan 30, 2012
Texas Begins Second Half of the Season This Week

Cedar Park, TX – The Texas Stars headed into the All-Star break with a pair of road losses, finishing the first half of the season with a 20-20-1-2 record (43 points, 5th West Division and 13th in the Western Conference). The club dropped a 6-2 decision in San Antonio on Friday and fell 3-1 in Oklahoma City on Saturday.

This Week's Games
After the All-Star break, Texas will wrap up a three-game road swing in Houston on Thursday, February 2nd at 7:35 p.m. The Stars will host Charlotte at 7:00 p.m. at Cedar Park Center on Saturday, February 4th. The first 2,500 fans will receive a Texas Stars Player Magnet, compliments of Time Warner Cable. The State Farm Family Four Pack will be available for the Saturday game, with four tickets, four hot dogs and four sodas starting as low as $48.

Week of Jan. 31 – Feb. 6
Tuesday, Jan. 31
All-Star break
Wednesday, Feb. 1
Practice: 10:00 a.m. – 11:30 a.m. at Northcross Mall
Thursday, Feb. 2
Game day skate 10:00 a.m. – 11:00 a.m. at CPC
Game at Houston at 7:35 p.m.
Friday, Feb. 3
Practice: 10:30 a.m. – 12:00 p.m. at Cedar Park Center
Saturday, Feb. 4
Game day skate 10:00 a.m. – 11:00 a.m. at CPC
Game vs. Charlotte at 7:00 p.m.
Sunday, Feb. 5
Off Day
Monday, Feb. 6
Practice: 10:30 a.m. – 12:00 p.m. at Cedar Park Center
Tuesday, Feb. 7
Game day skate 10:00 a.m. – 11:00 a.m. at CPC
Game vs. Milwaukee at 7:00 p.m.

Game Recaps
Texas 2 at San Antonio 6 1/27/12
The Texas Stars were defeated by the San Antonio Rampage 6-2 in front of 7,869 fans at AT&T Center on Friday night. San Antonio scored three goals in the first period and went on to end the Stars three-game winning streak. Six different Rampage skaters registered a multi-point night, as the team won its sixth straight game. Rampage goalie Dov Grumet-Morris stopped 23 of 25 for the win. Stars forwards Ryan Garbutt and Tomas Vincour each scored in the loss, as the team fell to 10-12-0-1 on the road this season. Texas goalie Andrew Raycroft took the loss, stopping 15 of 20 shots in 47:22 of play. Tyler Beskorowany finished the game in net for Texas, stopping five of six.

Texas 1 at Oklahoma City 3 1/28/12
The Texas Stars were defeated by the Oklahoma City Barons 3-1 in front of 5,606 fans at the Cox Convention Center on Saturday night. Barons goalie David LeNeveu stopped 22 of 23 for the win. Texas goalie Andrew Raycroft stopped a season-high 42 of 44 Oklahoma City shots in the loss. Oklahoma City scored early in the second period and early in the third period to push past Texas. Barons forwards Ryan Keller and Hunter Trembley each scored, as did defenseman Dylan Yeo. Texas left wing Francis Wathier netted the lone goal in the Stars defeat.

Stars Superlatives
Right wing Tomas Vincour saw his streak of seven straight road games with a goal halted on Saturday night in Oklahoma City. It was the longest streak in team history and the second longest in the AHL this season. With an assist on Saturday night, Vincour extended his points streak on the road to nine games…Third-year forward Colton Sceviour became the first player in team history to play in 200 career games with the team. He has only missed three games in Texas Stars history, ranking fifth all-time in goals (33), second in assists (67) and tied for second in points (100)…Left wing Francis Wathier is tied with center Travis Morin for the all-time team lead in goals scored with 47 apiece… With 21 goals in 42 games played, Matt Fraser is on pace to set a new team record for goals in one season. The previous mark of 27 was set by Aaron Gagnon (09-10) and Greg Rallo (10-11).

Tickets
Individual tickets for all games are on sale now. Tickets are available online at www.TexasStarsHockey.com or by calling 512.GO.STARS (467.8277). Tickets may also be purchased at the Cedar Park Center box office.
Back to All