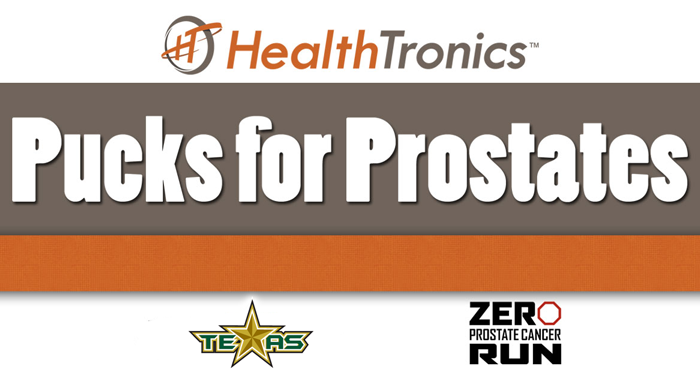 Stars' Pucks for Prostates Campaign Raises $12,900
May 29, 2015
CEDAR PARK, Texas – The Texas Stars, American Hockey League affiliate of the NHL's Dallas Stars, announced today their Pucks for Prostates campaign with HealthTronics during the 2014-15 regular season raised a total of $12,900 for the fight against prostate cancer.

The money will be donated to ZERO – The End of Prostate Cancer, which sponsors a number of run/walk events nationally to raise funds for research, action and education in the fight against prostate cancer. During the 2014-15 regular season, HealthTronics and the Texas Stars each pledged to make a $50 donation for each goal scored by the Stars during a home game. The team finished with 129 goals at Cedar Park Center this season, resulting in $6,450 donations from the Texas Stars and HealthTronics.

"Raising awareness and supporting patients and families affected by cancer is an important cause," said Danielle Barone, Texas Stars Foundation Director. "HealthTronics has been a great partner to work with and we're thrilled to be able to contribute."

Russell Newman, President of HealthTronics added, "We were honored to partner with the Texas Stars to help create awareness about prostate cancer. Pucks for Prostates was a fun way to raise important funds for life-saving research and we were excited to be a part of it."

The Texas Stars will open their seventh season at Cedar Park Center on Saturday, Oct. 10. Full season, 24-game and 12-game ticket packages for the 2015-16 campaign are on sale now. For more information, call (512) GO-STARS (467-8277) or visit TexasStarsHockey.com.

About HealthTronics:
HealthTronics, Inc., founded in 1989 and headquartered in Austin, Texas, provides integrated mobile medical technologies and services. The company brings its advanced technology and support systems to health care providers across the United States. HealthTronics' solutions include lithotripsy services, laser and cryotherapy equipment rentals, maintenance services and physician partnership opportunities. For more information visit http://www.healthtronics.com.

About ZERO – The End of Prostate Cancer:
ZERO - The End of Prostate Cancer is a national nonprofit organization with the mission to end prostate cancer. As a leader in the fight against prostate cancer, ZERO advances research, encourages action, and provides education and support to men and their families. ZERO's premier programs include the ZERO Prostate Cancer Run/Walk, the largest men's health event series in America. We are a 501c3 charity recognized with four stars by Charity Navigator, a Better Business Bureau member, and 98 cents of every dollar donated goes to research and programs. For more information, visit http://www.zerocancer.org.
Back to All