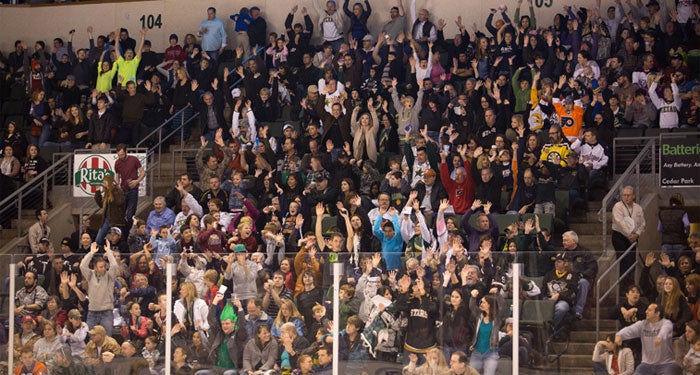 Stars Lead Western Conference into All-Star Break
Jan 29, 2013
STARS WEEKLY (WEEK 17)
Texas Travels to Houston to Open February Schedule

2012-13 Record: 26-12-4-2, 58 points (12-6-2-1 Home, 14-6-2-1 Road), First Place – South Division
Week 16 Recap:
The Stars kept piling up points as they reached first place in the Western Conference for the first time this season. Texas began the week by beating Rockford for the second time this year, coming back from a 3-0 deficit to squash the IceHogs 6-3 at BMO Harris Bank Center on Monday afternoon. Friday night in San Antonio the Stars fell behind just 61 seconds into the game on a goal by Jonathan Hazen. Texas veteran defenseman Tyler Sloan scored a sweet backhand goal late in the second period to tie the game; it was Sloan's first goal of the season. Both Richard Bachman for the Stars and Rampage goalie Jacob Markstrom were strong in the third period and forced overtime. Alex Chiasson took a penalty halfway through the four-on-four session and, with a four-on-three power play, San Antonio leading scorer Jon Rheault won the game with a goal in the final minute overtime. It was the first time the Rampage had beaten the Stars in six tries this year.
Texas got back to winning ways and extended its current point streak to five games on Saturday night as the squad took instant revenge on San Antonio in front of a sellout crowd at Cedar Park Center. The announced attendance was 6,863 and the boisterous fans were treated to a virtuoso performance by Stars' center Justin Dowling. Dowling scored twice in the first period and then completed his hat trick with a power play goal halfway through the second period to send the hats flying and give Texas a 3-1 lead. Richard Bachman stopped 25-of-26 shots in the game, allowing only Casey Wellman's power play goal to get by, for his third win in four starts. In the final minute of play Matt Fraser and Antoine Roussel combined beautifully to set up Toby Petersen for a tap-in empty net goal to round out the scoring. Fraser's assist extended his team-leading point streak to nine-games as the Stars sat on top of the Western Conference entering the AHL All-Star Break.
AHL All-Star Classic Update:
Texas' AHL All-Stars Matt Fraser and Jamie Oleksiak represented the Stars very well during the All-Star Classic weekend in Providence, helping the Western Conference take a clean sweep of the festivities. During Sunday's Skills Competition, Fraser won the Pepsi Accuracy Shooting competition by hitting all four targets on just five shots and scored during the H&R Block Breakaway Relay, while Oleksiak scored twice on Springfield goalie Curtis McElhinney during the EA Sports NHL13 Rapid Fire event and also competed in the CCM Hardest Shot contest, but failed to register a speed as he hit the post on his first attempt and just missed over the crossbar on his second. During Monday's All-Star Game the two Texas skaters again were on display as Fraser had a goal and five shot, while Oleksiak had an assist and tied a game-high +3 rating. Fraser was sent on a breakaway on a nice pass from Milwaukee's Victor Bartley and beat Providence goalie Niklas Svedberg at 13:25 of the first period to give the West a 2-1 lead. Oleksiak assisted on the game-winning goal scored by Toronto's Ryan Hamilton with 11.5 seconds left in regulation as the Western Conference won 7-6.
Week 17 Preview:
Texas comes out of the All-Star Break in first place in the South Division, first in the Western Conference and tied with the Binghamton Senators for the most points (58) in the entire American Hockey League. This week is the lightest game schedule of the season for the Stars and the second time this year they have only had one game in a week. The team will return to the ice for practice on Thursday, January 31st and face the Houston Aeros for a 7:05 p.m. puck drop on Friday night at Toyota Center. It will be the ninth of 12 meetings during the 2012-13 season series. Texas has won the last three matchups with Houston and is 4-2-2-0 against the Aeros this year. The Stars' next home game is on Tuesday, February 5th as they host the Rockford IceHogs for a 7:30 p.m. faceoff at Cedar Park Center; it's the first time Rockford has come to Texas this year.
Left wing Matt Fraser leads the team points (29), he leads the AHL in power play goals (10), is tied for second in the league in goals (20) and is on a season-high nine-game point streak, with 12 points (6 goals, 6 assists) and a +5 rating during that span. Center Toby Petersen has eight points (3 goals, 5 assists) during his last eight games. Left wing Alex Chiasson has nine points (4 goals, 5 assists) and a +3 rating in his last five games. Center Justin Dowling is tied for the team lead in game-winning goals (3) and has seven points (5 goals, 2 assists) and a +3 rating in his last five games.
Week 17 Schedule:
(All games are broadcast LIVE over the Internet at www.TexasStarsHockey.com and the free Radio tab of www.ahllive.com and can be viewed via internet pay-per-view video on www.ahllive.com. All times listed in Central Time)
Friday, February 1 – 7:05 p.m. – Toyota Center – Houston, TX
@ Houston Aeros (21-15-4-3, 49 pts.)
Third Place, South Division

• Team Notes: Houston suffered a six-game winless streak in mid-January, where the team went 0-4-2-0, but has since shrugged that off. The Aeros have won three straight as they begin February with a home contest with Texas. Rookie goalie Darcy Kuemper has backstopped the team for all three wins, posting one shutout and only allowing four goals on 91 shots during that run. During January Kuemper was 4-1-0, with 2 shutouts, a 1.41 goals-against average and a 0.951 save percentage. Veteran goalie Matt Hackett has lost his last six stars, going 1-6-0 in January, but still had a 0.910 save percentage. Hackett faced an average of 31.5 shots per game in the month and has not won since beating Oklahoma City on January 1st. Houston ranks 28th in the AHL in shots on goal average (27.72), but is tied for 7th in shots allowed per game (28.60). The Aeros are 8th in the league in power play rating (19.7%) and sit in 29th in penalty kill (78.7%).

• Leading Scorer: Jason Zucker (LW) – 36 points (17 goals, 19 assists) and -10 in 39 GP.
• Leading Goaltender: Matt Hackett (G) – 2.68 GAA, 0.905 save pct., 13-15-3, 0 SO in 32 GP.
• Who's Hot: David McIntyre (C) – Has four points (2 goals, 2 assists) and a +2 rating in his last four games. Charlie Coyle (RW) – Ranks second on the team in goals (14) and third in points (24) and has three points (2 goals, 1 assist) and a +3 rating in his last three games. Jason Zucker (LW) – Leads the team in goals (17) and points (19), ranks second in assists (19) and has three points (1 goal, 2 assists) and a +1 rating in his last four games.
Week 16 Game Results:
January 21, 2013 Texas 6 @ Rockford 3
January 25, 2013 Texas 1 @ San Antonio 2 – OT
January 26, 2013 San Antonio 1 @ Texas 4
Stars Player of the Week: (Week 16)
Justin Dowling – C – #10 3 GP, 4 points (4 G, 0 A), +3, 0 PIMs, 2 GWGs
Center Justin Dowling has been a key addition to the Texas Stars lineup. The Cochrane, Alberta native enjoyed his most productive week of the season since he signed an AHL contract on January 7th. Added to provide offensive depth as the team prepared to lose players to Dallas with the NHL lockout coming to an end, Dowling did not take long to find his rhythm. He began the week by scoring Texas' game-winning goal in a 6-3 come-back win at Rockford on Monday. Perhaps his biggest contribution was his stellar performance on Saturday night against San Antonio. In front of a sellout crowd at Cedar Park Center, Dowling recorded his first pro hat trick, including his third game-winning goal in his last four games, to lead the Stars to a 4-1 win over the Rampage. On the season, Dowling has seven points (5 goals, 2 assists) and a +3 rating in eight games for Texas.
Stars Quick Hits:
• HAT TRICK HERO – Justin Dowling scored the Stars' first hat trick of the season, and the sixth in club history, with a three-goal performance on Saturday vs. San Antonio. It was the Cochrane, Alberta native's first pro hat trick and it was the first posted by a Texas player since Ryan Garbutt scored three times on February 8, 2012 in a 6-3 home win over the Milwaukee Admirals.
• HAPPY NEW YEAR – Texas completed its best month of January in team history. The Stars went 10-1-1-0 in its first 12 games of 2013, earning 21 of a possible 24 points, and posting an amazing 0.875 point percentage.
• HOME SWEET HOME – The Stars won their sixth consecutive home game on Saturday by defeating San Antonio 4-1. The win tied a club record for longest home winning streak, originally set from March 5th to April 2nd of the 2009-10 season.
• STREAKING – After having their franchise record six-game win streak broken on January 16th in Chicago, the Stars have opened up a five-game point streak by going 4-0-1-0 (9 points).
• FIRST VERSUS THIRD – Texas has out-shot its opponents by 119 shots in the first period (468-349), but have a minus-seven goal differential (35-42). In contrast, the Stars have out-scored their opposition 44-27 (+17) in the third period while being out-shot in the final frame by 25 shots (421-446).
• COMEBACK KIDS – Texas has proven it knows how to come from behind. The team is 6-8-2-0 when trailing after the first period and is 13-12-4-1 when allowing the first goal.
• ACCOUNT OPEN – Veteran defenseman Tyler Sloan scored his first goal of the season on Friday at San Antonio. The Calgary, Alberta native's late second period strike was a crucial play in keeping Texas' point-streak alive as it tied the game ultimately forced overtime in a 2-1 OT loss to the Rampage. In his 11th year pro, Sloan has never gone a season without scoring at least one goal. He now has 11 career AHL goals to go along with 50 assists and 463 penalty minutes in 391 career AHL games.
• NEWEST STAR – Right wing Bretton Cameron made his Texas Stars debut on Saturday against San Antonio. The Red Deer, Alberta native signed a PTO with the team was called up from the Greenville Road Warriors of the ECHL. Cameron, who has now played in three career AHL games, played major junior hockey for Texas head coach Willie Desjardins with the Medicine Hat Tigers of the Western Hockey League.
• SCORE FIRST, LEAD LEAGUE – The Stars have the highest point percentage in the AHL when scoring first and the top two teams in that category lead their respective conferences. Texas is 12-0-0-1 when scoring the first goal (0.962) and leads the Western Conference, while Binghamton is 15-1-1-0 when scoring first (0.912) and leads the Eastern Conference.
• APPROACHING STARS MILESTONES: LW Luke Gazdic needs 1 point for his 50th career AHL point. D Gord Baldwin needs 1 point for his 50th career AHL point and 6 GP to reach his 250th career AHL game. C Justin Dowling is 2 GP away from his 100 career pro game. D Maxime Fortunus is 5 GP shy of his 550th career AHL game. D Tyler Sloan needs 5 GP to reach his 600th career pro game and 9 GP to reach his 400th career AHL game. LW Antoine Roussel is 6 GP shy of his 150th career AHL game.
Affiliate News:
Dallas Stars (NHL) – Dallas is 2-3-1 (5 points) in six games and is tied with Los Angeles for third in the Pacific Division. The Stars lost to the St. Louis Blues 4-3 on Saturday night at American Airlines Center, but two Texas Stars forwards tallied their first points of the season. Tomas Vincour scored his first NHL goal of the season in the first period, while Colton Sceviour notched his first career NHL point with an assist on Ryan Garbutt's third period goal. Cody Eakin is tied for the team lead in assists (3), while Jordie Benn and Brenden Dillon have played in all six games for Dallas so far. Injuries have already hit the Stars as goalie Cristopher Nilstorp and Derek Roy have both been placed on the Injured Reserve; NHL rules dictate that a player on IR is ineligible for at least seven days, so both players could potentially return within a week. The Stars, who lost a tight 2-1 game at Columbus Monday night, are in action Tuesday night as they face the Detroit Red Wings at Joe Louis Arena for the second time this season. Ray Whitney leads Dallas with five points (2 goals, 3 assists).
Idaho Steelheads (ECHL) – Idaho went 2-1-0 in its three-game Southeastern swing last weekend. The Steelheads beat South Carolina and split a two-game set with Gwinnett and are 27-11-1-4 (59 points). Idaho sits in second place in the Mountain Division and third in the Western Conference. Defenseman Jace Coyle returned to the Steelheads for Sunday's game at Gwinnett, after spending the last two weeks with Texas. Stars center Justin Dowling's 46 points for Idaho still leads the ECHL club in points, while forward Austin Fyten (14-26-40) is closing in on that mark and has carried the team's offense lately. In Sunday's 6-5 overtime win at Gwinnett, Fyten scored a goal and then set up Andrew Carroll's overtime-winning goal to garnish first star honors. Goaltender Tyler Beskorowany is 5-1-1 in seven starts in January, with a 2.96 goals-against average and a 0.918 save percentage. The Steelheads return to action on Friday, February 1st for a two-game road series against the Stockton Thunder.
Stars Week 16 Transactions
January 27 – DELETE – Richard Bachman (G) – Recalled from loan by Dallas (NHL).
January 27 – DELETE – Jace Coyle (D) – Reassigned by Dallas (NHL) to Idaho (ECHL).
January 26 – ADD – Bretton Cameron (RW) – Signed PTO; called up from Greenville (ECHL).
January 26 – DELETE – Colton Sceviour (RW) – Recalled from loan by Dallas (NHL).
January 24 – DELETE – Tomas Vincour (RW) – Recalled from loan by Dallas (NHL).
January 24 – ADD – Colton Sceviour (RW) – Returned on loan from Dallas (NHL).
January 24 – ADD – Carl Sneep (D) – Loaned from Dallas (NHL).
January 22 – DELETE – Joey Martin (LW) – Released from PTO; returned to Toledo (ECHL).
Texas Stars Team Leaders:
Games Played: Maxime Fortunus & Matt Fraser (44)
Goals: Matt Fraser (20)
Assists: Jamie Oleksiak (20)
Points: Matt Fraser (29)
Plus/Minus: Patrik Nemeth (+13)
Penalty Minutes: Antoine Roussel (103)
Power Play Goals: Matt Fraser (10)
Short Handed Goals: Cody Eakin & Colton Sceviour (2)
Game-Winning Goals: Jordie Benn, Justin Dowling, Matt Fraser & Colton Sceviour (3)
Shots: Matt Fraser (124)
Shooting Percentage: Justin Dowling (33.3%)
Saves: Cristopher Nilstorp (598)
Wins: Cristopher Nilstorp (16)
GAA: Cristopher Nilstorp (2.13)
Save Percentage: Richard Bachman & Cristopher Nilstorp (0.916)
Shutouts: Cristopher Nilstorp (4)

Texas gets back to work following the AHL All-Star break on Friday, February 1st as they travel to Houston to square off against the Aeros at 7:05 p.m. at Toyota Center. The Stars return home on Tuesday, February 5th, for another H-E-B Night as they host the Rockford IceHogs for a 7:30 p.m. faceoff at Cedar Park Center. As part of H-E-B Night, fans may bring any H-E-B brand non-perishable food item for $5 off the gate price of a ticket on February 5th. Pro-rated full and partial 2012-13 season seat packages are on sale now. For more information on Texas Stars season tickets call (512) GO-STARS (467-8277) or visit www.TexasStarsHockey.
Back to All