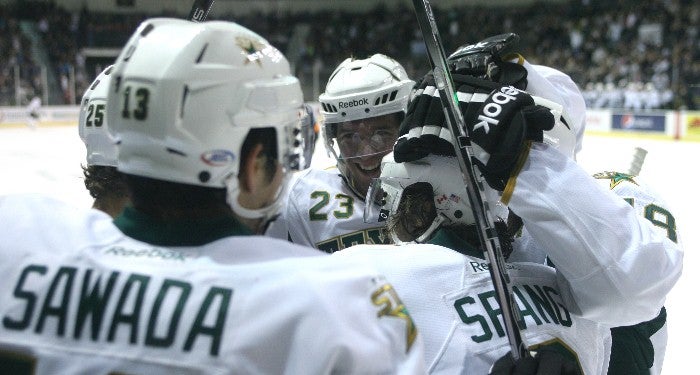 STARS HEAD TO CHARLOTTE FOR TWO GAMES THIS WEEK
Nov 28, 2011
Cedar Park, TX – The Texas Stars traded wins with the Houston Aeros last weekend, starting with a 2-1 overtime victory on Friday at the Toyota Center. On Saturday night, the Stars dropped a 4-2 decision at Cedar Park Center to the Aeros.

This Week's Games
The Texas Stars will embark on a two-game road swing in Charlotte starting on Wednesday, November 30th at 6:00 p.m. and again on Saturday, December 3rd at 6:00 p.m. Texas returns home on Friday, December 9th to face Charlotte at 7:30 p.m. As part of Sing for Santa local schools will be caroling throughout the evening. Farmers Insurance will present a Texas Stars insulated lunch bag to the first 2,500 fans at the game. Friday is also 3-2-1 night featuring $3 domestic drafts, $2 sodas and $1 hot dogs.

Watch Party
The Texas Stars and Hooters Round Rock location will host a Watch Party for the team's game on Wednesday, December 3rd at 6:00 p.m. The event begins at 5:00 p.m.

Week of Nov. 29th – Dec. 5th
Tuesday, Nov. 29
Travel Day – To Charlotte
Wednesday, Nov. 30
Skate: 11:15 a.m. – 12:15 p.m.
Game in Charlotte at 6:00 p.m. (CT)
Thursday, Dec. 1
Practice: 11:00 a.m. – 12:00 p.m. in Charlotte
Friday, Dec. 2
Practice: 12:00 p.m. – 2:00 p.m. in Charlotte
Saturday, Dec. 3
Skate: 10:00 a.m. – 11:00 a.m.
Game in Charlotte at 6:00 p.m. (CT)
Sunday, Dec. 4
Travel Day – To Cedar Park
Monday, Dec. 5
Practice: 10:30 a.m. – 12:15 p.m. at Cedar Park Center

Game Recaps
Chicago 3 at Texas 2 11/23/11
The Texas Stars were defeated by the Chicago Wolves 3-2 in front of 5,901 fans at Cedar Park Center on Wednesday night. Chicago goalie Matt Climie stopped 40 of 42 shots faced for his fifth straight win. Wolves' defenseman Kevin Connauton registered a goal and an assist to lead the way. Stars defenseman Jordie Benn notched a goal and an assist while center Scott Glennie set up both Stars goals. Texas goalie Tyler Beskorowany (1-4-0) stopped 24 of 27 shots in the loss.

Texas 2 at Houston 1 OT 11/25/11
The Texas Stars defeated the Houston Aeros 2-1 in overtime in front of 7,009 fans at the Toyota Center on Friday night. Defenseman Maxime Fortunus blasted a shot past Houston's Matt Hackett with 37 seconds remaining in overtime to lift the Stars to victory. Texas goalie Richard Bachman stopped 32 shots for the win, helping the Stars improve to 5-4-0-0 on the road this season. Stars rookie forward Scott Glennie also scored, as Texas picked up its second consecutive win at Houston this season.

Houston 4 at Texas 2 11/26/11
The Texas Stars were defeated by the Houston Aeros 4-2 in front of 6,274 fans at Cedar Park Center on Saturday night. Houston left wing Joel Broda scored twice in the victory, pulling the Aeros to 7-1-0-1 on the road. Forwards Jon DiSalvatore and Chad Rau also scored for the Aeros. Houston center Casey Wellman registered two assists on the night, as the Aeros took their third game over Texas this season. Houston goalie Matt Hackett stopped 33 of the 35 shots he faced for the win. Stars' left wing Mike Hedden netted his first goal of the season and defenseman Jordie Benn also scored. Texas goalie Richard Bachman stopped 22 of 26 shots as the team fell to 3-6-0-1 at home.

Tickets
Individual tickets for all games are on sale now. Tickets are available online at www.TexasStarsHockey.com or by calling 512.GO.STARS (467.8277). Tickets may also be purchased at the Cedar Park Center box office.
Back to All