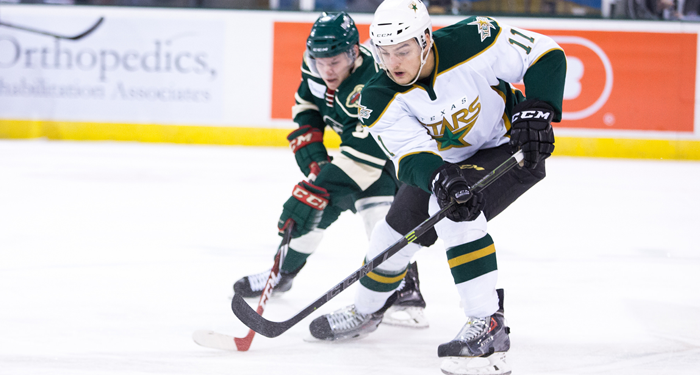 Stars Fall in an Overtime Thriller to Iowa, 2-1
Mar 6, 2015
CEDAR PARK, Texas – Tyler Graovac's wrist shot from the right circle closed out an overtime thriller and lifted the Iowa Wild to a 2-1 win over the Texas Stars on Friday night at Cedar Park Center in front of 5,556 in attendance.

After his team scored the opening goal of the game late in the first, Iowa netminder John Curry carried the 1-0 lead all the way to 4:15 of the third period before Derek Hulak scored his 13th of the season for the Stars to force the extra frame. Curry would finish with 34 saves in the win for the Wild (21-37-1-1), who defeated the Stars for just the second time in six meetings this season.

Texas continues their homestand on Wednesday when they host the Lake Erie Monsters at 7:30 p.m.

Jussi Rynnas suffered the loss stopping 14 of 16 shots in net for the Stars (25-18-13-1). Hulak deflected Maxime Fortunus' point shot to knot the game late. Derek Meech also picked up the second assist. Fortunus was returning to the ice for the Stars after a nine-game absence. The assist was the 150th of Meech's pro career.

Olivier Archambault put the Wild on the board from the right circle with just over three minutes remaining in period one for his third of the year.

Neither team could capitalize on the power play as Texas finished 0-for-4 and Iowa went 0-for-3.

Picking up a point in the standings, the Stars maintain their hold on the eighth and final playoff spot in the AHL's Western Conference – one point behind Hamilton, and one point ahead of Chicago.
---
Three Stars:
1. John Curry (IA)
2. Maxime Fortunus (TEX)
2. Tyler Graovac (IA)
Shots:
Stars - 35
Wild - 16

Goaltenders:
W - Curry
L - Rynnas
Back to All