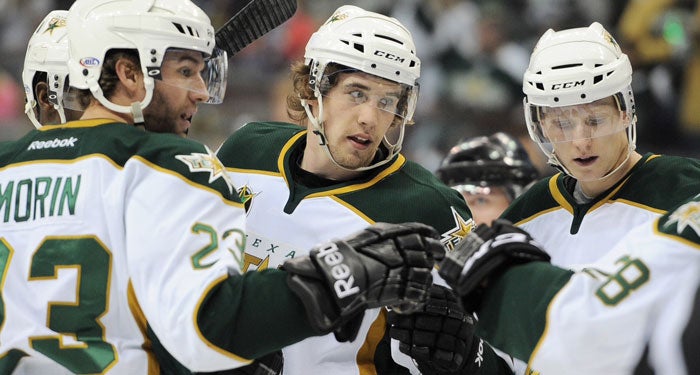 Stars Clinch 1st Place in West with 11th Straight Win
Apr 12, 2014
SAN ANTONIO, Texas – Curtis McKenzie tallied his first pro hat trick, AHL points leader Travis Morin add four more (1 goal, 3 assists) to his season total and Radek Faksa scored his first career pro goal as the Texas Stars beat the San Antonio Rampage 8-4 Saturday night at AT&T Center. The victory was the Stars' club record 11th consecutive win and gave them 103 points on the season, clinching first place in the Western Conference.

Kevin Henderson got the Stars off to a fast start when he beat starting goaltender Michael Houser with a high backhand short side just 1:50 into the game. Less than two minutes later, Curtis McKenzie doubled Texas' lead with a power play goal from Maxime Fortunus and Travis Morin. A mere sixty three seconds later Radek Faksa scored his first pro goal at 4:48, which prompted San Antonio to replaced Houser with backup goalie Rob Madore for the second straight night. Morin made it 4-0 at 8:36 and Fortunus added his sixth of the year for a 5-0 lead at 10:34. The Rampage got on the board late in the first period on a Joey Crabb power play goal, but the Stars held a 5-1 lead after 20 minutes.

Bobby Butler made it 5-2 at 4:48 of the second period, only for McKenzie to score his second goal of the game at 8:03 to regain Texas' four-goal lead. The Stars were out-shot in the second period 12-6 by the Rampage, but led 6-2 going into the third period.

Just 63 seconds into the final frame, Justin Dowling scored his 12th goal of the season, assisted by Mike Hedden and Brett Ritchie, for a 7-2 Stars lead. Garrett Wilson scored back-to-back goals at 8:11 and 13:09 to bring the Rampage within three goals, but Texas would ice the game in the final minute as McKenzie completed the first hat trick of his pro career with an empty net goal at 19:43. Morin had the primary assist on the goal for his fourth point on the night and league-leading 86th point on the season.

Cristopher Nilstorp (26-12-4) finished with 26 saves on 30 shots to record his 26th win of the season in goal for Texas. Michael Houser (12-13-1) started the game for San Antonio and allowed three goals on seven shots in 4:48 of action, but took a no-decision. Rob Madore (1-4-1) came on to play the final 50:24 of action and took the loss, making 14 saves on 18 shots. The Rampage out-shot the Stars 30-26 and went 1-for-6 on the power play, while Texas was 1-for-7 with the man-advantage.

The Texas Stars will complete their three-in-three weekend series with the San Antonio Rampage on Sunday, April 13th at 4:00 p.m. at AT&T Center. Texas will complete its 2013-14 regular season schedule at Cedar Park Center on Saturday, April 19th at 7:00 p.m. against the Abbotsford Heat. The game on the 19th is Fan Appreciation Night with a Stars Commemorative Print Giveaway, as well as being a Coke Zero Family Four Pack Night and a Texas Lottery Lucky Row Night. Texas Stars' 2014 Calder Cup playoff ticket packages are on sale now! Reserve your seats for all Calder Cup playoff games at Cedar Park Center at a discounted rate. For more information on Texas Stars playoff tickets call (512) GO-STARS (467-8277) or visit www.TexasStarsHockey.com.
Back to All