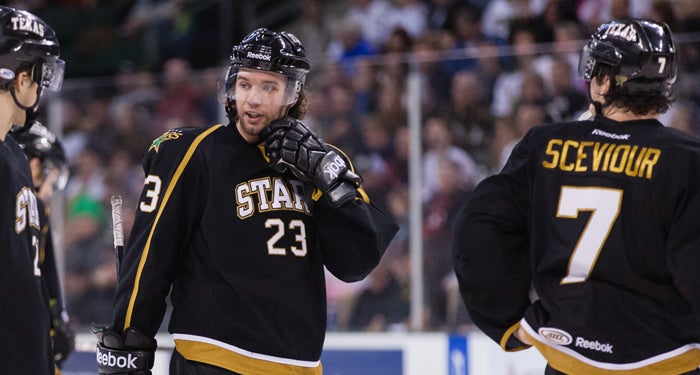 Sonne, Morin Lead Stars to 3-2 Shootout Win over Rampage
Apr 16, 2013
Texas Unleashes 51 Shots to Beat San Antonio for 10th Time This Season

SAN ANTONIO, TX – Brett Sonne and Travis Morin each had a goal and an assist as they Texas Stars came from behind to beat the San Antonio Rampage 3-2 in a shootout Tuesday night at AT&T Center.

The Stars had a definitive lead in shots on goal in the opening period, but goaltender Dov Grumet-Morris came up with several key saves to hold Texas at bay. The Rampage were able to grab the lead when Jon Rheault's shot went off the skate of defenseman Tyler Sloan, hit the right pad of goaltender Cristopher Nilstorp and kicked right to an unmarked Jack Combs on the back post. Combs collected the loose puck and slammed it into the open net at 7:57 for his 15th goal of the year and a 1-0 San Antonio lead.

The Stars peppered Grumet-Morris with another 15 shots in the second period, but could not get one past the Rampage goaltender. Texas was sound defensively and held San Antonio to just two shots on goal in the frame.

Brett Sonne sparked the comeback just 32 seconds into the third period as he slammed home a rebound for his eighth goal of the season, his first in a Texas uniform. Travis Morin and Kevin Connauton earned assists on the goal. San Antonio retook the lead five minutes later when Jared Gomes redirected a shot from John Lee for a 2-1 lead. The Stars continued to unleash shot after shot as the third period wore on, but Grumet-Morris continued to rack up saves. With just over three minutes left in regulation Jon Rheault took a slashing penalty, giving Texas just its second man advantage of the game. The Stars potent power got the job done as Colton Sceviour's shot from the high slot rebounded to the right side of the net and Travis Morin fired home the puck to tie the game at 18:39, assisted by Sceviour and Sonne.

After a scoreless overtime Sceviour and Justin Dowling scored on the Stars' first two shootout attempts. Alex Petrovic beat Nilstorp off the post and in on San Antonio's third shot, but denied the next two shooters to close out the win for Texas.

Cristopher Nilstorp made 13 saves on 15 shots in regulation and overtime and denied four-of-five shootout attempts to record his 19th win of the season in goal for Texas. Dov Grumet-Morris finished with 48 saves on 50 shots in 65 minutes of action, but only stopped two-of-four in the shootout to get the loss for San Antonio. The Stars out-shot the Rampage 51-15 and went 1-for-2 on the power play. San Antonio did not have a man-advantage. Texas set a new season high with 51 shots on goal and finish its season series against the Rampage with a 10-0-1-1 record, securing 22 of a possible 24 points (0.917).

The Texas Stars return home on Friday, April 19th for a South Division showdown with the Houston Aeros at 7:30 p.m. Friday's game at Cedar Park Center is a $3 Beer Night and another Texas Lottery Lucky Section Night, where fans can win scratch off tickets from the Texas Lottery when the first Stars player scores a goal. 2013-14 Season Tickets are now on sale. Put your deposit for 2013-14 season tickets and receive priority for both Texas Stars 2013 Calder Cup playoff tickets and 2013-14 season seat selection. For more information on Texas Stars season tickets call (512) GO-STARS (467-8277) or visit www.TexasStarsHockey.com.
Back to All