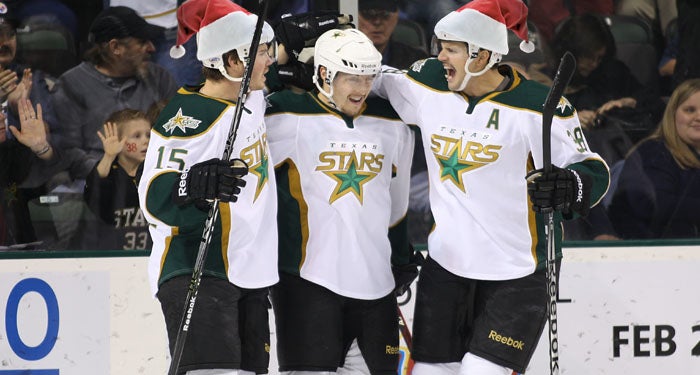 Pre-Order Your Texas Stars Alternate Jersey
Nov 28, 2011
The Texas Stars wore their new alternate jerseys for the first time during the Nov. 23 & 26 home games. Unfortunately, due to a Reebok manufacturing error, the merchandise component has been delayed until at least late February. The Texas Stars organization is as frustrated and disappointed by this turn of events as we're sure you are.

The alternate jerseys will be available for pre-order at the Texas Stars Merchandise booths located on both the north and south concourses during Texas Stars games and also during posted lobby hours. Reebok has offered an additional complimentary gift to our fans who pre-order the alternate jerseys. That gift is currently in production and we hope to have more information from them soon.

We thank you for your support of the Texas Stars; we have been in constant contact with both the AHL Office and Reebok to try and rectify this situation.

Merchandise Lobby Hours This Week:
Tuesday, 11/29: 10 a.m. - 5 p.m.
Wednesday, 11/30: 10 a.m. - 5 p.m.
Thursday, 12/1: 10 a.m. - 5 p.m.
Back to All