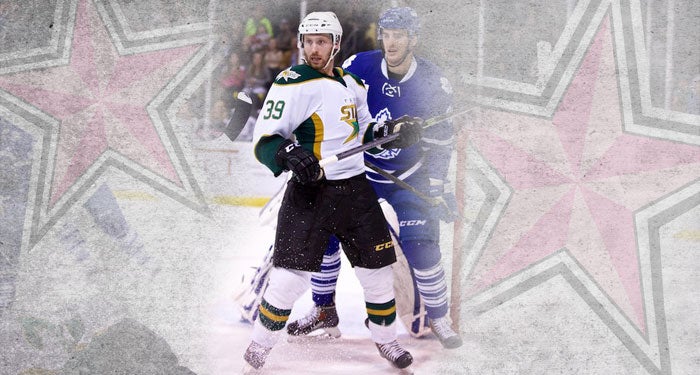 Pink in the Rink Holds Special Meaning for Hulak
Feb 25, 2015
Forward Derek Hulak Lost Mother to Breast Cancer in 2007
The Texas Stars will host Pink in the Rink Weekend, presented by Cedar Park Regional Medical Center and benefiting Breast Cancer Resource Centers of Texas, on Friday, Feb. 27, and Saturday, Feb. 28. (This story was originally published in 2015. The 2016 Pink in the Rink games will be held on Feb. 26 and 27.)
As a professional athlete, Texas Stars left-winger Derek Hulak has had his share of memorable moments – a game-winning goal here, a most-valuable-player nod there. Yet, looking back at a lifetime of achievements, no moment is more reflective of Derek's unique and inspiring sports journey than his milestone entry into hockey's elite ranks, scoring on the first shot of his American Hockey League debut.
"I kind of had the feeling that I had someone out there watching over me that game," he recalled.
It was poetic happenstance that Derek's first appearance as a Texas Star happened to align with a date that already held great significance in his life.
"Unfortunately, I lost my mom when I was seventeen, but she was my number-one fan." Derek explained. "It was my first AHL game and it happened to be on the seventh anniversary of my mother's passing. To get into my first game and score on my second shift knowing how special that day was, already, made it that much more special."
Derek's mother, Alina, was diagnosed with breast cancer in 2005 when Derek was just 15 years old and entering his first year of junior hockey. At the time, Derek had been invited to the Regina Pats training camp and was living a two-hour drive from his parents' home in Saskatoon, Saskatchewan.
"She was always worried that her condition was affecting how I played on the ice, so for the first few months she kept it a secret," Derek said.
He would eventually be cut from the Pats roster and returned to his hometown to play another year of midget hockey before transitioning to the region's junior ranks.
"I remember getting into Saskatoon, and I was excited to get home. I hadn't seen my mom for a while," he explained. "My brother just stopped the vehicle, and he said, 'We're not going home. We're going to the hospital. Be ready. There's a lot of stuff that you're going to need to take in today.' So we went to the hospital and that's the day I found out she was sick."
Derek returned to the Pats the following season, this time earning a full-time roster spot. He remained with the organization through the holiday break, at which time he and his family petitioned Regina to trade him to their rival club in Saskatoon so that he could be closer to Alina.
"We made a family decision that I was going to ask for the trade and hope that they accommodate me. If not, the idea was thrown around of just taking the rest of the year off hockey or coming back and playing another year of midgets – just whatever it took to be able to be around her during that time." Derek said.
"[Regina and Saskatoon] are division rivals that typically don't make trades, and it was the first trade between them in a number of years. For them to accommodate me like that so I could play high-level hockey and continue to develop, but be at home with her, I can't thank them enough."
Derek took advantage of every extra moment he had with his mother. "Before [home games] it was my routine to go for pregame skate, [then] go have a bite to eat at the hospital and spend the day with her before I went to the rink.
"When she wasn't able to travel [to road games] anymore it was difficult on her. She listened to every game on the radio. We had a routine where if I was on the road, I would call her as soon as I could after the game. I would hurry out of the locker room. That became our little ritual – something I looked forward to after every game."
Alina passed away on March 27, 2007, after a two-year battle with the disease.
"It was an inspiring battle," Derek remembered. "My mom was definitely a fighter. Cancer kept knocking her down and out, and she always kept a positive attitude. She, still, in her time of need put others before herself. She was just such an amazing person."
Derek remained in Saskatoon near family for the next seven years, playing in Canada's Western Hockey League, then joining the University of Saskatchewan Huskies men's ice hockey team. He was named the nation's University Cup most valuable player in 2014 before joining the Texas Stars – the top developmental affiliate for the National Hockey League's Dallas Stars – last spring, and helping the club to capture its first Calder Cup as American Hockey League champions this past June.
In August, Derek was given a celebratory day with the Cup which he spent in Saskatoon, surrounded by friends and family.
"As soon as I found out I was going to get it, I knew there was one spot I was going to take it for sure, and that was my Mom's grave," Derek said. "It was definitely an emotional day bringing the Calder Cup to her grave, but it was something that I knew I really wanted to do, and I was glad I did.
"In my opinion, there's no chance I would be where I am today without her and without what she did for me over the years and the support she gave me.
"She was a hockey mom in every sense of the word. She was the one who was up at 5:00 a.m. to make sure I had breakfast before my 6:00 a.m. practice. She would drive me to my 6:00 a.m. practice and then go to work. She always put her kids before herself."
Alina's influence continues to shape both the player and the person he is today. "When she first got diagnosed, I started putting her initials on my stick. At the time, I didn't think about it as 'in honor of.' I thought of it as a perspective thing."
Derek found inspiration in his mother's resilience and positive outlook.
"I knew what she was battling. Seeing her at the hospital and some of the things she went through really put things in perspective for me. That perspective gave me a little more drive, a little more motivation that if she's going through this, I can push harder in this game. I can push harder for her after all she's done and all she's sacrificed for me.
"When she passed away, [it] turned into a little bit more of a memento, but it still carries the same idea behind it. That's something I'll do for the rest of my career," he pledged.
As a professional hockey player, Derek understands that he has a unique platform from which he is able to bring attention to this special and personal cause.
In late January, he petitioned the league to allow him to wear a "Marty's Men" patch in support of Cody Smuk (nicknamed "Marty") – a former childhood and college teammate who is in his own fight against cancer – on the back of his helmet in the Stars' January 31 matchup with the Charlotte Checkers. Derek had two goals in the contest to lead Texas scorers.
"He's one of those guys. He doesn't want people feeling sorry for him. He's such a strong guy. He knows what he's going through, and he handles it every day. He's really an inspiration," Derek explained of Smuk.
The Stars' standout rookie is acutely aware of the statistics. "For me, as well as a lot of other people, cancer is something that has touched pretty much everyone's life in one way or another. Whether it's a family member, a friend or a teammate, cancer is something that has affected everyone in some way."
He acknowledged that his personal experiences have made the league's united front against the disease even more special. "When teams do Pink in the Rink nights, they're a bit of an emotional night for me," Derek said.
"It brings back a lot of memories, but at the same time it's a great way to look back and smile upon those memories. It's awesome to see when teammates, friends, family and whole cities get behind a cause like that and come together to raise money for something that's near and dear to me."
The Stars will host the Rockford Ice Hogs February 27 and 28 for the team's 2015 Pink in the Rink Weekend presented by Cedar Park Regional Medical Center and will once again partner with Breast Cancer Resource Centers of Texas. Last season, the Texas Stars' two-day Pink in the Rink event raised $21,000 for BCRC and brought more than 12,000 fans and supporters to Cedar Park Center.
The Texas Stars have designated several in-game promotions as BCRC fundraisers. Proceeds from the club's Chuck-A-Puck program will be donated each night, as will the money raised through the team's game-worn Pink in the Rink specialty jersey silent auction. Bidding will start Friday and will close Saturday at the end of the second intermission, with winners having the opportunity to meet the player after the conclusion of Saturday's game, and receive the jersey "off their back." Fans can also purchase autographed mystery pucks from the Texas Stars Foundation, while commemorative long-sleeved t-shirts will be sold through the team store with $5 of each purchase going to BCRC. In addition, $4 from every ticket sold through BCRC will benefit the organization.
Back to All