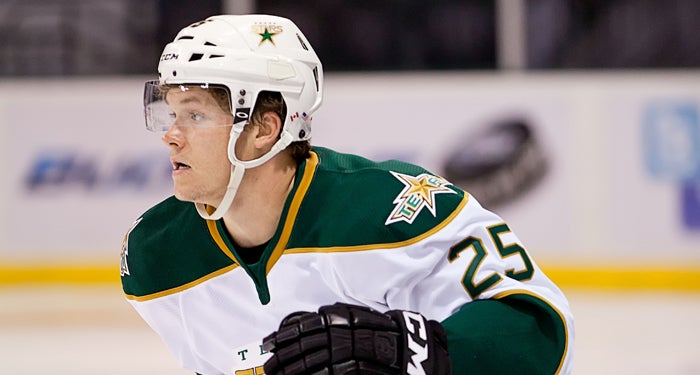 Matt Fraser Named to 2012-13 AHL Second All-Star Team
Apr 11, 2013
Texas Stars Forward Leads League in Goals & Power Play Goals

CEDAR PARK, TX – The Texas Stars, proud American Hockey League affiliate of the Dallas Stars, announced today that left wing Matt Fraser has been named to the 2012-13 AHL Second All-Star Team, as voted by AHL coaches, players and media in each of the league's 30 member cities.
Fraser, 22 has been the AHL's most prolific goal-scorer since the start of the 2011-12 season. The 22-year-old native of Red Deer, Alta., finished second in the AHL with 37 goals as a rookie last year, and is currently atop the leaderboard with 33 goals in 62 games for Texas. He leads the AHL in power play goals (17) and has improved his plus/minus rating from minus-13 last season to plus-13 this year. Fraser has notched his first NHL goal and assist while appearing in seven games for Dallas this year. Earlier this season, he was selected to represent the Western Conference at the 2013 AHL All-Star Game. Fraser went undrafted and was signed as a free agent on Nov. 17, 2010.
2012-13 AHL First All-Star Team
G - Niklas Svedberg, Providence Bruins (45gp, 34-8-2, 2.18gaa, .924sv%, 4so)
D - Justin Schultz, Oklahoma City Barons (34gp, 18+30=48pts., +8, 7 PPG, 3 GWG)
D - Sami Vatanen, Norfolk Admirals (59gp, 8+36=44pts., +1, 4 PPG, 2 GWG)
LW - Jonathan Audy-Marchessault, Springfield Falcons (68gp, 20+43=63pts., +19, 9 PPG)
C - Tyler Johnson, Syracuse Crunch (59gp, 32+25=58pts., +25, 11 PPG)
RW - Gustav Nyquist, Grand Rapids Griffins (58gp, 23+37=60pts., +10, 9 PPG)
2012-13 AHL Second All-Star Team
G - Curtis McElhinney, Springfield Falcons (46gp, 28-14-3, 2.25gaa, .924sv%, 9so)
D - Mark Barberio, Syracuse Crunch (70gp, 8+32=40pts., +7, 23 PP pts.)
D - Adam Clendening, Rockford IceHogs (69gp, 7+36=43pts., +14, 22 PP pts.)
LW - Matt Fraser, Texas Stars (62gp, 33+13=46pts., +13, 17 PPG)
C - Jeff Taffe, Hershey Bears (67gp, 18+46=64pts., 23 PP pts.)
RW - Brett Connolly, Syracuse Crunch (67gp, 27+30=57pts., +15, 8 PPG, 7 GWG)
Each All-Star Team member will receive a custom-designed crystal award in recognition of his selection to the 2012-13 AHL First and Second All-Star Teams.


The Texas Stars will continue their five-game road trip on tonight as face the Charlotte Checkers for a 6:00 p.m. CT faceoff at Time Warner Cable Arena. The Stars next home game is on Friday, April 19th against the Houston Aeros at 7:30 p.m. Friday's game at Cedar Park Center is a $3 Beer Night and another Texas Lottery Lucky Section Night, where fans can win scratch off tickets from the Texas Lottery when the first Stars player scores a goal. 2013-14 Season Tickets are now on sale. Put your deposit for 2013-14 season tickets and receive priority for both Texas Stars 2013 Calder Cup playoff tickets and 2013-14 season seat selection. For more information on Texas Stars season tickets call (512) GO-STARS (467-8277) or visit www.TexasStarsHockey.com.
Back to All