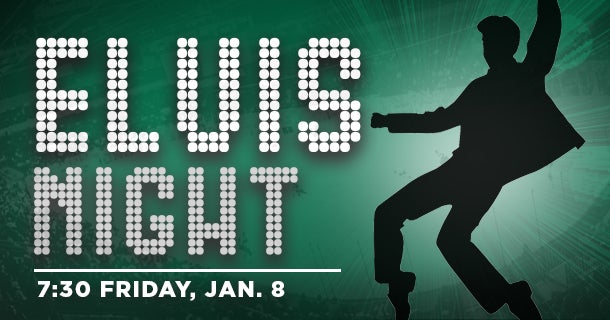 Stars to Celebrate Elvis Presley's Birthday Friday
Jan 4, 2016
The Texas Stars, American Hockey League affiliate of the NHL's Dallas Stars, announced Monday the details surrounding their Jan. 8 home game against the Chicago Wolves at 7:30 p.m., when the team will celebrate Elvis Presley's birthday.
Fans who dress up as Elvis, who are named Elvis, or who share a January 8 birthday with "The King of Rock 'N Roll" can receive a free ticket to the game at the Cedar Park Center box office.
The game will feature the music of Elvis as well as games throughout the night. Fans can also visit the Ice Patrol Fan Zone and post pictures to their social media accounts using Elvis-themed props on the team's TapSnap machine, and pick up an Elvis inspired temporary tattoo.
Specialty food items will be available at the various RS3 storefronts on the concourse throughout the game. Fairlane's Diner will offer the Elvis Sandwich, a banana with peanut butter and honey on a hot dog bun, as well as the Elvis Milkshake made with banana, peanut butter and honey. Hound Dogs, Jailhouse Brats and Graceland Grillers will also be available.
Tickets and more information are available by calling 512-GO-STARS or visiting TexasStars.com.
The Texas Stars are the primary development affiliate of the NHL's Dallas Stars and currently in their seventh season at Cedar Park Center. Full season, 24-game and 12-game ticket packages for the 2015-16 campaign are on sale now. For more information, call (512) GO-STARS (467-8277) or visit TexasStars.com.
Back to All