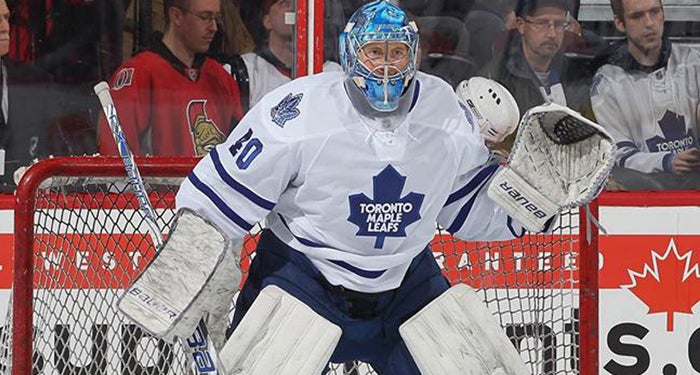 Dallas Signs Jussi Rynnas, Bolsters Goalie Depth
Jul 8, 2014
By Owen Newkirk - July 8, 2014
On Monday, the Texas Stars' NHL affiliate, the Dallas Stars, signed Finnish goaltender Jussi Rynnas (pronounced YOO-see ROO-nuhs) to a two-year, one-way contract. The move rounded out the top four spots in the Stars' NHL/AHL goaltending depth chart, but it did not necessarily guarantee which player goes in each spot.

Rynnas, 27, spent the 2013-14 season playing for Kärpät in the SM-liiga, which is also known as the Finnish Elite League. He posted a stellar 28-5-7 record last year and led the league in both goals-against average (1.51) and save percentage (0.939). His playoffs were marred due to injury, playing in just three games, but his team flourished and won the SM-liiga Championship. Rynnas first came to North America for the 2010-11 season, spending three seasons in the Toronto Maple Leafs organization, mostly in the AHL with the Toronto Marlies. He has played in 71 career AHL games and three NHL games with Toronto, including facing Texas three times, twice at Cedar Park Center.

However, there is some uncertainty on the depth chart. Rynnas signed a one-way contract, meaning he will receive his NHL salary regardless of whether he is playing in Dallas or Cedar Park.

The one thing that is certain is Kari Lehtonen is the Dallas Stars number one. Over the last four seasons (2010-11 – 2013-14), Lehtonen has played in 77.9% (229 GP) of Dallas' games, averaging 64 games played per season, which also factored in the lockout-shortened 48-game season in 2012-13.

But what about the other 18 games, give or take a few? Lehtonen can't play all 82 games, plus he has missed time each of the last two seasons due to injury. The odds-on favorite to be his backup is 26-year old Swedish netminder Anders Lindback, who signed a one-year contract with the Stars on July 1st, when free agency officially opened. He has played in 85 career NHL games over the last four seasons with Nashville and Tampa Bay, backing up Pekka Rinne with the Predators and Ben Bishop with the Lightning.

So the assumption would be Lehtonen and Lindback in Dallas, with 22-year old Jack Campbell and Rynnas paired in the AHL with Texas. But Campbell is perhaps the future of the Stars franchise. He was Dallas' first round draft pick in 2010, taken 11th overall. In the last 10 NHL Entry Drafts, which includes last month's 2014 edition, there have been only 10 goaltenders selected in the first round. Of those 10, only Carey Price (fifth overall by Montreal in 2005) was taken higher than Campbell. The Port Huron, Michigan native struggled with injuries during the 2013-14 season, but when he was healthy he was nearly unbeatable for the Texas Stars, posting a 12-2-2 record with a miniscule 1.49 goals-against average, a massive 0.942 save percentage and had four shutouts. That means he averaged one shutout for every four starts! Additionally, Campbell helped Texas win both the AHL's regular season crown and the 2014 Calder Cup championship. Dallas Stars general manager has said that he wants Campbell playing, not sitting, which suggests that he would be the go-to guy in Cedar Park, but his rapid development and high pedigree could change notions in the blink of an eye.

While the roster spots are very much up for grabs, one thing that can be taken to the bank is the Stars have both depth and height in goal with Lehtonen (6'5"), Lindback (6'6"), Campbell (6'3") and Rynnas (6'5"). There should be an incredible three-way competition for the NHL backup role when training camp opens in mid-September and Texas Stars fans have to be excited knowing that two of those three will be manning the pipes at Cedar Park Center as the Calder Cup defense begins.
Back to All