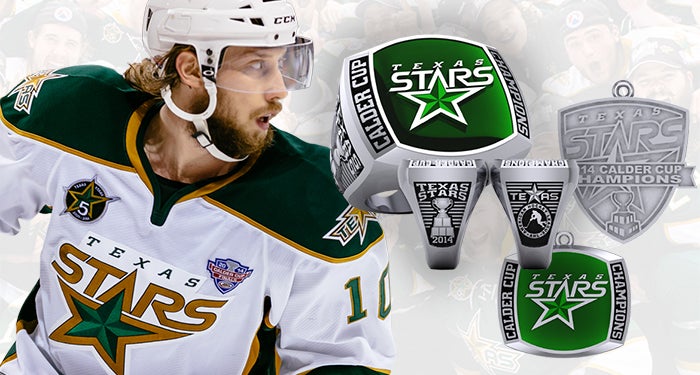 Celebrate Championship Season with Jerseys, Jewelry
Nov 13, 2014
Just in time for the holiday season, Texas Stars fans have the chance to own a piece of Calder Cup Championship history with two special programs: the Calder Cup Jewelry Fan Shop and the Sealed Silent Bid Auction for Autographed 2013-14 Home White Jerseys.
The Texas Stars Calder Cup Jewelry Fan Shop features several items for sale, including Championship Fan Rings, Pendants and Charms. Baron Championship Rings, designers of the official championship rings of the Texas Stars to be unveiled next month, created these unique commemorative pieces specifically for Stars fans. All jewelry is made to order and available exclusively online through Baron. Click here to shop now.
Fans can also bid on autographed 2013-14 home white jerseys in a sealed silent bid auction that continues through Nov. 29. The jerseys were worn throughout the 2013-14 regular season and Calder Cup Playoffs, up to and including warm-ups of Game 1 of the Calder Cup Finals. Bids must be received by the end of the third period on Nov. 29. For full details, rules and a bid form,click here.
The Stars return home on Nov. 21 for the first Fun Food Friday promotion of the season against the San Antonio Rampage. Fans can enjoy $3 specials on beer, soda, hot dogs, and Pizza Hut slices, and $4 specials on Robert Mondavi Private Selection Wine.
The Texas Stars are the AHL's defending Calder Cup Champions for the 2014-15 season. Single-game tickets and season ticket packages for the 2014-15 campaign are on sale now. For more information, call (512) GO-STARS (467-8277) or visit TexasStarsHockey.com.
Back to All