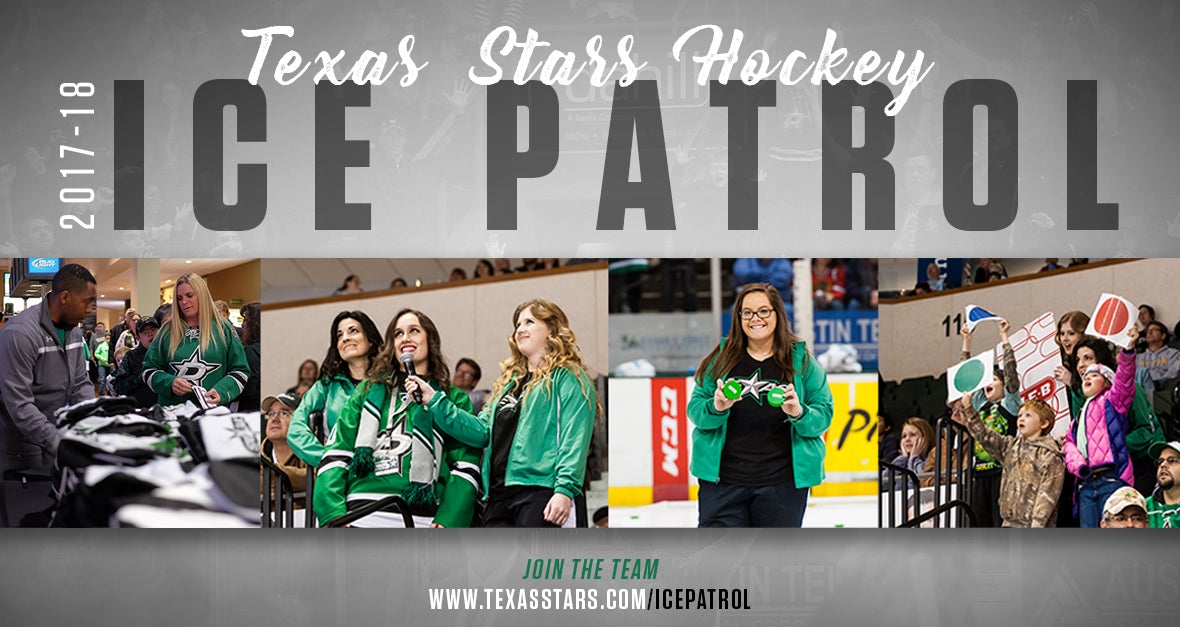 What are the benefits of being a member of the Texas Stars Ice Patrol?

Perform in front of large crowds
Participate in paid and charity appearances
Interact with and entertain your Texas Stars Hockey fans
Be a role model in the community
Bring smiles to all those around you
Make lasting friendships

What are the requirements to be a member of the Texas Stars Ice Patrol?

Must be 18 years of age on or before September 1, 2018
Must have a High School diploma or G.E.D.
If selected, must reside in the Austin/Surrounding areas
Must have reliable means of transportation
Must attend occasional training sessions and the majority of home games (inc. playoffs)
Be available for team appearances

Is there an age requirement?

You must be 18 years of age on or before September 1, 2018. There is no maximum age limit.

Are there any height, weight or appearance requirements?

There are no specific limits on height and/or weight to be a member of the Ice Patrol. Members may not have any visible tattoos while in uniform and facial piercings/jewelry must conform to guidelines in the Ice Patrol and the H-E-B Centar at Cedar Park Employee Handbooks. If you can fully cover tattoos and/or remove piercings, you will still be considered.

What does it take to become a member of the Texas Stars Ice Patrol?

Our selection team will focus on the following:

Enthusiasm
Showmanship
Physical Fitness
Poise
Communication Skills
Energy

Will I need to know how to skate?

Skating is not required to be a part of the Ice Patrol and is not part of the interview process. However, if you can skate, let us know and you may be asked to demonstrate your abilities at a later time.

What type of commitment is required to be a member of the Texas Stars Ice Patrol?

The Ice Patrol members are paid, part-time positions. There are 40+ pre & regular season home games and you are expected to work at least 75 percent of those games, plus playoffs. This includes evening, weekend and holiday hours from October-April (and as late as mid-June, depending how far the team advances in the playoffs). You are also required to attend several training sessions throughout the season. In addition, Ice Patrol members must be available to attend various team & community events.

Is being a member of the Texas Ice Patrol a full-time job?

No, most Ice Patrol members attend college and/or hold additional part-time or full-time jobs. However, being a member of the Ice Patrol requires a flexible schedule, dedication and passion.

What is the schedule like? How many hours can I expect to work?

The Texas Stars game schedule will be published and available online at www.texasstars.com sometime in August. Game night shifts typically last about five hours, starting 1.5 to 2 hours before game time. (Monday-Friday games typically start at 7:30 and Saturdays at 7:00. Sunday games may have earlier start times.)

There are also opportunities to sign up for additional events such as watch parties, Foundation events and community appearances. The hours for these events vary, but are typically about two hours in length.

What if I can't work a game?

We do not expect every team member to work every game. The Texas Stars and the
H-E-B Center at Cedar Park use an online scheduling system that will allow you to set your availability for specific dates, and a work schedule will be made on a monthly basis.

If you are unable to work a game that you have been scheduled for, you will be responsible for finding a substitute to work for you.

While there is flexibility in the scheduling system, we do expect each team member to work approximately 75 percent of the games. Frequent unavailability, lateness or call-offs may result in termination from the team (specific guidelines will be explained in the Ice Patrol Handbook).

Do I get to work with the players?

While there may be occasions where Ice Patrol members and hockey players work together, such as season ticket holder events autograph sessions and team appearances, there is very little direct interaction with players. The focus of the Ice Patrol is to engage fans and get them excited about the team and the game.

The Texas Stars have a strict No Fraternization policy. Ice Patrol members are not permitted to interact with Texas Stars players outside of work events.